When you need to dig a hole you use a shovel. If you want some money you go to a bank. And if you want a car to transport large objects and potentially a dog, then you get a Volvo. Like a loyal family labrador, a Volvo estate has always been seen as a faithful companion on Britain's roads. The only downside to these dependable load luggers is that the neighbours wouldn't glance twice at it. Let us be honest, a big estate car isn't exactly the sexiest machine you could be driving. That said, the Volvo V60 does a good job of turning heads.
Packaged as a Volvo that still ticks the practicality box, the V60 is a much more sculpted and design oriented car than estates of the past. Bonnet creases add some character, broad shoulders gives a sense of presence, and tasteful amounts of chrome trim highlight to onlookers that this is very much a premium product. Our test car is the Business Edition, a model aimed at those looking for a company car at a reasonable price, but still with the optional extras that make things a bit more executive. In power Blue the car looked very smart even with the standard alloy wheels.
The interior is typical Volvo with each component being engineered to very high standards. Although the centre consoles vast array of buttons is beginning to look a bit dated now, a new interior layout for the company will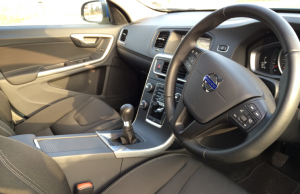 come with the 2014 XC90, the controls are logically located. Something that always strikes me with the latest incarnation of Volvo cars is just how meticulously detailed the designers have been with everything occupants interact with. Things such as the reassuring feel of resistance when buttons are pushed or the shape of its sublimely supportive seats. It certainly feels like someone cared an awful lot about how people should feel inside the cabin. The instrument panel is predominantly analogue in this Business Edition, but it does feature an Eco gauge showing how efficient your driving is. Space in the second row is ample both in the head and leg departments. Whilst the boot has a flat loading area and is big enough for all of your usual Volvo estate owner needs, it is slightly smaller than rivals thanks to the V60's tapered roofline. The rear seats fold flat or can be individually lowered making for a versatile space. This Business Edition also receives satellite navigation and Bluetooth.
Our V60 had the keyless option fitted and so with a push of the starter button its 1.6 litre turbocharged diesel came to life. At idle the engine is very smooth with hardly any vibration penetrating into the cabin. In motion the diesel that produces 115HP and emits just 108g/km of CO2 is whisper quiet. Only under hard acceleration does a hum begin to build. This Volvo V60 does have a touch of turbolag that is just noticeable at low rpm, but the turbo soon spools up and provides excellent torque to pull off overtaking
manoeuvres. Its 6 speed manual gearbox is smooth and each gear slots into place with minimal fuss. On motorways the Volvo V60 hold its own and is capable of comfortably cruising for long periods of time. Take the car into a more urban environment and you will find it to be a very easy machine to drive with good visibility all around. The steering is precise allowing for accurate placement of the car on the road promoting a feeling of agility. However, the steering feel itself whilst well weighted offers little feedback. I also have a small gripe with the suspension as for a big car where people will spend a lot of time, the ride is firmer than expected. However the upside of a stiffer setup is reduced body roll through corners, in this respect the V60 always feels composed. The range of this car on one take of fuel, provided you drive sensibly is astonishing. I reckon it will easily do over 700 miles and its claimed 63MPG isn't too far off believable in the real world.
At £24,220 our test car has some tough rivals in the form of the BMW 3 Series Touring and Audi A4 Avant, yet the Volvo sets itself apart from the Germans with unique styling and trademark Volvo safety. It might not be the most engaging car in its class but if it is practicality, a touch of style and fantastic ergonomics you are looking for, then the Volvo V60 D2 Business Edition is a fine choice.