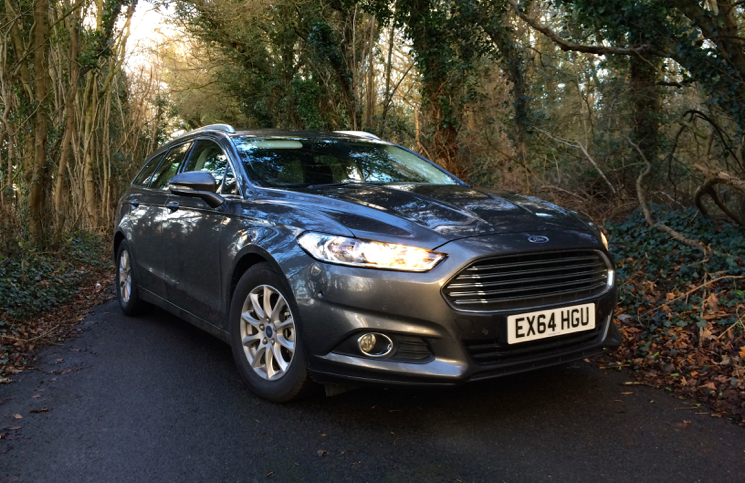 You may have read of our interactions with the all-new 2015 Ford Mondeo from the cars launch in sunny Spain last year. The car as a whole is a huge step-up in design, perceived quality and
refinement. We were pleased with the fourth generation machine and as we chinked together glasses of Sangria to its success, the blue oval couldn't wait to start taking orders. With it about to go on sale in the UK, we took the opportunity to drive it on home soil and see how it handles on Britain's battered tarmac. This is also our first interaction with the 2015 Ford Mondeo Estate 1.6 Econetic TDCI.
This Mondeo needs to be a success as it has long been a staple of British family life. "Mondeo man" is a widely used turn of phrase and for all of that hard work and reputation to be undone now would be disastrous. A product of the Ford's global car program, One Ford, they are staking a lot on this much loved icon.
Your first encounter will leave you in no doubt that this Mondeo is a product of its modern environment. Built in Valencia, its design architecture is highly sculpted and promotes a truly premium image unseen in any Mondeo before it. A dominant Ford family ovular grill sits on its tapered nose just below a new blue oval badge that is inset. A pair of narrow angled, but highly intricate, headlights gives the aesthetics a dynamic edge. Our test car also sported full length aluminium roof rails. These elements in cooperation with muscular lines on the bonnet and down this estates sides, makes this Mondeo the most handsome in its bloodline and could even sit comfortably next to some prestige badged German models.
This detailed styling reinvention continues throughout the cabin. Within the high console that divides the passenger and driver is an 8 inch touchscreen infotainment system. It is a clean and reasonably ergonomic interface that gives you access to satellite navigation, DAB radio and dual zone climate control in this Zetec model. The new SYNC 2 system also gives you an array of intelligent voice commands enabling phone calls, restaurant search and much more. As with most Fords, the seating position is excellent and these new seats offer plenty of support. Silver trim garnishes the cabin boosting its considerably classier appeal. Moving back into the second row there is a wealth of space with the rear bench seating three. Ample head room means that even the giants amongst you will be able to make yourselves at home. Leg room is also good for the two outer passengers, however, the transmission tunnel means there is less space for whoever drew the short straw. These rear seats were also equipped with new inflatable rear seatbelts which when deployed greatly reduce rib injury in a crash. These are optional, but at £175 we think they are well worth having. This 2015 Ford Mondeo Estate 1.6 Econetic TDCI doesn't disappoint in the most important respect when it comes to an estate car. With 775 litres of luggage space available without folding flat the rear seats, mammoth shops and even a dog or two present no problems. Planning a trip to Ikea? Well you are in for a treat as when those aforementioned seats are folded flat capacity rises to a cavernous 1,630 litres. So far, so good for the all-new 2015 Mondeo. Yet, the proof is indeed in the pudding as the UK provides a road surface the complete opposite of the silky smooth black ribbons in Spain.
This car is powered by a 1.6 litre Econetic TDCI engine producing 114BHP. Also on the menu is a 2.0 litre diesel with 178BHP or 148BHP dependent on its state of tune. So why go for this 1.6? To be
perfectly blunt, with CO2 emission figures of 99g/km and a claimed 74.3MPG combined, why wouldn't you? Whilst the more powerful diesels do offer that onward surge in any gear, with 270Nm of torque this car doesn't feel sluggish. Yes, you do have to work the gearbox more than in its greater endowed brothers, but in my eyes the trade is well worth it. In motion this car is silky smooth with the four cylinder engine emitting hardly any noise from the drivers perspective. It is responsive and more than capable of doing a fine job. The cars ride is sensational and irons out even the most aggressive bumps in the road thanks in part to sensible 16 inch alloy wheels. Couple this with excellent body control and you have a car that handles very well indeed. In fact, the car is 10% stiffer than its predecessor. This Mondeo has switched from hydraulic steering to electromechanical which has resulted in less steering feel. It is very precise, but is not as fun to throw around as its predecessor. Road noise at all speeds is kept to a minimum creating a peaceful experience behind the wheel. On the motorway, where a car like this will spend most of its life, that tranquility is most welcome. Visibility all around is great meaning that a run into more urban environments needn't be a gauntlet. Something else that makes city driving easier is our cars Active Park Assist. With the push of a button it will scan for spaces, both parallel and bay, and then deposit you within it after a few manoeuvres. All you have to do is follow the cars onscreen instructions regarding gear selection and the Mondeo will do the rest. There is now no excuse for poor parking!
The 2015 Ford Mondeo Estate 1.6 Econetic TDCI Zetec makes a lot of sense, especially if you want to keep your running costs low. This mature and highly polished product is a credit to Ford and worthy of the Mondeo nameplate. "Mondeo man" is now sophisticated, very modern and likely to make his neighbours jealous. The Zetec model starts from £23,045 and is expected to take 43% of sales. Well priced options meant that our specific car came to £24,515 but included; metallic paint, DAB radio, inflatable seatbelt and park assist. Since 1993 1,400,000 Ford Mondeos have been sold, with this new incarnation being so complete, that figure is only set to grow.