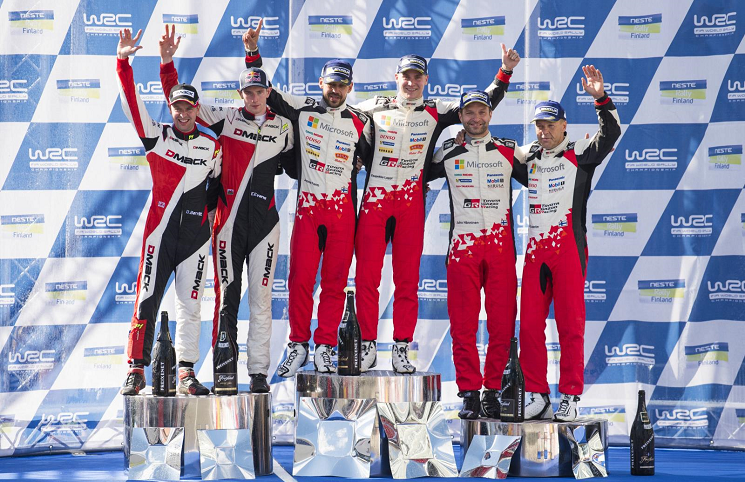 Esapekka Lappi sprang the surprise of the WRC season by guiding the Toyota team to victory at his home event at Rally Finland. On only his fourth drive in a World Rally Car, the 26-year-old became the sixth different driver to win in nine rounds, maintaining a considerable 36.0sec gap over the equally eyebrow-raising second-place man Elfyn Evans. Completing a thoroughly excellent few days at the office for Toyota, Juho Hänninen picked up his maiden WRC podium just 0.3secs behind the Welshman in third.
What's not to love about Rally Finland?  Lightning fast gravel roads, roller-coaster jumps and beautiful woodland scenery; this corner of the world was simply made for rallying. The thousands of fans who pack out the stages year after year love their sport – and the quicker and more hair-raising the better. That's exactly what's on the menu here at an event historically dominated by home drivers.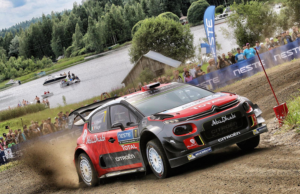 Fortress Finland is in fact so impregnable to foreign invaders that a remarkable 54 of the 66 editions held thus far have been won by flying Finns; Hannu Mikkola, Tommi Mäkinen and Marcus Grönholm, to name but a few.  Of course, high speed entails high risk and although mechanical issues tend to be rare along the smooth Finnish tracks, the one component always stretched to the limit is the human mind. That means drivers – and especially co-drivers – can ill-afford even a momentary lapse in concentration; those famous roadside lakes are notoriously chilly even in the height of summer.
If anyone was going to add his name to the exclusive list of foreign winners in Finland, Ott Tänak looked to be that man. Having recently broken his WRC duck in Italy last month and boasting a good recent record on the high-octane Finnish roads, a fastest time on stage 1 augured very well indeed for the Estonian. His overnight lead didn't last long, however, as a brush with some jagged rocks on stage 4 mangled his Fiesta's right rear wheel. Tänak dropped 90secs and plummeted to tenth overall.
M-Sport's misery was then compounded just a few kilometres down the same road where championship leader Sébastien Ogier landed heavily after a jump, leaving his Fiesta's rear right suspension in pieces. The Frenchman's car came to a juddering halt in the undergrowth where it would remain for the rest of the day.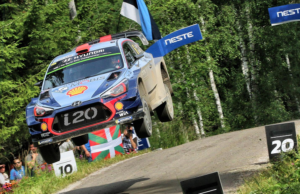 Championship-challenging Hyundai fared little better than their M-Sport counterparts. Hayden Paddon, usually at home on the gravel, become yet another victim of the increasingly debris-strewn stage 4 when he smashed his i20's suspension after clattering a rock. Teammate Thierry Neuville, a winner last time out in Poland, will have sensed a huge opportunity to boost his title bid in the wake of Ogier's demise. However, niggly set-up issues and a general dearth of confidence at the wheel of his i20 restricted the frustrated Belgian to a highly disappointing eighth by the close of play on Friday.
Neuville found himself as the meat in a British sandwich, with Elfyn Evans' M-Sport Fiesta in seventh and 2016 Rally Finland winner Kris Meeke behind in ninth.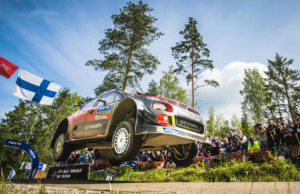 Citroën's Meeke blew any chance of repeating that success early on. He rammed his DS3 into a concrete chicane, causing predictably adverse effects on its steering. Fellow Citroën man Craig Breen had an altogether better afternoon. The Irishman joined the fight for the podium places and despite minor handling and brake issues, overhauled both Toyota's Juho Hänninen and Norwegian Mads Østberg to hold fourth by Friday evening.
As the foreign talent faltered, the Finns flourished. There was a distinctively Suomi flavour to the top three at the end of the first full day of action, but not necessarily the familiar fan favourites.
Largely unknown beyond his native land, Teemu Suninen took to the wheel of a Ford Fiesta for only his second World Rally Car outing – and promptly flew to third position. The 23-year-old WRC2 regular won two tests in highly changeable conditions, barging his way on to the WRC top table in explosive style. The youngster wasn't the only home-hero thrilling the local fans. Toyota's all-Finnish line-up took to the Rally of 1000 lakes like ducks to water; but it wasn't three-time winner Jari-Matti Latvala standing top of the pile on Friday night.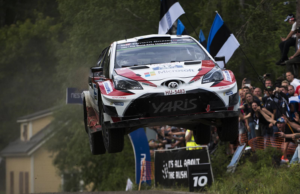 Experienced campaigner Latvala had led the way ever since Tänak perished early on, but was gradually stalked and ultimately ambushed in audacious fashion by his own young teammate, Esapekka Lappi. The 26-year-old rookie's cautious start raised precisely no eyebrows. Plenty of jaws were dropping by the afternoon, however, as Lappi came from nowhere to rattle off eight wins from nine stages and sensationally overhaul Latvala on the 21.6km run through Lankamaa. Astonishing even himself, a speechless Lappi completed a Toyota one-two on Friday, heading Latvala by 4.4sec after 12 speed tests.
If Friday's action left fans captivated, Saturday saw the drama reach fever pitch in Finland. Latvala was unlikely to take Lappi's surprise attack lying down and quickly set about reasserting Toyota team hierarchy on Saturday morning. Finding full flow, the master showed his upstart young apprentice a thing or two about rallying in Finland by posting five consecutive fastest times on Saturday afternoon. By now 8.5sec ahead and gliding his Yaris over the dirt roads, the former VW man seemed to have decisively reasserted his control on the rally.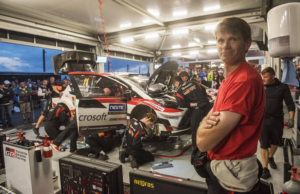 WRC, though, is a cruel mistress. Desolation is never too far away, and for Latvala, fate was about to deal him the bitterest of blows at the most inopportune of moments. Of all places, it had to be on Ouninpohja, the jewel in the Rally Finland crown, where terminal electrical failure shot down the flying Finn. His Yaris bereft of drive, the home hero coasted out of contention in what he described as "one of my biggest career disappointments".
Latvala's untimely demise was a blow to home spirits but the chance of a Finnish podium lockout remained a very real possibility. Lappi, fastest through Ouninpohja, found himself back in front but this time with a gaping 49.1sec gap separating him from fellow novice Suninen in second. Compatriot and Toyota colleague Juho Hänninen occupied provisional bronze, 4.3 seconds further back. He faced an almighty battle to keep the Finnish podium party a private one, however, as a charging Elfyn Evans blitzed stage 21 to bring himself to within 1.3sec of third spot.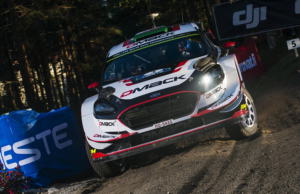 The Welshman had previously leapfrogged an out-of-sorts Craig Breen who struggled for rhythm in his Citroen C3 and did well to survive a spin and an overshoot. The Irishman was 14.7sec clear of title challenger Neuville, still at pains to capitalise on Ogier's continued absence. The four-time world champion was unable to restart on Saturday with co-driver Julien Ingrassia side-lined on doctor's orders after Friday's smash.
Elsewhere, defending Rally Finland titleholder Meeke fell even further adrift of the pack when a costly final stage puncture lost him a minute. The Ulsterman was passed by Tänak for seventh whilst Hyundai's Mr consistent Dani Sordo failed to live up to his reputation in a distant ninth.
For the first time in his fledgling career, Sunday brought the full glare of the WRC spotlight to bear on Esapekka Lappi. The youngster's response to this pressure cooker situation was as immaculate as his performance had been throughout the previous two days. Managing the lead with a maturity that belied his rookie status, the 2016 WRC2 champion celebrated a fairy-tale maiden win in rallying's premiere series with the hordes of adoring home fans. Even when a penultimate stage slip-up had the 26-year-old nursing his Yaris to the finish with a damaged wheel, there was no sign of a thaw in Lappi's ice-cool concentration.
Onlookers could have been forgiven for the letting the thrilling podium tussle below distract them from the Toyota novice's remarkable achievement. Suninen fought resolutely to hold off his far more experienced rivals. The 23-year-old's slender advantage dissipated, however, following an off-road moment on the penultimate stage that opened the door to Evans and Hänninen. The pair had traded places in every one of Sunday's tests and a miniscule 0.9secs split them going into the event-closing power stage. The M-Sport man prevailed, pooping Toyota's one-two party and equalling his best ever WRC result in the process.  Despite ultimately falling 25.2secs short of a place on the podium, plaudits must go to young Suninen in a performance that rates almost as highly on the WRC Richter scale as Lappi's seismically shocking win.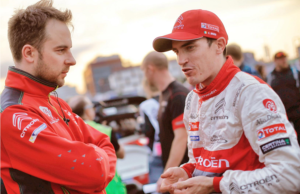 Craig Breen salvaged some minor cheer for his beleaguered Citroën team. The ultra-consistent Irishman has finished fifth on every round he's completed this season and duly repeated the trick in Finland.
Thierry Neuville scrambled around in vain for any semblance of pace all weekend. Sixth was ultimately a disappointment for the Hyundai pilot, but the eight precious championship points gained here have a very significant impact on the small matter of the 2017 drivers' championship. He now draws dead level on points with M-Sport's Sébastien Ogier but, crucially, edges ahead of the day one crash victim on head-to-head rally wins.
The defending champion will be out to regain the initiative as the series returns to asphalt next month at Rallye Deutschland from the 17th – 20th August.
Final Results: Round Ten – Rally Finland
| | | | | | | | | | |
| --- | --- | --- | --- | --- | --- | --- | --- | --- | --- |
| POS | CAR NO. | DRIVER | | TEAM | POINTS | | TIME | DIFF PREV | DIFF 1ST |
| 1. | 12 | E. LAPPI | | TOY | 25 | | 2:29:26.9 | | |
| 2. | 3 | E. EVANS | | M-SP | 18+4 | | 2:30:02.9 | +36.0 | +36.0 |
| 3. | 11 | J. HÄNNINEN | | TOY | 15+1 | | 2:30:03.2 | +0.3 | +36.3 |
| 4. | 15 | T. SUNINEN | | M-SP (PVT) |  12 | | 2:30:28.4 | +25.2 | +1:01.5 |
| 5. | 9 | C. BREEN | | CIT | 10 | | 2:30:49.5 | +21.1 | +1:22.6 |
| 6. | 5 | T. NEUVILLE | | HYU | 8+3 | | 2:31:00.0 | +10.5 | +1:33.1 |
| 7. | 2 | O. TÄNAK | | M-SPO | 6+5 | | 2:31:20.5 | +20.5 | +1:53.6 |
| 8. | 7 | K. MEEKE | | CIT | 4 | | 2:32:39.5 | +1:19.0 | +3:12.6 |
| 9. | 6 | D. SORDO | | HYU | 2 | | 2:33:38.4 | +58.9 | +4:11.5 |
| 10. | 14 | M. OSTBERG | | M-SP (PVT) |  1 | | 2:33:48.1 | +9.7 | +4:21.2 |