Ferrari is the most recognised brand in the entirety of Earth. The black prancing horse is not only a symbol of performance cars, but Italy itself. Ferrari exists for motorsport. End. The road cars may be awe-inspiring but their existence has always been a means to an end funding the Formula One team. Enzo Ferrari himself openly said on many occasions that you would be stupid to buy one of his cars as they simply bankrolled his addiction to racing. By the 80's Mr Ferrari was becoming ever more aware of his own mortality and knew that his time was running short. With other brands such as Porsche surpassing the performance of Italian stallions on the road, he wanted to make a statement before he died. This statement would become the Ferrari F40.
Debuting in 1987, the Ferrari F40 was the last car ever sanctioned by the legendary Enzo Ferrari. The company put to use the racing technology of what was known as the 288 GTO Competizione. The 288 was built to compete in the FIA Group B but before its development ended, the series was disbanded. Ferrari's F40 was constructed mainly of carbon fibre, a material that had only found its way into Formula One a few years prior. Power came from a 2.9 litre twin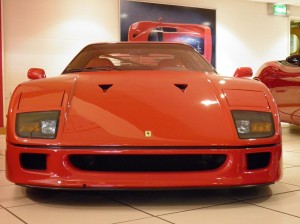 turbocharged V8 that produced 471BHP. The result of all this racing technology being forged into a road car was enough to blow the minds of children and adults alike. The Ferrari F40 was the first road production car to exceed 200MPH, very much putting Porsche's 959 back in its place.
The cockpit was cramped, there were no luxuries what so ever, and with that monstrous V8 just inches from your head the heat becomes apparent very quickly. But that is the point… This car is the very spirit of Ferrari. It doesn't care for proper air conditioning or carpets, it is a race-bred machine that's only focus is being the ultimate in performance. The Italians built 1,315 examples of the F40 and since then they have never built a road car more pure. Today it is all about the electronics and flappy-paddle gearboxes, the F40 on the other hand, took no prisoners. You had to work to get the most out of that beast, and if you weren't sweating blood after an exuberant drive, you were not using it to its full potential.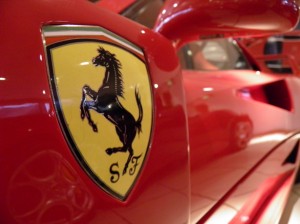 I have been lucky enough to experience an F40 for myself, and let me tell you, it is every inch the legend that you would expect it to be. It is a machine that has no time for posers or the faint hearted. It is intimidating, it is raw and it is also simply the best car Ferrari has ever made. A real credit to the man who built it. Happy 25th Birthday Ferrari F40.
You can read about our encounter with this motoring milestone HERE.