Unless you happen to live halfway up an active volcano, there's a very good reason why you can't drive 100 metres from your house without crossing paths with a crossover. The category of car that purports to be all things to all men – of a certain budget that is – generally does just that.
Whether your family has outgrown its supermini or if your hatchback has relinquished its role as the taxi of mum and dad, a compact SUV is uniquely placed to offer you a practical, wallet-friendly solution.  Cars in the mould of the Mazda CX-3 or the Honda HR-V typify this kind of two-pronged attack. They feed and thrive off the insatiable demand of drivers looking to upsize as well as those wanting to downsize in a single, market-gobbling stroke.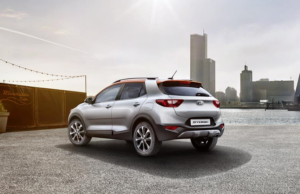 With this in mind, it's no surprise to see Kia upping the pressure on it's key rivals with an all new baby SUV breaking cover. The Stonic, revealed by the Korean brand this month, will do battle with the likes of the Mazda and Honda, as well as facing European competition from the Citroën C4 Cactus and Renault Captur. Can it survive and thrive in the crossover bear pit?
Any new arrival requires an eye-catching hook to pull in the punters. Arguably, the Stonic has two; and both are part and parcel of owning a Kia. The Most obvious perk comes in the form of the trademark Kia seven-year mile warranty, something you won't find anywhere else on the market. However, the Stonic may well turn your head just as much as it appeals to it. Taking a few styling tips from its existing stable mates the Picanto and Cee'd, the all-new Stonic continues the trend of quietly seductive Kia styling by adopting the brand's familiar tiger-nose grille. There's an all-new Targa style roof too, directly inspired by Kia's 2013 Provo concept hot-hatch.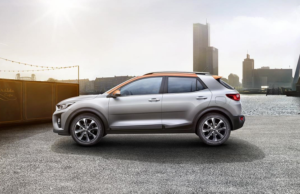 This can be customised with five distinctive shades, lending the new Kia crossover up to 20 two-tone colour combinations. Whilst the Stonic doesn't quite exude the gorgeous charm of the CX-3 or rival the sheer quirkiness of the C4 Cactus, the newest mini-SUV on the block nevertheless represents another job well done by Kia's design team.
As anyone who has taken the time to peruse the Kia stable will know, the Asian marque already boasts a compact crossover in its ranks. However, the key dividing line between the existing Niro and its new sibling comes down to power. Kia's Prius-rivalling Niro, ostensibly a high-riding variant of the Cee'd hatchback, comes exclusively as a hybrid. For its part, the 2017 Stonic slots in beside its marginally more sizable sibling with a full range of internal combustion engines. Each paired with a manual gearbox, the 119bhp 1.0-litre turbo petrol sits below its more powerful counterparts, the 1.25 and 1.4-litre naturally-aspirated MPIs. An efficient, low-emission 1.6-litre diesel engine completes the range.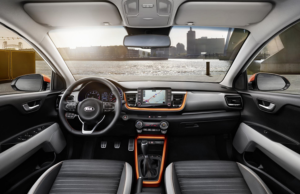 Fitted as standard with Electronic Stability Control and Vehicle Stability Management for a smoother, less spine-jangling ride, the front-wheel drive Stonic also gets a number of comfort-orientated  hand-me-downs from its more premium stablemates.  Full smartphone connectivity is par for the course these days but other Stonic features such as heated front seats, cruise control and keyless entry aren't necessarily widespread across the value-end of the crossover spectrum. All this, plus a sizable 352-litre boot as well as plentiful safety features, should equip the all-new Stonic with enough tools to give it a fighting chance in on the congested mini-SUV stage.
Ultimately, pricing will be key. Encouragingly, Kia already has a reputation for great value when pitched toe to toe with its Asian and European adversaries. We'll find out exactly how the land lies when the all-new Stonic goes on sale across Europe towards the end of of 2017.