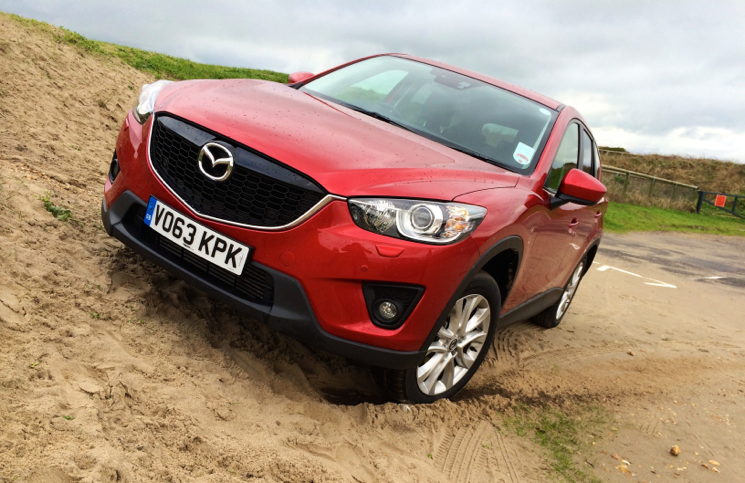 The crossover SUV sector is the only segment of the market that appeared undeterred by the economic upheaval we have experienced over the past few years. Those still buying new cars craved the high driving position and sense of security that a bigger vehicle gives. Mazda who were keen to introduce a new model to their range decided that this market was a relatively safe bet and so the CX-5 was conceived. Offering Japanese reliability in its engineering, a range of new efficient Skyactiv engines and Kodo design langue, this SUV takes on tough competition.
Kodo means "soul of motion" and it is this stylistic statement that you shall see attached to many future Mazdas. For those who don't speak car designer, soul of motion translates into a sculpted shape that is garnished by swooping body lines. Our test car in this gorgeous red paint turned many heads and left the neighbours cooing over it whilst parked in my street. The designers have done a fine job giving the CX-5 a purposeful stance and handsome looks.
The interior doesn't convey the overt external design, but instead provides occupants with a clean and ergonomic cabin. Controls and buttons are logically located with each of them possessing a nice durable feel. Air conditioning dials adjust the dual zone climate control with little clicks just the like the tumbler on a safe, buttons have a reassuring motion, and the plastics feel hardwearing. It may not be the prettiest interior of its class, but it is the most hassle-free as everything falls to hand and you can tell a lot of time has been put into mastering how the driver interacts with the car. The touchscreen display gives access to the cars infotainment system and also a built-in TomTom sat-nav of which I must say is rather good at its job. Seating five in leather trimmed comfort, this CX-5 Sport Nav is a nice place to be, and with creature comforts such as heated seats, long journeys needn't be arduous. As for space, rear passenger head and leg room is ample along with the boot being large enough for just about any shopping trip you can throw at it.
Starting the Mazda CX-5's 148BHP 2.2 litre diesel engine takes just the push of a button. The Skyactiv engine idles quietly and proved to be a very smooth power unit. This specific Mazda CX-5 is the 2WD model as opposed to the heavier, but more powerful, 173BHP four wheel drive model. In motion it became apparent that this car seems to hark back to an old slogan of the Japanese company… "Soul of a sports car." Now I'm not saying that it drives like a Mazda MX-5, but for a car of this size it feels very nimble. The steering is responsive and possesses good levels of feedback, there is a lack of body roll and the manual gear change is very slick. It just feels light on its toes and defiantly gives it a more sporting edge over its competitors. With the diesel engine providing a positive dose of torque and linear power delivery, the CX-5 is enjoyable to drive in a spirited manor. The trade-off, however, is that the cars ride can be a bit firm at times. When it comes time for you
to drop the kids off to school, the Mazda is refined in urban environments and the engine is quiet whilst in use. Pottering around with the start/stop system active not only highlighted its green credentials, but also its ease to drive. On the motorways there is a bit of road noise that protrudes into the cabin, but I think that is mainly due to the larger alloy wheels on this model. Otherwise on the flat tarmac of the M27, it performs well maintaining speed effortlessly and utilises its power for strong overtaking manoeuvres. Set the cruise control letting the car take the strain and you will arrive at your destination in no time.
The Mazda CX-5 2.2 2WD 150ps Sport Nav Diesel has the best engine in the range fulfilling its promise of unique styling and good levels of practicality, but adding some very pleasing economy figures into the mix. Driven gently Mazda says you can get up to 61MPG out of the CX-5. Whilst we were testing the car in multiple environments and in different driving styles, we managed a still respectable 47MPG in the real world. Our test car came to a little over £27,000 and although had plenty of extras, could be seen as a bit costly. We would recommend this brilliant power train and engine combination but with the still adequately equipped SE-L trim that can be had from a well priced £23,825.
Overall the CX-5 is certainly the most engaging car to drive in its class and a machine that should make everybody's shortlist who is shopping for an SUV.