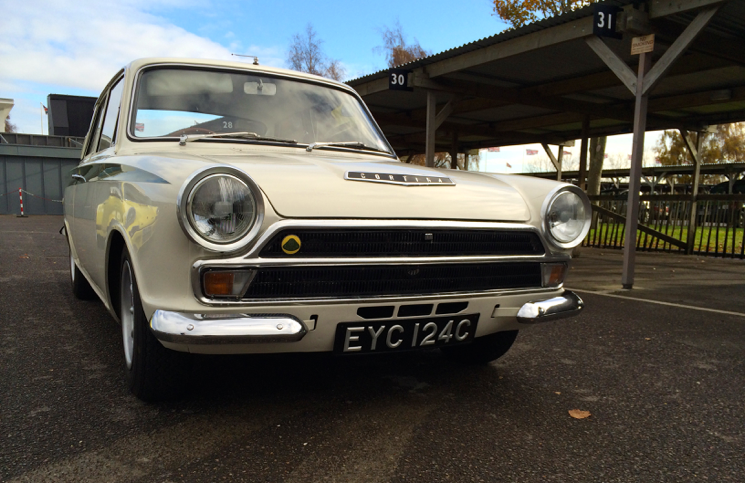 The term "Fast Ford" has become commonplace in the enthusiasts vocabulary over the decades, particularly in the UK where our love for quick practical cars exceeds that of Europe combined. Over
the decades Ford has produced some real corkers such as the Focus RS, Escort RS Cosworth and the Sierra RS Cosworth to name but a few. These "power to the people" machines showed the establishment that you didn't need vast quantities of money to have fun behind the wheel whilst at the same time keeping the family happy. Fast Fords are the ultimate expression of having your cake and eating it. Whilst their history is colourful, where did it all begin? This 1965 Ford Lotus Cortina illustrates genesis.
The cars origins begin with the Ford Cortina which was a strong seller for Ford in the UK. Back in the 60's the mentality of "win on Sunday, sell on Monday" was still very much alive and so for this car to prove its worth, the arena of motorsport awaited. Unfortunately the Cortina wasn't exactly sporty… At all. Here is where Collin Chapman and Lotus come into the picture. Ford asked Chapman to create the Ford Lotus Cortina utilising a new 1.6 litre engine for homologation in order to take it racing.
Modifications began with extensive suspension changes with shorter front struts and new control arms, rear springs and dampers. The chassis was strengthened with bracing and the battery move to the boot for better weight distribution. Lotus also made the car lighter and added large front brake discs. Its new 1.6 litre twin overhead cam engine produced 105BHP, twice that of the standard car. 0-60MPH in 10 seconds back in period was mighty impressive. Its gearbox was straight out of a Lotus Elan showing just how serious this project was. With a an exclusive white and green livery and a sportier interior, the Ford Lotus Cortina was a huge success both on the road and track. This car was a revelation and when fans saw heroes such as Jim Clark win the British Saloon Car Championship, they were straight down to the dealership.
Our pristine 1965 Ford Lotus Cortina is still a rather fetching machine today with bags of character in its design. 13 inch steel wheels compliment its chromed bumpers and those round headlights are just pure 60's design. A neat Lotus badge sits beneath the flared fins at the rear. In comparison to its modern day equivalent, this car is tiny. Back when health and safety was for "squares" and winning was the goal for Ford and Lotus, it was all about being light. Aluminium doors and bonnet further reduced the Cortina's weight.
Enter the cabin and you are presented with a large wooden steering wheel which proudly wears a Lotus badge at its centre. Extra gauges sit in neat rows, much like an aircraft, whilst the speedometer reads up to 140MPH. For a performance oriented car the seating is quite comfortable and there is plenty of interior space. This is what is ultimately at the core of every Fast Ford, an impressive blend of performance and practicality.
Turn the key and its four cylinders erupt into life. You can smell the engine at work as its idle produces a fantastically rich note. Visibility is great, this is a family car after all, and the machine overall is easy to drive especially with servo assisted brakes. Obviously there is no power steering and so at low speed your arms do get a good workout, however, due to its lack of weight it is nothing in comparison to other cars of the same era. The suspension is rather compliant for something intended to go racing and there is a beautiful amount of communication between car and driver via the wheel. Put your foot down
and acceleration is only progressive by todays standards, but back in its day it was plenty fast. This car makes a brilliantly charming noise that just encourages you to push on. Its slick manual gearbox is a joy with a very mechanical precision to it. Ratios are close together and so there is lots of enjoyment to be had whilst working the wooden topped gearstick. Tuck it into a sharp corner and it homes in on the apex with much more precision than expected considering its skinny tyres. There is notable body roll but clearly much less than that of the standard car. The brake pedal has ample feel and actually the brakes are far better than other car of this age in terms of responsiveness. It doesn't take very long to develop a rhythm in this Ford whilst you have a grin like a Cheshire cat on your face.
This 1965 Ford Lotus Cortina is a winning combination and a joy to drive even 50 years on. The chemistry between man and machine in this automobile is what makes it one of the industries all time greats. This recipe survives today and is deeply rooted in Ford's DNA, but this is where it all started.