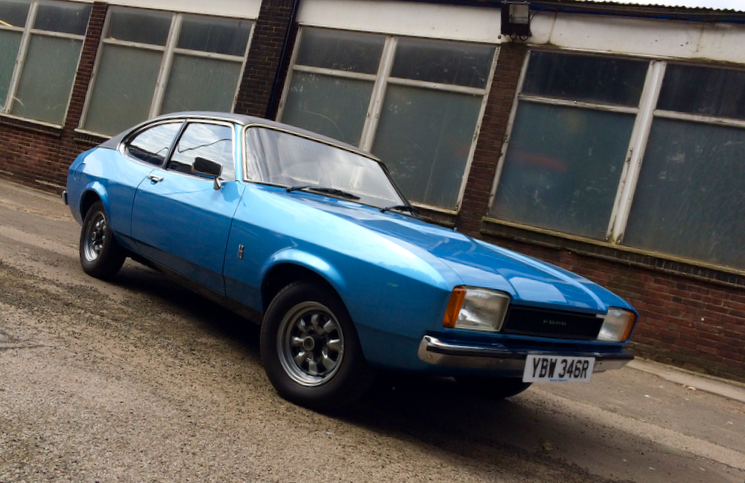 Those from an older generation tell me that the Ford Capri was the "mutts nuts" when they were younger. The British alternative to the Mustang was popular to a cult-like degree. This represented
more than just a means of getting around, it was an achievable aspiration, a car that let people know that you knew what you were doing in life. Adored by millions, it would appear most people fell into two camps, those who had a Capri and those who wanted one more than their next breath. Clearly nostalgia features greatly in peoples tales of their Capri and how good it was, but I have never driven one. Today I had the opportunity to drive the icon without rose tinted glasses to see if this urban legend really lives up to its reputation.
What we have here is a 1977 MK2 Ford Capri, a key contributor to the total of over 1,900,000 units sold in Europe over the nameplates 17 year life. Whilst not the most popular incarnation amongst enthusiasts, the MK2 is an appreciating commodity today and retains all of the key hallmarks of a Capri. A long bonnet stretches into the horizon, a fastback sloping roofline tapers at the rear, and a dash of chrome to let your neighbour know that you were doing alright for yourself. Finished in blue with a black vinyl roof, even today I can appreciate how "cool" this car is. From its profile to the design of its wheels, it has an unjustifiable swagger to it don't you think?
Inside you will find half leather seats and a wood finished dashboard. Knobs and dials akin to that found on a CB set makes up the radio. A large thin rimmed steering wheel dominates its surroundings and proudly displays "Capri" in italics at its centre. Something that you immediately notice in this Capri is just how much space there is within the cabin. Seating four with plenty of space, including a surprising amount of head room at the rear, the MK2's increased length over the original was a key selling point. It wasn't just the car you wanted, it was the car your mother would be happy for you to own as it displays practicality in its design.
Starting the cars 1.6 litre petrol engine, with a bit of encouragement from the throttle thanks to its carburettors, the Capri instantly felt like a very mechanical affair. The four cylinders of this naturally aspirated engine power the rear wheels via a four speed manual gearbox. Wrestling the unassisted steering at low speeds meant that there was no need for me to visit the gym that night, but what it also created was a wonderfully pure feeling through the wheel. A true sense of connection to the road is achieved as you can sense exactly what is going on underneath those front wheel. Clicking through the gears is very satisfying as it is a precise motion
moving the gear leaver from one ratio to the next. However, don't expect this "old girl" to be going anywhere in a hurry. With 72BHP, this 1977 Ford Capri 1600L wasn't the fastest model when new, let alone at the age of 38 years old. That said, the throttle is responsive and certainly feels more alert than some modern turbocharged cars. Turn into a corner and you might be surprised at the reasonable levels of grip on offer considering the Capri's skinny tyres. The nose tucks in quite well, being rear wheel drive helps, but cornering at a pace does result in notable body roll. Much has been learnt about lateral control over the past few decades that is for sure. In terms of ride, the suspension does a good job of softening the blows of speed bumps, something this car never had to contend with when new, but it is somewhat over-sprung as it tends to bounce and jiggle. The brakes, whilst full of feel, did leave something to be desired as is the case with classic cars.  Visibility all around is exceptional for a car of this type with large windows featuring in its design. At higher speeds this 1977 Ford Capri 1600L runs smoothly with the engine of this fine example never missing a beat. It was also great to see the smile on peoples faces as they recognised the silhouette that the Capri forms.
I think that is the key to the Capri… It is not just the machine, it is the memories and emotions it provokes that makes this car special. 84,300 MK2 Capri found a home in the UK bringing with them plenty of improvements over the original. These cars are going up in value and so now is the time to get one. Become the king of cool, drive a Capri.