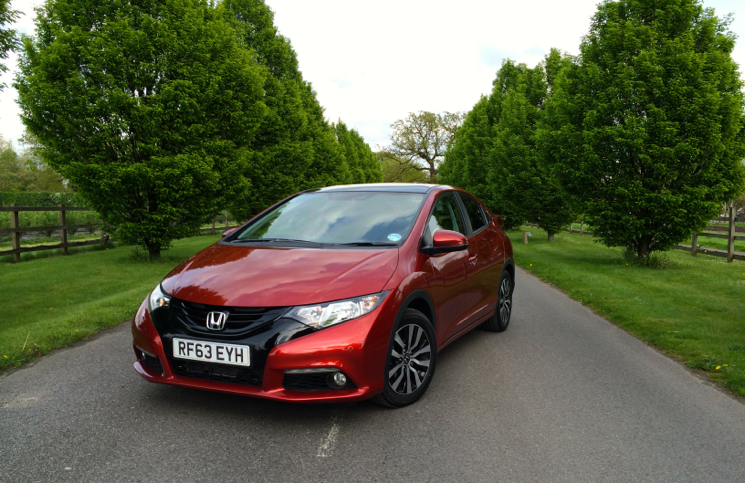 It is the little things in life that make the difference. A nice compliment that lifts your spirits, bumping into an old friend who you haven't seen for ages, even something as simple as a sunny day can put a smile on your face. It's details like those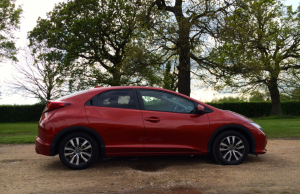 that make your day that bit better and Honda have similarly made a few small changes to the Civic that, just like your day, make the car more enjoyable. The 2014 Honda Civic 1.6 i-DTEC SR is all about the little things.
Some of you may have read our review of last years Civic powered by the same 1.6 litre diesel engine. So, why are we effectively road testing the same car again? Well, the small revisions made for 2014 all add up to this model being even better than the one that preceded it.
Externally with its Passion Red Pearl paint, our 2014 Civic test car looks great. Visually not a lot has changed overall with the car retaining it opinion splitting architecture, however, I never had a problem with it in the first place. The protruding lights and split rear windscreen separate it from many other bland designs in this segment giving it a good dose of character. The first 2014 changes are to the grill that now sports a gloss black finish as opposed to the graphite grey of last year. This teamed with darker wheel arch trim and tinted glass creates a premium appearance and one that had a few people asking just how much it costs. Its 17 inch alloy wheels are the cherry on top for the improved aesthetics.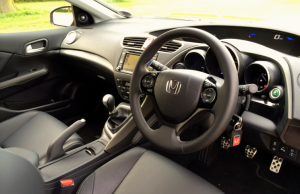 The interior has changed very little, yet, it didn't need to as this Civic generation boasts a cabin that is not only practical but also, in true Honda fashion, very well put together. Its black leather interior basks in the vast amounts of natural light let in by the panoramic glass roof that spans the car. A touchscreen navigation unit makes itself at home on the console along with a logically located dual zone climate control system. The previously mentioned leather seats are comfortable and supportive but are also equipped with a heating function in this SR specification car. DAB radio, Bluetooth, DVD player, automatic headlights and wipers, cruise control as well as a nice set of aluminium pedals were included on the model tested that came to a total of £24,860. In the back, head and leg room are good and potential owners will be happy to see that it also has a generous boot. As with most new Honda's, the 2014 Honda Civic 1.6 i-DTEC SR utilises its brilliant magic seats to maximise the cars versatility. My only complaint is that whilst all the various buttons are in logical places, there are a few too many of them.
Whilst the interior has hardly changed, it is when the car is in motion you can experience its biggest alterations. The 2014 Civic has been specifically tuned for British tastes at the Swindon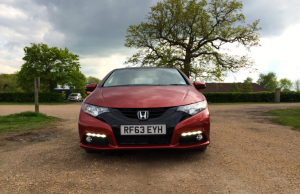 factory. The steering now has a bit more feel to it and weights up nicely around corners. Whilst it is still not the most intuitive steer in in its class, those honours go to the Focus and Golf, it is much improved. Its dampers and rear suspension have also been fettled with resulting in slightly keener handling and more consistency at higher speeds. This Civic has plenty of grip on offer and its competent brakes gives the driver plenty of confidence. Its ride can get a bit choppy over consecutive road imperfections, but on the whole it is compliant and comfortable. The star of the show is this cars 1.6 litre i-DTEC engine that has plenty of torque, for those times when you can't wait at a junction any longer, and impressive fuel economy. Putting the car in its economy mode, or "ECON" 60MPG is achievable without driving like a nun. This is very pleasing and makes Honda's claimed 78.5MPG figure entirely believable if you make a conscious effort. Around town the car merrily potters along without any fuss, although rear visibility is impaired by that split windscreen. On the motorway the 2014 Honda Civic 1.6 i-DTEC SR is effortless to drive, a car you could easily cover hundreds of miles in.
The C-segment is a highly competitive arena to do battle in these days, but the Honda Civic has again shown it has what it takes to make the shortlist of anyone looking for such a car. In diesel guise and with the new enhancements for 2014, the Japanese hatchback is a formidable foe to its competitors.