If you find yourself shopping for a family hatchback you will be spoilt for choice. This is one of the most competitive segments in the automotive industry, and the continuous war between car manufactures for your money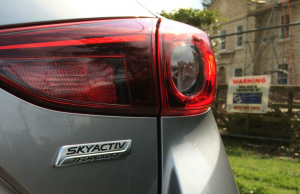 means that every year the game of oneupmanship produces even better products. What each brand attempts to do is differentiate their product in some way. If you are looking for a reliable, well priced and fun to drive alternative to a VW Golf, Mazda reckon they might just have something for you.
The 2014 Mazda 3 is a new car from the ground up. Whilst its predecessor was a good car, the likes of Ford's Focus was a better all-rounder. Todays question is… Can this incarnation finally surpass one of the UK's best selling cars? Our test car is the 2014 Mazda 3 1.5 100ps SE Nav Petrol and for those who don't speak Mazda salesman, that translates into an almost entry level hatchback powered by a 1.5 litre Skyactiv petrol engine with 98BHP. The companies new Skyactiv-G petrol unit emits just 119g/km of CO2 and is said to return 56.4MPG.
It has to be said that even without extravagant alloy wheels or posh paint, the new Mazda 3 looks great! Not that its standard 16 inch alloys are anything to complain about. Utilising Mazda's current design language, Kodo – soul of motion, its energetic body lines and creases give it a dynamic appearance. A long bonnet and chrome grill surround instates Mazda's intention to push this new 3 upmarket. This model now has an image that very much separates it from others in the C segment.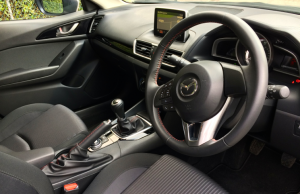 Inside the cabin has taken a real step-up from its forerunner, introducing a stylised environment that is still ergonomic. These standard cloth seats might not boast all of the electronic gizmos of the top specification car, but they are well bolstered and very supportive. The seating position itself is spot on with the slick 6 speed manual falling to hand and a highly adjustable steering wheel at your disposal. Its instrument binnacle is dominated by a large speedometer supported by two digital displays. It looks very smart, but above all is functional. That is the trend of this interior that packs just enough style but plenty of usability. My only complaint being that some of the plastics don't do the design justice. A 7 inch touchscreen display sits on top of the dashboard providing the cars infotainment and satellite navigation. Rear passengers are treated to ample head and leg room with an adequate boot located the other side of a 60/40 split rear bench.
The 1.5 litre Skyactive idles quietly and maintains its refinement on the move. Thanks to being naturally aspirated the power delivery is nice and linear, although you do have to work the gearbox to get the most out of it. Whilst the pedal box lacks some feel, the steering does not. Its responsive nature quickly darts the Mazda 3 from bend to bend and a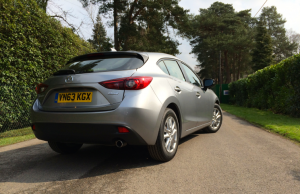 well sorted suspension set up keeps body roll to a minimum. The cars agility and very tidy gear shift creates a sporty edge to this hatchback. These handling characteristics make it one of the most driver oriented machines in its class which will please those who genuinely enjoy driving. Ride comfort is sacrificed slightly for this more involving chassis, but it is far from back breaking. Taking the needle to the redline produces a not unpleasant noise and the cars capable set of brakes inspire confidence in its capabilities. The heavier 2.2 litre diesel option does feel more planted during exuberant moments behind the wheel, but having a lively petrol unit under your right foot is more entertaining overall. There is a more powerful 2.0 litre petrol engine on offer, but for predominant urban use the little 1.5 litre is your best bet. Visibility is good and the precise well weighted steering is an asset around town as well as on more exciting roads.
Mazda have earned a well deserved "pat on the back" for there efforts with the 2014 Mazda 3 1.5 100ps SE Nav. For a reasonable £17,825 as tested, this car gives competitors a real run for their money. Not only in terms of value, but as a driving experience also. All cars come with Mazda's Smart City Brake Support which will prevent the car from having low speed accidents, say in stop/start traffic for example. Another nice standard feature is Hill Hold Assist, usually reserved for the options list on other cars in this class.
The new Mazda 3 ticks a lot of boxes and does a fine job of giving Ford a few sleepless nights.