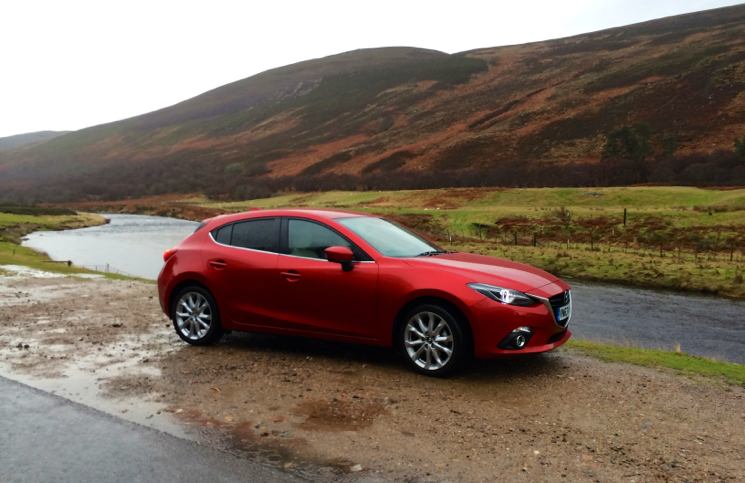 A lot of companies have had a tough time these past few years what with an economic climate that had been harder to conquer than a rowdy football crowd. Mazda has spent the past four years struggling to make a profit with sluggish car sales, however, 2013 saw a return to form thanks in part to their "6th generation" cars. The Mazda 3 has always been a big seller with 3.6 million sold globally and often nipping at the heels of longtime hatchback rivals Ford as a driving experience. 2014 sees this model join that next generation line-up, but the question is, can it finally come of age and become more than just a thorn in the side of the Focus?
This all-new 2014 Mazda 3 further builds upon the Kodo design language that was was first seen on the stunning Mazda Shinari concept car. Kodo means "soul of motion" and this is something that becomes very clear when you first lay eyes on the
new metal. Our test car finished in Soul Red is the perfect canvas on which to portray those seductively swooping body lines. From nose to tail this hatchback appears to have some form of movement flowing across its panels even whilst stationary. Proportionally it is excellent to look at and with a long proud bonnet sporting further contours, premium becomes the single word I would use to describe its intricate appearance.
Open the door of this top specification sport nav model and the pleasing aesthetic design continues. A very grownup aluminium trimmed cabin welcomes you with sculpted leather seats and a
logical console, but it also suggests a keen drive awaits you as the rev counter dominates the drivers instruments. A 7 inch touchscreen display sits centrally giving users access to the cars infotainment system that includes DAB radio, Bose sound system and internet access. In the rear occupants are treated to supportive seating that offers plenty of head room and respectable space for their legs too. Boot space is plentiful meaning that the results of a large shopping trip, or even a small hippopotamus, could make itself at home.
Hitting the starter button on this 2.2 litre diesel model reveals a smooth idling and very refined engine. All of the units found in a new Mazda 3 are part of the Skyactiv family meaning good claimed efficiently. The driving position in this car is spot on and feels much more akin to a sportier model. Its gearstick falls easily to hand and the steering wheel continues the trend of solid ergonomics. On the move the engine proves to be quite entertaining with high levels of torque available from low revs. The 6 speed manual gearbox is relatively satisfying to use with each change having a short throw, again making the car feel a tad more driver focused than its competitors. In an urban environment, of the few we encountered in the barren lands of Scotland, the 2014 Mazda 3 was perfectly comfortable and with a good turning circle was an easy drive. The start/stop system works well and is quick to restart the engine and get you underway again. Yet, it is when you take this car out of the windswept towns and into the mountainous beauty that is Scotland, that it reveals traits that will please enthusiasts of driving. As
the tarmac twists and ungulates painting an exuberant ribbon before you, the Mazda 3 is as eager as you are to join the fun. Nice quick steering combined with an excellent chassis provides the basis of a car that is very clearly aimed at those who enjoy driving. With the nose tucking into corners nicely and that torquey diesel slingshotting the car down the road upon exit, I found myself with a bit of a grin on my face it must be said. The suspension setup may be a bit on the firm side when the road surface gets bumpy, but it does a good job of dealing with body roll through fast bends. Although the throttle is responsive and the brakes confidence inspiring, the pedal box could do with a more feel to match the other car and driver sensations that this model excels at. A good feature found whilst driving the 3 is its heads up display. The dash-mounted panel displays your current speed as well as any directions the satellite navigation has to offer. This allows the driver to keep their attention on the road ahead whilst digesting the ever growing amount of information modern cars have to offer.
I think it is apparent that we liked the new Mazda 3 very much and applaud it for its keen driving characteristics and handsome looks. With a five star Euro NCAP safety rating and a good blend of efficiency and practicality, this puts it on an even playing field with the Focus which is often dubbed "king of the hill." For me what makes this car better than the Ford Focus is its driving dynamics which are quite simply brilliant. I have no doubt that Mazda are set to sell plenty of these cars and will undoubtably have rivals worried.