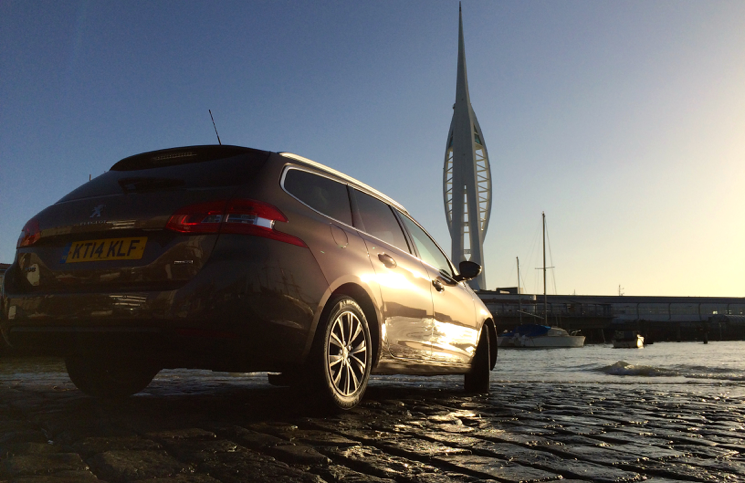 Peugeot are really finding their feet once again after, to be honest, a period of building not the most appetising cars. Reinvigorated new models of late have actually been very pleasing with some even competing for class honours. Products such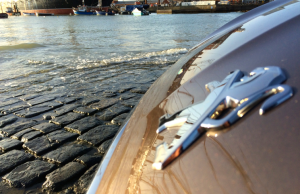 as the 208 GTi and RCZ R blew us away with just how good they were, yet they are performance cars, what of the bread and butter? The Peugeot 308 showed that the French company were really on a roll and hungry for the success they once enjoyed. Peugeot received just that with the car being declared European car of the year 2014. Now that package becomes even more versatile with the introduction of the 308 SW. Our test car being, more specifically, the 2014 Peugeot 308 SW Allure BlueHDi 120 is a good combination of comfort and economy.
It is very rare that you can call an estate car stylish as they are at their heart machines of function, but just like the hatch, the 308 SW is an elegant design. Tasteful amounts of chrome detail the streamlined shape. A prominent front grill appoints the 308 SW as a product of a more premium nature from the offset. Strong body lines sweep down the car keeping the design flowing along its length. In this "Rich Oak" colour (read brown) it might not be to everyones liking, but to my eyes this unusual tone does well to highlight the 308's design characteristics.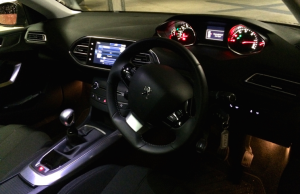 The interior is such a vast improvement over the previous Peugeot 308 that it is hard to believe the two are related. This 2014 Peugeot 308 SW Allure BlueHDi 120 has a clean design with curved facias and textured surfaces. It feels sculpted as opposed to drawn entirely with a ruler and with a distinct lack of buttons cluttering the console, it feels very modern. The instruments are beautifully designed and I particularly likes the rev counter that moves opposite to the speedometer. Its small steering wheel is of a good shape and is also mounted with buttons for various media. A large touchscreen display acts as the interface for everything from DAB radio and Bluetooth, to the air-conditioning and satellite navigation. This allure model sported some very supportive fabric seats which made long journeys nice and comfortable. A large glass panoramic roof floods the interior with light but also features a full-length blind for when the sun becomes a bit too much. Rear passengers are treated to good levels of leg room and reasonable head room allowing for less moaning from the children, good news for everyone on a long haul. 660 litre of space is up for grabs in the boot, but lower the rear bench and a vast 1,660 litres is all yours.
In design the 2014 Peugeot 308 SW Allure BlueHDi 120 comes across as a refined creature, but how much of that is a reality when in motion? At idle the 1.6 litre turbo diesel engine is smooth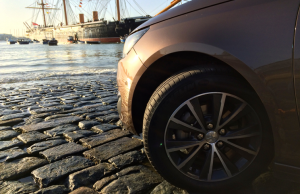 with vibrations and noise not very notable within the cabin. On the subject of the engine, this 120BHP unit emits just 88g/km of CO2 which is exceptionally impressive. Transitioning from stationary to mobile instantly reveals this cars low down torque. 300Nm can be used to good effect both in town and on the motorway. Gear ratios are well spaced and the aforementioned torque peeks at 1,750rpm meaning that driving efficiently in the 308 SW comes naturally. It is easily possible to get 64MPG out of this car without trying very hard. Once up to speed the cabin insulation prevents much road and wind noise to enter, it is quite a tranquil driving experience and proves to be a vehicle that revels in long journeys. In an urban environment the cars good visibility makes it easy to park, but even then this model was fitted with a system that is happy to park for you. We tested it several times and it managed to squeeze the Peugeot 308 SW into spaces we would have otherwise written off as being too small. The small steering wheel makes the this car feel light on its feet which is great when darting through town. However, the steering itself does feel overly light at times and lack the feel of what is going on beneath those front tyres. Set the cruise control on the motorway and it will happily motor along all day. Its suspension soaks up our British road imperfections well without allowing for too much roll in tighter corners.
The 2014 Peugeot 308 SW Allure BlueHDi 120 is a commendable choice for many reasons, its breadth of talents will no doubt serve a family environment well. From its appearance to the perceived quality, fuel economy to environmental friendliness, this car ticks the boxes in a manor that should have its competitors worried. Our test car came to £21,645 which is competitively priced when you factor in its level of equipment. This is Peugeot back where it belongs.