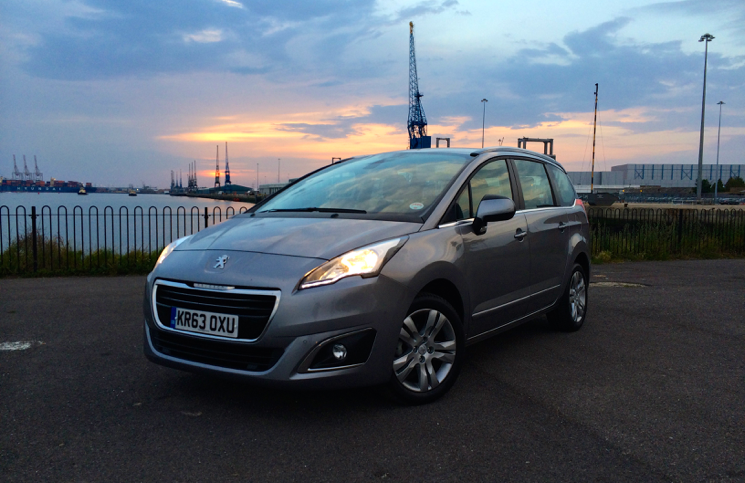 Transporting a large group of people from point A to point B has never been an easy task. You can't all squeeze into one car, the bus is as unappealing as ever and so an inefficient convoy of two cars is often the only solution. That is unless you
own a people carrier of course… With seven seats and plenty of space, could this Peugeot 5008 Active HDi 115 be more than just a tool for the odd occasion?
Introduced in 2009, the Peugeot 5008 has undergone a mid-life refresh for 2014 to keep things current and fitting with the rest of the French lineup. A restyled front end includes narrow angled headlights as well as Peugeot's new premium looking grill and badging. Breaking up what would be a large blank surface are contoured body lines leading to rear lights that wraparound the cars shoulders. A unique design feature within this class and one that easily identifies the 5008. The rear is dominated by a vast window neatly finished with a horizontal character line on the boot lid. All-in-all the nips and tucks that this 5008 has received have ensured the design is still throughly modern. Whilst it might not be as flamboyant as a Citroen Grand Picasso, its stylishly functional appearance is appealing.
The interior is arguably the most important part of this car as it is where you and the family will be spending a good chunk of time. If it is not fit for purpose then it is no good. Thankfully the Peugeot 5008 Active HDi 115 firmly ticks the "box as there is a large quantity of space on offer. Three rows account for seven seats and the number of storage areas mean that all of the families apparel can come along too. A feature I particularly thought was useful is a pair of underfloor storage bins. These maximise usable space and do a good of hiding valuables from opportunistic thieves. The rear most seats are easily deployed from the flat boot floor in one motion and offer enough space for children. At your disposal is 679 litres of boot space, but fold all of the seats flat and you have a gargantuan 2,506 litres to do as you please. In the middle row you will not be short of head or leg room as the three individual seats even recline. Whilst up in the driving seat you have satellite navigation and cruse control, the centre console now looks very dated with fiddly little plastic buttons and a small chunky display that noisily buzzes out from the dashboard. The cabin is not unpleasant, but it does feel like the architecture of a previous generation car especially when compared with other all-new Peugeots.
Start the 1.6 litre diesel engine and you will find it to be quiet and refined. This model produces 115BHP and 240Nm of torque. It is the torque figure that is the most important here as it is this that enables the 5008 to pull cleanly. Obviously with a 0-62MPH time of 12.9 seconds it isn't a fast car, but having maximum pulling power available from 1,750rpm means that getting out of a junction isn't much of a problem. It is only when the car is fully loaded do you wish that you had a little more than 115BHP under your right foot. Surprisingly, for such a tall car the 2014 Peugeot 5008 Active HDi 115 transfers its weight rather well. Instead of leaning and understeering through bends, it sits upright and has a reasonable amount of grip. The steering is also well judged and precise allowing the driver to accurately place the 5008 on the road. Gear changes were easy in with this 6 speed manual box. This combination actually makes this car more involving to drive than most people carriers, however, there is a trade-off. Whilst the chassis setup is competent in terms of dynamic changes of direction, it lacks the
expected level of comfort. The 5008 thumps into potholes and bounces over speed bumps thanks to its overly firm configuration. It may prevent body roll, but on British roads that are far removed from smooth European tarmac, I would rather more compliant suspension for this class of car. Entering a town or city in the 2014 Peugeot 5008 Active HDi 115 is nothing to worry about as visibility is very good all around via its large windows. Parking this big car isn't very hard either especially with our Active models parking sensors, that said the optional reversing camera would add an extra level of confidence when squeezing into a tight space. At higher speeds on motorways the 5008's refinement continues, baring the odd expansion joint, with little road or wind noise penetrating the cabin. As for economy, we averaged 47MPG which isn't bad for this size of car. however, the previously mentioned Citroen Grand Picasso trumps the 5008 here.
The 2014 Peugeot 5008 Active HDi 115 is the sweet sport in the range in terms of just enough performance for day-to-day life, cost and fuel economy. It handles well, provides everything a large family could ask for and has its own distinctive look. Our mid-range test car came to £22,445 which we feel is a fair price considering it includes satellite navigation, Bluetooth and the metallic paint. The 5008 is not a bad car, far from it. It just lacks the some of the comfort and modern interior features of competitors.