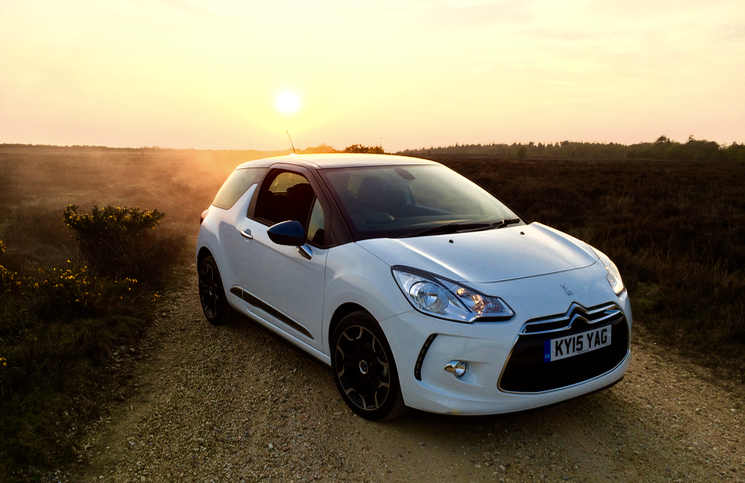 The Citroen DS3 is the brands biggest seller from its DS line of luxury products. Whilst the Mini has got its own way largely due to the popularity of the badge, the DS3 has had to earn its status as a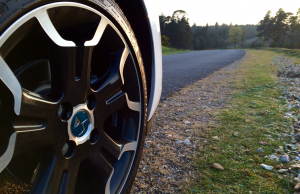 funky supermini since 2009. We have liked this French three-door from day one as it provides a keen alternative to its rivals. However, time marches on and for 2015 the DS3 has brought some changes in a bid to maintain favour, most notably new efficient diesel options. This 2015 Citroen DS3 DStyle BlueHDi 100 leads the charge.
This model may have first appeared some six years ago, but the designers at Citroen would appear to have created a timeless design. Still looking fresh, our test car was finished in an interesting combination of polar white and emerald. Customisation is a favoured trait of the Citroen DS3 to its young audience and there are many options to choose from. This car was marketed as "anti-retro" and that statement stands true today. Its blend of soft curves and bold details has something very iPod in its nature and just like an iPod, it comes across as fashionable. The 17 inch black alloy wheels on our example really promote this as a premium product.
Another strong point this 2015 Citroen DS3 DStyle BlueHDi 100 has in its arsenal is a great interior. Whilst in DStyle trim you don't get satellite navigation, you do get a piano black dashboard which looks great. Wonderfully designed instrumentation is akin to a smart watch face and metallic elements on the steering wheel further create a more luxurious atmosphere. Supportive fabric seats are comfortable and rather cosseting. Logical placement of controls on the centre stack for radio and air conditioning makes for a convenient environment. What isn't convenient, however, is the lack of cup holders! I have tested a few DS3s over the years and can not believe I hadn't noticed, but there I was with a coffee in my hand the other week genuinely wondering if I could wedge it in the glovebox. Citroen will sell you an accessory cup holder, but it does seem like a bit of a design oversight. In the rear you will find seating for three. Head and leg room are ok for adults in the outermost seats, but the middle position, as with most cars in this segment, is more of a temporary arrangement. The boot might not be class leading in size, but it is highly usable and possesses enough space for the weekly shop.
Under the bonnet of this 2015 Citroen DS3 DStyle BlueHDi 100 is one of the aforementioned new diesel units. This turbocharged 1.6 litre engine might not be the fastest with a 0-62MPH time of
10.8 seconds, but 254Nm of torque from low in the rev range means that progress feels brisk. In this guise the DS3 will emit just 87g/km of CO2 making it road tax exempt and further savings can be found with its claimed 83.1MPG combined efficiency. So the car would appear lean and clean, but what is it actually like to drive? Rather good actually! Once on the move, not much in the way of engine noise or vibration enters the cabin boosting refinement levels and general comfort. A five speed gearbox is found in this model, you will have to move up to the BlueHDi 120 for six forward gears, and is equipped with a very nice set of ratios. Fifth is geared quite tall and as a result this car doesn't really miss sixth. However, the addition of this gear would further improve economy on the motorway. The DS3 breezes through town, not only looking the part, but also commuting through traffic with ease thanks to its light steering. Visibility is good, but the rear window could be a tad larger. We recommend optioning the parking sensors. Point the car at higher speed bends and you will discover the vast amount to grip that is on offer. You have to be really barreling into a corner before the car begins to hint at understeer. This resilience to running wide gives the driver a nice sense of security. The brake pedal has a well judged progressive motion and enables precise interaction Body control is also good and the ride isn't bad at dealing with troublesome tarmac imperfections.
This 2015 Citroen DS3 DStyle BlueHDi 100 is a great specification in which to choose this hatchback. The new engine adds an even broader appeal to the car with its undeniably pleasing efficiency. If you are to spend most of your time on the motorway then the 120 variant is likely a better bet, that said, the majority of people with short commutes with find the BlueHDI 100 fits the bill. Our test car came to £17,595 which is reasonable considering the cars premium nature and options fitted.
The Citroen DS3 is still just as appealing as ever.