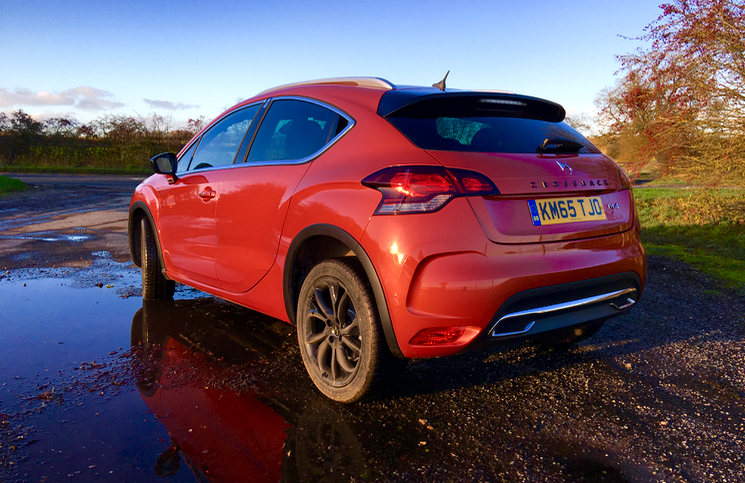 Whilst many of you will likely be familiar with DS under the Citroen banner, you might not know that the
sub-brand has now become a manufacturer in its own right. Strong brand identity in China has provided the momentum for the French mark to go it alone. With its own dealerships and a strong emphasis on bringing French luxury to the forefront of the premium market, the DS 5 was reborn earlier this year. Now it is the turn of the DS4, but in addition to baptising the hatchback DS has also introduced a new variation. Named the DS 4 Crossback, this high riding hatch aims to fill the void between a crossover and the standard car.
Our test car in its distinctive orange and black bloom certainly stood out. Whilst the overall silhouette hasn't changed from this cars days as a Citroen, there are some key features that make this very much a DS. The "DS wings" front grill produces a fresh chromed face that incorporates angled front headlights. A DS badge sits proudly on this cars nose. Smart black alloy wheels contrast the bright exterior creating a very stylish tone. This being the DS 4 Crossback means that it sits 30mm higher than standard, adds cladding around the wheel arches, and also features roof rails. A suitably more rugged aesthetic that retains a premium demeanour, much like a set of designer wellington boots.
Inside things aren't quite as plush as in its bigger DS 5 brother, but these half leather seats are high quality and are nice and supportive. There are several options when it comes to seating including handcrafted leather with the unique to DS "watch strap" design. Interior quality is good with some additional details such as polished scuff plates and DS patterned grab handles. This specific DS 4 Crossback was fitted with the extended front windscreen which curves over the front occupants heads allowing in more natural light. Mounted in the centre console is a 7 inch touchscreen infotainment system that will be familiar to anyone who has driven a new Peugeot of Citroen of late. Access to radio, bluetooth, and navigation is all just a touch away. Something that some potential owners might value is that all cars come standard with Apple CarPlay allowing for direct control of an iPhone. Mirror Link is also available for Android users. The 2015 DS 4 Crossback's rear quarters do let it down with restricted head and leg room. Also due to the narrow aperture that the door sits in, the rear windows can not be opened. Poor rear visibility must be combated with a reversing camera. This car begins to redeem itself with a generous 385 litres of boot space.
The DS 4 Crossback Blue HDi 120 is powered by a 1.6 litre diesel engine with, you guessed it, 120HP.
72MPG and emissions of 103g/km CO2 is a good start. This unit is reasonably refined, only emitting a diesel grumble when under load. Once underway things settle down and, particularly on a motorway, pleasant cruising is more than achievable. 300Nm of torque enables good performance once in motion. Light steering and gear changes makes the Crossback an easy car to drive allowing the driver to sink into their upmarket seats a bit more. How does this new model tackle our lumpy British roads? Rather well is the answer as road imperfections are absorbed without much fuss. There is plenty of grip on offer and, thanks to a quick steering rack, the car actually feels quite nimble. Its responsive change in direction makes it surprisingly enjoyable to drive when the road starts to meander, however, this is limited by a lack of driver feedback via the steering. There is some body roll with this car riding higher than standard, but actually much less than you might expect. Around town the compact shape of the DS 4 means that it can tackle the urban sprawl whilst retaining that desirable raised driving position.
You can have a Crossback from £21,745 which is what you would expect for a compact luxury car. DS isn't looking to take on the Germans at their own game, but it does aim to rekindle our love of French luxury cars with its own avant-garde flavour. The DS 4 Crossback certainly appeals to the fashion conscious and those looking for a car that makes a statement. That said, it does have its flaws and whether they are worth the individualism that the car grants will be down to the person who buys it.