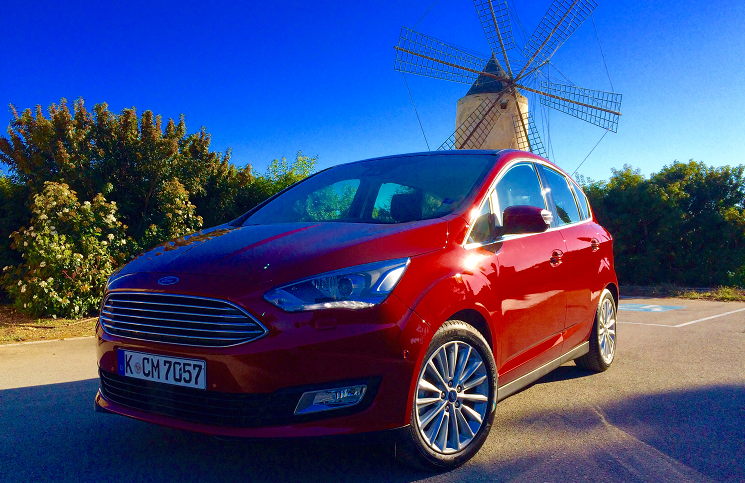 The British love a good hatchback for its styling and practicality. The Ford Focus was the seconds best selling car in the UK of 2014 shifting 85,140
units and, that was only bested by the smaller Fiesta. But what if your lifestyle requires a bit more space? Does that mean you have to exit the C-segment? Many manufacturers solve that problem with MPVs based upon their best selling hatchbacks. Volkswagen have the Golf SV for example. Don't go thinking that this is some sort of niche market, let us not forget that BMW have invaded recently with the BMW 2 Series Active Tourer. Ford's answer is the popular Focus based C-MAX which, just like its smaller sibling, is receiving mid-life revisions. We ventured to beautiful Majorca to put the 2015 Ford C-MAX 1.5 EcoBoost Titanium through its paces.
Finished in Red Rush, a new colour to the range, the C-MAX showed off its new exterior features. The now synonymous chromed ovular grill of Ford has been adopted along with a thinner banks of headlights. A slight budge or "power dome" adds character to what was a flat bonnet. Our test car in Titanium trim sports 17 inch alloy wheels which compliments the chromed trim that runs along the windows. Updated rear lights complete the cars external metamorphosis for 2015. These changes have matured the C-MAX and boost its perceived quality.
Changes have also swept through the cabin bringing Ford's new Sync 2 infotainment system. The 8 inch touch screen with its easy to navigate operating system takes pride of place in the redesigned console. Cascading surfaces house neat and logically located controls for air conditioning and heated seats. Silver trim and further contours create a pleasingly multidimensional interior. Flat surfaces were "so 2011." The rear bench provides seating for three and incorporates an impressive system that stows the center position and slides the outer seats inwards. This givess the two remaining rear occupants much more space. A high roofline, in tandem with large windows that fill the space with natural light, amplifies the already spacious feeling created by this car. Boot space sits at a usable 471 litres when loaded to the package tray, but fold the rear seats flat and pack the C-MAX to its roof, a whopping 1,723 litres.
Our 2015 Ford C-MAX has a 1.5 litre EcoBoost petrol engine that produces 148BHP. Power delivery is smooth and its slick 6 speed manual gearbox is
a lovely implement to use. Unfortunately this engine will not be making its way to our shores as few buyers of the previous generation opted for the more powerful petrol and instead went down the diesel route. This is a shame as the EcoBoost unit compliments the cars driving dynamics very well. Accurate and well weighted steering promotes a real sense of agility. Through a sequence of bends the handling DNA from the Focus is clear. Ample levels of grip and positive communication between car and driver through the controls. There is some body roll through faster corners, but no more than to be expected from a high riding hatchback. Refinement levels are high with very little in the way of road or engine noise entering the cabin. Whilst Majorca has roads far smoother than those found back home, from the patches of rougher tarmac and exposed drain covers I did encounter, I can report that it is damped well dealing with imperfections brilliantly.
Whilst the Fiesta and Focus do exceptionally well for Ford, the C-MAX is another big seller with over 1,200,000 sold since its inception in 2004. This was an important one for the blue oval to get right and I am pleased to say that they have. Now with even more equipment such as Hands-free Tailgate (a first in this segment) and the very recomendable Cross Traffic Alert, this 2015 Ford C-MAX 1.5 EcoBoost Titanium stands toe to toe with its rivals. Prices start from £18,195 for the 1.6 litre petrol with 123BHP but for a little more you can have the multi-award winning 1.0 litre EcoBoost engine.