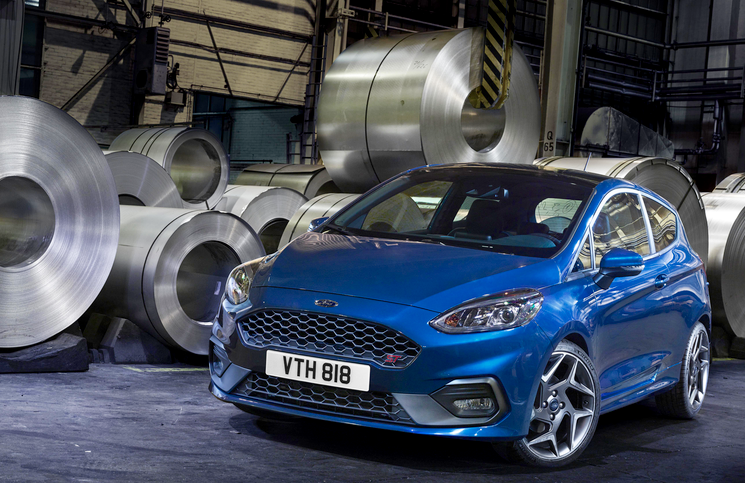 The current Ford Fiesta ST is something of a hot hatchback benchmark. It ticks all of the boxes with brilliantly playful handling, strong performance, and a price that makes it attainable by the everyman. With the launch of the all-new Ford Fiesta comes a new ST and this little puppy just couldn't wait for Geneva. Here is the 2017 Ford Fiesta ST.
Whilst appearing somewhat evolutionary in terms of visual design, the new 2017 Ford Fiesta ST domed front end sports a meshed grill that is flanked by a set of raked headlights. This more athletic bodykit also includes a re-sculpted rear bumper and boot spoiler. 18 inch alloy wheels complete the design.
Under the bonnet is a 3 cylinder 1.5 litre turbocharged engine. This produces the same 197 BHP as the swan song ST200. 214lb ft of torque is also on offer. Lots of effort has been put into the turbo to reduce lag. 0-62 MPH takes 6.7 seconds making it 0.2 seconds faster than the outgoing model. There are now three drive modes (normal, sport, and track) to choose from with each adjusting throttle responsiveness and the steering.
Inside the 2017 Ford Fiesta ST retains that new grow-up interior
of the base car, rectifying the biggest complaint of the previous model. A large 8 inch touchscreen infotainment system dominated the dashboard and a pair of highly bolstered Recaro sports seats make themselves at home.
Pricing has yet to be announced for the 2017 Ford Fiesta ST, but we do know that it will go on sale early next year.