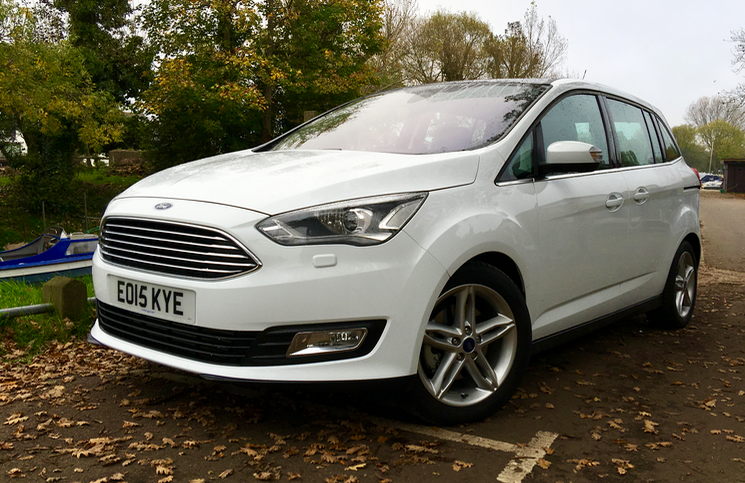 Today no car manufacturer can afford to build a bad car. In a world where products are now continuously scrutinised and the phrase "that will do" no longer exists in the automotive landscape, you have to try hard to find a new car without merit. Even traditionally mundane classes such as the people carrier, although in decline thanks to SUVs, have matured into premium machines. Is it a surprise that the new 2015 Ford Grand C-MAX has scored well? No, not really. What is astonishing is just how well this car did collecting four and a half stars. It wasn't just good… It didn't just tick the boxes. Here is why the Grand C-MAX is arguably the best car in its class.
I am sure top level designers relish a challenge and love turning something that is traditionally associated with boredom into something pleasing to the eye. However, a people carrier isn't exactly the best starting point. This C-MAX actually scrubs up rather well incorporating Ford's latest design features such as; a chromed ovular grill, raked front headlights, and a subtle bulge in the bonnet. Sporty spoked alloy wheels and a sloping belt line adds some dynamism. Granted it is a far cry from the sexy silhouette of the all-new Ford GT, but as seven seaters go it isn't bad at all.
The interior of any family car is an important factor as the last thing you want is continual cries of "are we nearly there yet?!" In top specification Titanium X trim our cars perforated seats were not
only comfortable on long journeys, but also heated for cold ones. Ford's new SYNC 2 touchscreen infotainment system dominates the console. Its user interface is easy to operate and provides access to everything from navigation to climate control. Dual zone climate control is a further luxury within this model. The second row offers plenty of head and leg room with a nice flat floor. Our example's glass panoramic roof was a great add-on booting natural light levels. This row seats three but a neat trick of the Grand C-MAX is that the middle seat and be stowed creating more interior space. Its third row has children in mind as leg room is limited, however, if you fold them away boot space is a pleasing 432 litres. Make all of the rear seats flat and a vast 1,715
litres is yours to play with.
This specific 2015 Ford Grand C-MAX is equipped with a 2.0 litre diesel engine that produces a healthy 148BHP and 400NM of torque. It is that torque figure that makes this car an excellent motorway cruiser. At any point it is capable of surging on past those dawdlers clogging the lane. Whilst on the subject of motorway travel, the Grand C-MAX is refined and cosseting on long journeys making for a relaxing companion. Back in the urban sprawl and good visibility all round is greatly appreciated. A smooth 6 speed manual transmission and light controls at low speeds makes this big car feel much smaller when manoeuvring. The addition of sliding doors means not only is there a large aperture to get in and out of the back, but when parked in a tight supermarket space you needn't worry about the kids swinging the doors into something.
So it is clear that the 2015 Ford Grand C-MAX caters for the family almost without fault, but to truly be worthy of its high score it has to go the extra mile. Head out and onto an interesting stretch of
road where a well sorted hatchback can be exploited and you will find that this people carrier can raise a smile. Direct steering and loads of grip means that hitting an apex, even in a car of this stature, is easy. Body roll is controlled well and the chassis appears willing to play when things get technical. Strong braking performance gives reassurance whilst torque from its 2.0 litre diesel slings you out of slower corners. Ok, so it isn't the fastest thing in the world, but it has to be the best handling car in its class since the Mazda 5. 61.4 MPG combined and emissions of 119g/km CO2 are the icing on the cake.
You can have the new 2015 Ford Grand C-Max from £20,295 but we would heartily recommend specifying this strong 2.0 litre TDCI engine. This C-MAX not only meets the high expectations of a large family car, it surpasses them.