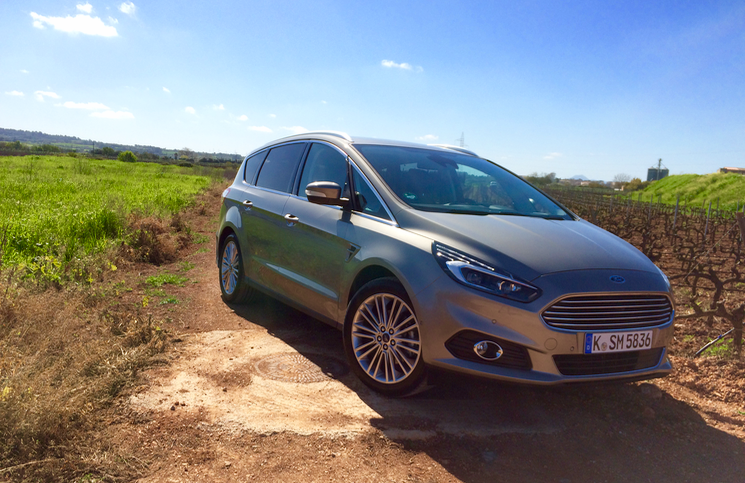 Sacrifice is part of life and something that we encounter everyday. You might have sacrificed your traditional morning coffee to get into work on time today, or given up some of your day to help a
friend replace a fence panel. Parents know this word well as in a busy household the children come first. Chasing after them to get ready for school, taking them to Birthday parties, helping with homework, it is all part of being a Mum or Dad. In terms of motoring Dad will likely have got rid of his little sports car for something more practical, or Mum her much loved premium hatchback for something more durable. Whilst fun and comfort behind the wheel are important ingredients in an enjoyable car, they are often sacrificed for more space and versatility. The Ford S-MAX was introduced in 2006 and aimed to be a jack of all trades balancing sporty handling, handsome looks and a luxurious cabin with seating for seven. The blue oval sold over 400,000 of them and 65% of owners went on to buy another. The 2015 Ford S-MAX 2.0 EcoBoost isn't just an important car for Ford, it is clearly an important car for their customers.
So here it is, the all-new 2015 Ford S-MAX, and isn't it handsome? When you think of a seven seat people carrier your mind isn't conjuring up images of a sleek and powerful profile, no, we tend to think of bland unappetising family buses. Clearly the S-MAX once again breaks the mould with its wide stance and raked a-pillar. From its chromed ovular grill on the nose to angular banks of lights at its tail, this S-MAX is undoubtably stylish. Strong lines leading on from the wings and neatly detailed vents gives the car a dynamic appearance. Whilst clearly a big car, its projected character is one of agility. A premium tone is conveyed through its detailed headlights and chromed trim. Basking in the Majorcan sun, our top specification car was finished in a colour called Metalicious.
The cabin of our top specification S-MAX proved to be a true exercise in top class interior design. Within this vast space you will find seating for seven and a whole host of technology. Its instrument cluster is a fusion between analogue and digital with traditional gauges surrounding information screens. Ford's new Sync 2 touchscreen infotainment system takes centerstage providing an 8 inch interface for audio, navigation and climate control. Sync 2 allows for intuitive voice controls that enable the driver to keep their focus on the road. Our S-Max also featured a front split view camera which enables better peripheral vision at junctions. The camera also has the ability to clean itself when dirty. Another great piece of technology in the car is Ford's new Intelligent Speed Limiter which claims to be "the end for speeding tickets." Cameras detect road signs and inform other onboard systems of the speed limit, then enforces a maximum speed for the vehicle. It can be overridden by the driver, but in theory you should never set off a speed camera whilst the limiter is active. A nice feature especially when the children are trying their best to be distracting. Speaking of other occupants, as well as the very supportive seats in the front, aft you will find the middle row to be highly usable. Lack of a protruding transmission tunnel means that everybody has loads of space for their feet and three individual positions also allows for good spacing between occupants. Large windows allow plenty of natural light in further amplify the spacious feeling. The final row will seat two children happily, however, adults would be a bit of a squeeze for anything other than short journeys. Boots pace with the rearmost seats in place is just enough for a couple of bags, but fold them flat with the push of a button and you have 965 litres to play with.  A second button folds all of the seats flat enabling a vast 2,020 litres of cargo to be loaded. The versatility of this 2015 S-MAX is something that families will value greatly. There are also multiple storage areas meaning that not only the kids, but all of their ever accumulating accessories can come along for the ride.
Our test car sources its power from a 237BHP 2.0 litre EcoBoost petrol engine making it the most potent model in the lineup. However, just 1% of buyers are predicted to choose this variant over the
much more sensible diesel. So why bother with this powertrain? Because it is a brilliant package! Teamed with Ford's smooth automatic gearbox, this car delivers on the fun factor that Dad may have been missing for years. Treat the S-MAX exuberantly and it relishes the opportunity to showoff its handling prowess. Despite being a large MPV, pointing it at a series of flowing bends results in accurate execution of each meander. Steering is precise and body control is unlike anything else in its class. Instead of leaning to one side and bracing yourself for understeer, the S-MAX simply tucks its nose in and uses its reassuring levels of grip. The car is good fun on twisty roads, something its predecessor was famed for, thanks to precise and well weighted steering. S-MAX is equipped with a variable ratio steering rack which adjusts the amount of effort required to round tighter corners without compromising higher speed handling. Whilst over high frequency bumps the new 2015 Ford S-MAX does ride a little firmer than rivals, in general it absorbs road imperfections
well due to commendable damping. This example possessed 17 inch alloy wheels and even with these the car remained composed. All-in-all this model strikes a very good balance between ride and handling. My only irritation is the the automatic gearbox isn't quite as quick when operated with the paddle shifters as others. That said, to 99% of buyers that will not matter a great deal as it will likely be left in auto. Settle down for a motorway cruise and this enthusiastic people mover transforms into a comfortable long distance cruiser. Outside noises are hushed and the engine only really makes itself known when you use all 237BHP for a strong overtaking manoeuvre. This tranquility is combined with the cars previously demonstrated attributes is what makes S-MAX so unique. Around town the car is very manageable and visibility is good even without the cameras available.
If you are wearing your sensible trousers you will buy the diesel. Its low down torque is very usable and on the motorways it has a fuel economy advantage. Also the diesel does get the option of all wheel drive. However, if you are bored of making compromises and just want to have your cake and eat it, then this 2015 Ford S-MAX 2.0 EcoBoost Titanium is for you. It does it all; carries lots of people, puts a smile on your face when driving B-roads, has more toys than you can shake a stick at, its comfortable, looks fantastic and even comes with a full size spare wheel! 31.7MPG is reasonable for this size of car with a 2.0 litre engine, but again, if economy is a deal breaker then you are in the diesel camp. If you want this engine in the UK you will have to upgrade to Titanium Sport which includes a more aggressive body styling and lowered suspension bringing the total cost to a princely £31,300. A more sane 2.0 litre diesel can be had for £25,245 or a smaller 1.5 litre petrol entry level model for £24,545.
Heads of the family, stop subjecting yourself to a mundane driving experience. The time for sacrifice is no more. Ford has done it again as the 2015 Ford S-MAX is very much king of the hill.