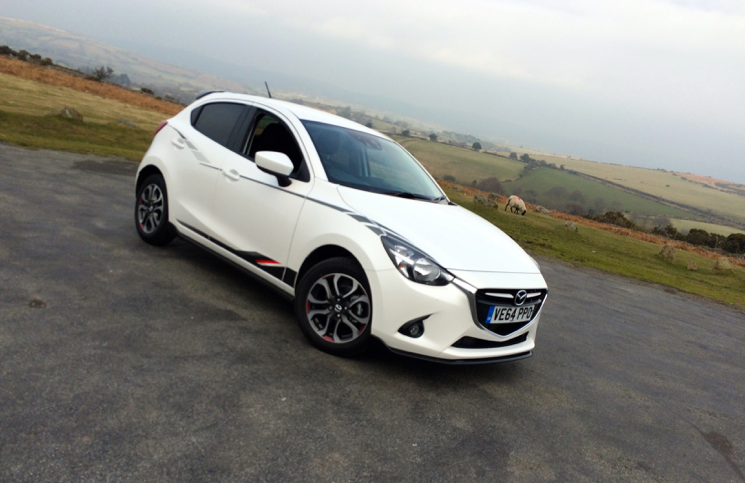 In the market for a new B-segment hatchback? I do not envy the decision making process ahead of you. Today no manufacturer can afford to build a "bad car" with competition being so strong, but
these little cars are big business and so the latest crop are all rather good. However, the Ford Fiesta has sat at the top of the pile for a while now and is in fact the best selling car in the UK. It is beginning to age a bit now despite a facelift as it was originally introduced in 2008. Can this 2015 Mazda 2 1.5 90ps Sport Nav take advantage and win favour with the masses?
The previous Mazda 2 sold very well with its handsome looks and good handling characteristics, but this 2015 Mazda 2 aims to do much more than just give its competitors a hard time… It wants the class crown!
This new car cuts a sharp silhouette into its surrounding environment in a manner that is modern, stylistic and exceptionally head turning. The latest incarnation of Kodo design language, Mazda 2 really stands out from others in its class. An aggressive stance announces its arrival detailed with clean flowing body lines. Snub-nose, angled headlights and a set of smart 16 inch alloy wheels all create a product which could sell on its appearance alone and will no doubt get more people into Mazda showrooms. Our test car features an optional body kit comprising of side skirts, a more prominent rear spoiler and contrasting red under tray. Add in some body stripes and the specification of this particular example looks sporting.
Another battlefield where Mazda intends to make its mark is the interior. Most supermini's cabin space is marketed as "fan" and "active" but the Mazda 2 takes things in a different direction. The level of detail in its design architecture is what you would expect in a C-segment car. Red stitched leather trims the dashboard and continues down the centre console on this top specification 2015 Mazda 2 1.5 90ps Sport Nav. Brushed aluminium adds detail and emphasis to this cascading environment. Mazda's new infotainment system makes its way into the little car. First seen on the Mazda 3 last year and now trickling its way into every new model, this ergonomic package gives you access to DAB radio, Bluetooth, satellite navigation and social networking features. The seats, ours finished in black cloth with red stitching, are supportive offering plenty of lateral support. On the rear bench there is space for two average sized adult, but those a little taller might want to barter for the front seat. The middle position is reduced in its usability due to the transmission tunnel commonly found protruding in cars such as this. Boot space is larger than the outgoing model at 280 litres and features a nice wide opening for easy use.
Enough of the "touchy feely" part of the review. How does this 2015 Mazda 2 1.5 90ps Sport Nav cope on British roads. In short, rather well. This 90ps 1.5 litre option is set to be the best seller. Now,
for those like me who like your power figures in good old BHP, 90ps translates to 89BHP. Unlike a lot of competitors Mazda has reframed from turbocharging, but thanks to their Skyactiv technologies this car still claims 62.8MPG and emits 106g/km CO2. The lack of a turbo means that this petrol engine is responsive, however, to get the most out of it you must be willing to work its 5 speed gearbox. Said gearbox has that classic Mazda short throw to it and is actually rather enjoyable to row through. Also enjoyable is the chassis you sit on top of. A lack of body roll through tight corners and good levels of grip means that you can bring the Mazda 2 out to play on a country road with confidence. Combine these traits with accurate steering and this hatchback becomes good fun. More steering feedback wouldn't go a miss, but the brake pedal has a nice feel to it which connects the car to its driver. At low speeds this Skyactive engine is whisper quiet with no vibration detectable, but at over 30MPH it is noisier than expected. At motorway speeds there is notable wind noise around the a-pillar which is a bit of a shame. This engine performs well at these speeds with a tall 5th gear, but is better suited to an urban environment. The 6 115ps petrol is the stronger motorway performer, with the diesel model being our pick of the bunch. Visibility is good all around which makes a nice change from the porthole of a rear window often found on modern cars.
The all new Mazda 2 is right up there with the very best in the class and, a few questionable plastics aside, has the best interior by far. It is fun to drive, competitively priced, and a handsome little scamp as well. There are very few reasons not to buy a new Mazda 2 which starts from a little over £11,000 in 75ps guise, but a make sure you buy the engine that suits your needs. Our 2015 Mazda 2 1.5 90ps Sport Nav came to £17,350 with everything on the options list. This car has just become the biggest thorn in Fords side.