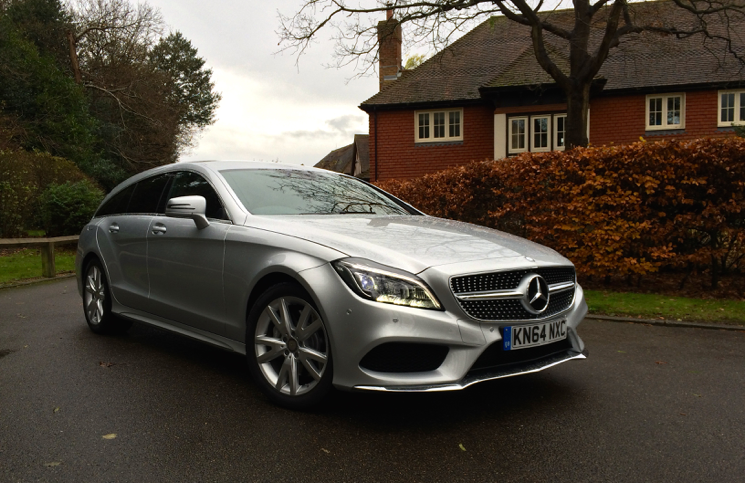 If first impression account for as much as we are told, then what you arrive driving makes a very big statement. Pull up in a clapped out old banger in todays fashion conscious world and you might be laughed out of the door. Equally, something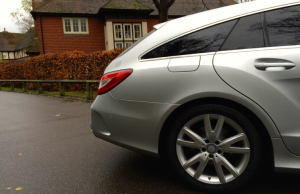 overly ostentatious with big shiny rims will likely be read as a helpless cry for attention. Clearly there is a balance to be struck between style and the power of the understatement. In this ballgame the Mercedes-Benz CLS SHOOTING BRAKE 350 BlueTEC AMG Line could just be the most charismatic machine on wheels.
"Isn't Shooting Brake just posh for estate?" Au contraire, a Shooting Brake isn't simply an estate car. These are machines of opulence and class once designed to ferry privileged individuals around whilst game hunting. Whilst even the most wealthy don't really go shooting everyday in this day and age, a modern Shooting Brake must not only be practical, but also desirable in equal measure.
This automotive sculpture is the Mercedes-Benz CLS Shooting Brake and isn't it just bite the back of your hand gorgeous? Freshly updated, the sleek yet muscular aesthetic of this car causes people to stop and stare. From its almost floating grill to the taut lines that run down its length, it just oozes class. The combination of a bold front end and elegantly sloping rear gets the Shooting Brake formula just right. This AMG Line car receives some AMG inspired bumpers which adds a hint of aggression in the details.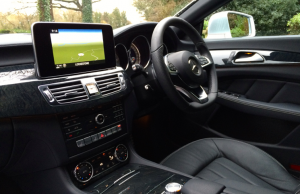 The cabin is exactly what you would come to expect from a Mercedes-Benz. Well thought out, durable in its function and premium in styling. Cosseting heated leather seats hold you in place as you survey the piano black finishes and classic analogue clock. A large screen heads the console housing all of your infotainment needs. Whilst all of the buttons that run down the centre are placed logically, the mobile phone keypad does date the facia. A thick rimmed steering wheel sits before the driver which is pleasingly not peppered with a million buttons, but just the essentials. Despite the sloping roofline headroom in the back isn't too bad being suitable for adults of average hight. Leg room is accommodating enough for long journeys. 590 litres of boot space is yours extending to a colossal 1,550 litres with the seats folded flat. Even more conventional rivals find those figures difficult to swallow.
Behind its blunt nose and under that rakish bonnet is a 3.0 litre turbocharged V6 diesel engine which is good for 258HP and a vast 620Nm of torque. Combined with a new 9 speed dual clutch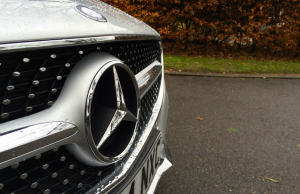 gearbox the CLS Shooting Brake will do 0-62MPH in just 6.6 seconds and go onto 152MPH. As you have just read, this car is more than just a pretty face. Its smooth torquey diesel engine effortlessly get the car into motion and remains quiet and refined. Its lack of noise and vibration makes for a very peaceful driving experience. The firmer ride on this AMG Line model is a worthwhile trade for the composure it demonstrates through the corners. Steering is well weighted and very precise allowing of accurate placement of this big car. As a driving package the CLS Shooting Brake handles well, much better than a machine of this size has any right to. Its strong V6 heart pulls relentlessly and the new gearbox shifts in a seamless fashion. Changes could be a tad faster when manually clicking through cogs via the steering wheel mounted paddles, but this is a minor irritation. Both around town and on the motorway the car runs as smooth as honey, exactly as a Mercedes-Benz should be. However, you would be wise to remember the amount of performance under your right foot, this car is rear wheel drive after all. This specific CLS didn't have a parking camera fitted and due to its small rear window, visibility isn't great. That said, you are aided by parking sensors and a clever visual display in the roof lining. But once you have finished with shopping or dropping the kids to school you can enjoy the surge that its engine has to offer. Caution, it can be intoxicating.
The 2015 Mercedes-Benz CLS SHOOTING BRAKE 350 BlueTEC AMG Line is a product that could not be mistaken for anything else on the road. Our test car came to £51,765 which to the everyman is a lot of money, yet in the CLS Shooting Brake you are not buying a car that the everyman will drive. It is both graceful and audacious in appearance, enchanting and empowering to drive. In short, it strikes that much searched for balance.