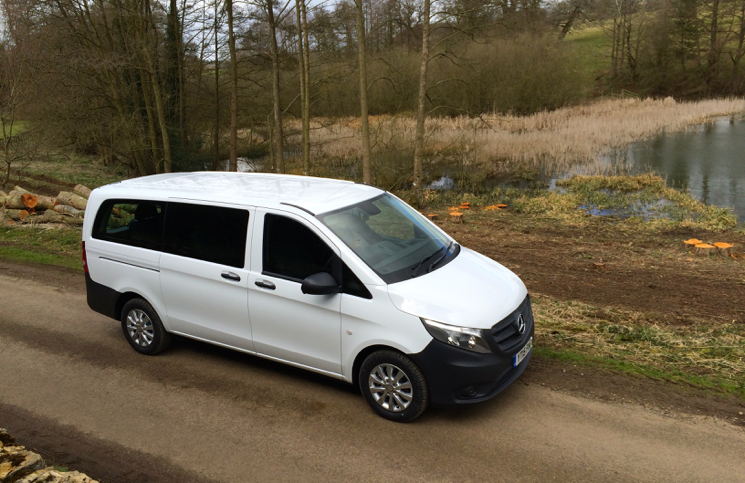 When it comes to carrying a lot of big awkward things you need a van to transport them around, however, when it comes to transporting big awkward people you need a van with windows. People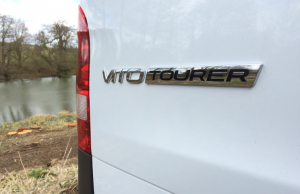 carriers are great for families with children, but when it comes to seating eight adults the rearmost positions tend to be restrictive at best. Enter the all-new 2015 Mercedes-Benz Vito 114 BlueTEC Tourer PRO Long, the latest incarnation of the successful Vito nameplate. This specific variation will happily carry you and all of your mates to and from nights out, weddings, festivals, as well as family gatherings where Grandad has had a few too many pints of pop. Clearly those in the Taxi industry should be taking note…
Armed with a new visage, this 2015 model possesses more car-like traits than ever before. Gone are the days of the boxy van and here to stay are raked headlights and large grills. Our test car decked out in white with black bumpers was dressed for more work than play, but in profile its large amounts of glass and prominent body lines reduce the slab-sided proportions a van traditionally has. A set of handsome alloy wheels and the three pointed star on its nose completes the premium aesthetics of this Vito, something business owners will favour it for. First impressions are everything and arriving at a customers door in a Mercedes-Benz will no doubt boost brand image.
Enter the vast chasm that is this Vito's interior and you will find seating for eight adults. Starting in the front row, the architecture is far more car than traditional workhorse. A familiarly sculpted steering wheel with neat buttons and chromed aluminium detailing marks the beginning of this new era for vans. Easy to read dials fill the instrument binnacle whilst a satellite navigation screen heads the centre console. Curved surfaces create an upmarket and less utilitarian ambience. This vans two separate front seats with large armrests negates the issue of gearstick protrusion found on other specifications with a third seat. Slide open the large rear doors and the middle bench will easily accommodate three adults with plentiful leg and head room. The final row
does much the same but benefits from the natural light let in by the large windows that run the vehicles length. There is even a reasonable amount of boot space with the rearmost seats in place. Whilst there could be a few more storage solutions, the 2015 Mercedes-Benz Vito 114 BlueTEC Tourer PRO Long improves upon the success of its predecessor.
Our test Vito was the 114 BlueTEC which means power comes from a 2.1 litre diesel engine producing 136HP. This engine is refined and, thanks to 330Nm of torque from 1,200RPM, responsive. That potential is sent to the rear wheels, front wheel drive variations are available, enabling 0-62MPH in 13.2 seconds. It's hardly Sonic the Hedgehog in terms of speed, but remember that this big boy seats eight, 13 seconds isn't too bad. On the move the Vito is a smooth operator capable of soaking up road imperfections with little fuss. Engine and road noise are kept at bay making for a relaxing driving experience, something that is very important if this is to be your place of work. Gear changes are smooth and the steering well weighted. At urban speeds the Tourer is easy to manage thanks to good all around visibility. With the front wheels only having to cope with steering, this rear wheel drive model feels secure in its road holding with its change of direction having a bit more agility than the front wheel drive. Loads of grip and an acceptable amount of body roll for its size makes for a confident drive when tackling country roads. Hitting the motorway will only further confirm the new Vito's competence. This engine allows for strong overtaking manoeuvres whilst returning a good 43.5MPG on the combined cycle. There is a small amount of wind noise from the door mirrors, but not enough to really bother occupants. A pleasing feature on this van is Crosswind Assist which is a system that recognises when Mother Nature is blowing the Vito around. Using Adaptive ESP it will correct any variation the wind causes at speeds over 50MPH. A great feature for windy afternoons on the M25.
This 2015 Mercedes-Benz Vito 114 BlueTEC Tourer PRO Long is a very complete product that the Germans hope will be as successful in North America (for the first time) as the rest of Europe. The model has a lot going for it with modern looks, refined cabin space and range of drivetrain options. Whilst the £28,125 before tax is not the cheapest in class, the badge and build quality do begin to justify it. Also this specific van had plenty of extras including a 70 litre fuel tank and metallic paint. Previous Vito vans have done very well and all signs point to this 2015 model doing the same.