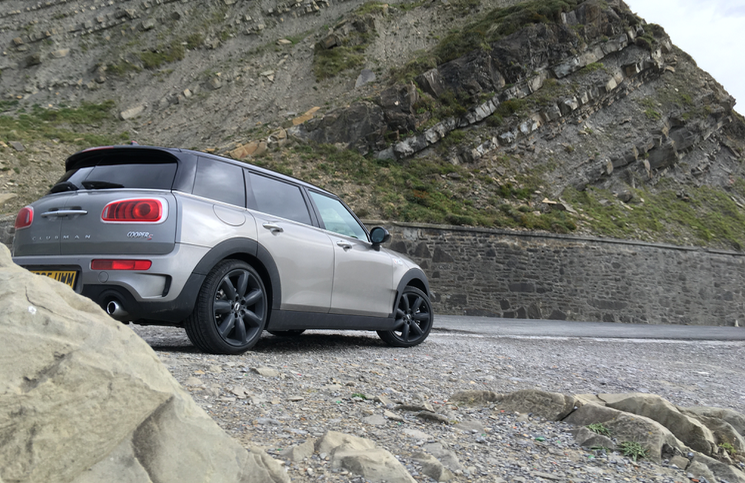 The rain in Spain falls mainly on the… Mini. Yes, we ventured to not so sunny mainland Europe to be amongst the first to test the all-new Mini Clubman. The previous car was a bit of an oddball and was undoubtably quirky. A lone rear hinged door on one side was rather peculiar but Mini have now taken the car, and indeed the brand, in a new direction. So what exactly does this C-segment model offer and can the biggest Mini ever retain what pleases true fans? We grabbed the keys to a 2015 Mini Clubman Cooper S in order to find out.
It looks like an estate car doesn't it? That is in fact a trick of the eye as this Clubman is actually 2mm shorter than a Volkswagen Golf. A high belt line and a stout glasshouse produces an elongated
effect, one that makes this Mini appear longer than it is. Whilst it is the biggest Mini the company has ever produced, the Clubman is squarely inline with other C-segment rivals. Visually the car has done a lot of growing up and it is now a much more premium affair. Chrome trim details design elements whilst those glowing round headlights again create that signature cheeky face. The Cooper S with its stripes and bonnet scoop hints at it being of sportier endowment than some of the other Clubman siblings. Sitting beneath those twin rear doors is a set of dual exhaust pipes that do like to crackle when the mood takes them.  This incarnation of the practical Mini is certainly less controversial coming across as fashion conscious and civilised.
If you think the exterior represents a transformation for the Clubman, wait until you see the metamorphosis that has taken place inside. The interior is a design statement just as much as the external aesthetics. High quality materials for an intricate and interesting environment in which to sit. It is not just the glossy elements and the interesting shapes, but some of the more textured elements on the dashboard that make the cabin unique. A widescreen infotainment system is surrounded by an illuminated halo that changes colour dependent upon what it, or indeed the car, is doing. The system itself is easy to use and is controlled via a touchpad and  series of shortcut buttons. Whilst road testing this car in Spain I did find the Satellite Navigation to be a bit hesitant, however, this could be because these are early iterations and being abroad likely didn't help. The front seats are wonderfully upholstered and have a crafted feel to them. Functionally they are supportive in all of the right places. A three spoke steering wheel with a chunky rim feels great in the hands. Moving rearward you will find plenty of leg room for the outer two passengers. There is enough space for a tall occupant to be sat directly behind another giant and still have plenty of space. A protruding transmission tunnel does cut down on leg room for the middle passenger. Our test car was equipped with one of the largest panoramic glass sunroofs which allowed plenty of natural light into the Mini. At night the interior is bathed in mood lighting reminiscent of that found in a trendy night club. Open those rear doors manually, or by waving your leg under the bumper, to reveal a usable 360 litres of boot space. A nice flat floor means that loading and unloading the boot is easy. Also there is a compartment beneath said floor. Alas, those interesting doors do prevent visibility rearward with small glass panels and a dividing line that runs down the windscreens centre. Overall the interior of this 2015 Mini Clubman Cooper S is a nice place to spend time.
Now, just because this is the most practical Mini going don't think that designers and engineers forgot about what a Mini stands for. This 2015 Mini Clubman Cooper S still promises to be good fun
when the road gets interesting. Powered by a 2.0 litre turbocharged four cylinder petrol engine, this variant produces 192HP meaning it will get from 0-62MPH in just 7.1 seconds. Top speed clocks in at 142MPH. At low speed the Mini is perfectly pleasant being nice and easy to drive, despite visibility impairments, with well judged steering weighting and a responsive throttle. About town the the car is very at home and relaxing to drive, but some road noise does begin to enter the cabin a higher speeds. The ride is firmer than competitors, yet, it is a far cry from uncomfortable. The trade of a firmer suspension setup is rewarded by excellent body control. Switch to "Green Mode" with the interior lighting changing to match the mood and Mini claim the Clubman Cooper S will return 48.7MPG. But twist the dial to 'Sport" and as everything goes red the fun begins. The Clubman has good levels of grip meaning that when you arrive at a corner in a hurry it hugs the road. Strong brakes with nice pedal feel enhances the feeling of being in control along with weightier steering. Acceleration is brisk and the soundtrack is pretty enjoyable too. Listen to the car pop and bang on down changes and you can't help but smile. This particular 2015 Mini Clubman Cooper S was optioned with an automatic gearbox that was quick to respond when changes were requested via the paddles, but also well versed in selecting appropriate ratios by itself. You can really throw this Mini about and it simply laps complex roads only to ask for more. The standard Cooper S hatchback might be a little bit sharper, but this big Mini retains the keen handling the brand is famed for.
Starting at £22,755 the 2015 Mini Clubman Cooper S isn't cheap, but for 192HP in this segment it does offer value over German rivals. Mini's rejuvenation of the Clubman is a success in my eyes and further pushes the brand upmarket. With all of the charm you would expect from a car out of Oxford, the Cooper S is an interesting alternative to the usual suspects.