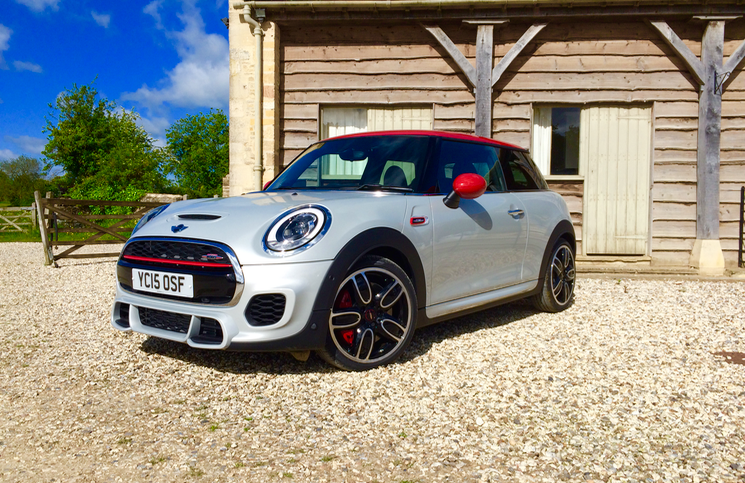 Here in the UK where the roads are tight and twisty, tarmac has been tortured by continuously changing weather and traffic can suddenly arrest your progress, owning a supercar isn't much fun. Yes,
you have plenty of power and the ability to cause a sensation at the local Tesco but you will always feel caged buy your environment. That on top of the larger factor of such a cars costs prevents us from enjoying high performance machinery. This is where the hot hatchback comes in… Compact, practical, won't bankrupt you at the petrol station, and above all fast. You can use all of their potential all of the time and that is what promotes true driving pleasure. Mini's John Cooper Works cars have always been a talking point as they represent some of the fastest cars that the brand produces. In fact, this new 2015 Mini John Cooper Works is the most powerful Mini ever! The question is, how does it stack up to some serious competition?
What is the 2015 Mini John Cooper Works? Far more than a Cooper S with some stickers and a slick set of alloy wheels. New pistons have been fitted to the 2.0 litre petrol engine as well as a different exhaust system. Uprated Brembo brakes, suspension and damper revisions all factor into this comprehensive new offering. Externally the cute Mini has become a bit rabid with a menacing number of intakes and grills for increased cooling. A prominent spoiler joins an aggressive rear bumper that houses dual exhaust pipes. Finished in "White Silver" and red, our test car also includes the Chilli Pack which adds 18 inch two tone alloy wheels.
The Chilli Pack continues to influence the car inside with large alcantara and leather seats in the front. These black and red posts have some serious bolstering and provide ample levels of support. Just like all new generation Minis, the interior has taken a real step up in terms of design and quality. An intuitive infotainment system takes centre stage with the now traditional aircraft inspired switches sat below. A chunky steering wheel sits close to the driver and is highly adjustable. There is space in the back for children, or a couple of slightly squashed adults, and the boot is of a decent size making the Mini JCW an easy sell to the wife or girlfriend. The cabin overall feels well appointed and befitting of a premium product.
Toggle the starter switch and the Mini booms before settling into a burble of engine noise. There are three driving modes in the 2015 Mini John Cooper Works. "Green" which gives you the most efficient settings for the car, you don't want that. "Mid" gives you soft dampers and a bit more feel to the steering, you don't want that. "Sport" sharpens throttle response, weights up the steering, puts the gearbox on high alert, opens a valve in the exhaust and stiffens the dampers. In short, the car is in maximum attack mode and you do want that! Foot to the floor unleashes 22BHP and 320Nm of torque. Optioned with the paddle shifters like our car, this JCW will get from 0-62MPH in just 6.1 seconds with launch control and onto a top speed of 153MPH. You are sucked back into your seat as the sheer amount of shove that this car has somewhat shocks
you. It hurtles down the road at a simply exhilarating rate all whilst emitting a rude amount of noise. It spits, pops and fizzes in a positively boisterous fashion. A grin larger than that of the Cheshire Cat is an inevitability. Accurate and meaty weighted steering is a joy to interact with as the car seemingly pivots around your hips. Bags of grip and little in the way of body roll makes for agile handling. Whilst the gearbox is competent enough to get on with things by itself, changing gear yourself is enjoyable thanks to highly responsive shifts. Hit the anchors and the Mini will come to a very reassuring stop. Pedal feel is good and aids the driver to modulate braking when really pushing on. In "Sport" the ride on British roads is bone shattering and should only be reserved for track use, however, the JCW will allow you to customise each setting. This means that you can have all of the go-faster buzz of sport whilst retaining the softer damping of "Mid." In these parameters this Mini strikes a near perfect balance.
The 2015 Mini John Cooper Works is quite simply brilliant. It pushes all of the right buttons with its near faultless execution. Whilst there is a touch of torque steer and the car isn't the cheapest in its segment, a JCW starts at £23,000 and our test car with options totalled £31,670, it is arguably the best hot hatchback in the B-segment. Actually, it could be one of the best hot hatchbacks for a decade. With 1 in 4 John Cooper Works Minis finding a home in the UK, odds are you will be seeing and hearing plenty of these pocket rockets at play.