It is all well and good having a fancy tool for the job, but sometimes keeping it simple is the best way. Be it a power drill with 120 different modes or a microwave that can make phone calls, what do you use to carry water? A bucket may be simple in its function but it is undeniably effective. Much the same can be said about the Berlingo. Instead of trying to distract you with the latest gadgets, it is very good at its primary goal of offering loads of space. Whilst this updated 2016 Citroen Berlingo XTR does gain some new technology, it hasn't allowed itself to become distracted.
Cleary this is a van with windows and that is ok because the Citroen Berlingo never set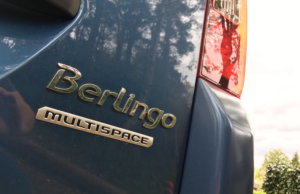 out to win any beauty pageants. Its big boxy proportions are certainly form over function, but our "Kyanos Blue" test car did inject some civilisation. This model year receives a few nips and tucks to the front end including a restyled bumper. Black roof rails and plastic cladding gives it a hardy look. It might not be sexy, but there are far worse MPVs to look at.
Whilst the interior has had PSA's later touchscreen infotainment display retrofitted to the centre console, forfeiting all of your infotainment needs, the interior is still about space a opposes to gizmos. There are so many storage compartments I think it would actually be possible to loose a mischievous child inside the car. Compartments on the roof, in the floor, on the dashboard, huge door bins and a seemingly endless central storage unit. All of this doesn't take into account the 675 litre boot. The large boot opening, flat floor, and boxy shape makes this space highly usable. Fitted with glass panels in its roof, the interior feels even bigger with light streaming in. Rear occupants have more head and leg room than they know what to do with and the Berlingo can also be optioned with 7 seats if you so wish. Fold the rear seats flat and you have a vehicle with all of the versatility of a van.
One of the biggest changes to the 2016 Citroen Berlingo is a new range of engines that
improve performance and economy. 120 HP 1.6 litre BlueHDi diesel engine in this car is the most powerful and brings a very useful 300Nm of torque. This means that even when the Berlingo is fully loaded with everything from children to lawnmowers it never feels lacklustre. Under hard acceleration the engine can sound a bit gruff, but it is rather quiet once up to speed when compared with its rivals. It is connected to a six speed manual transmission. There is a bit of wind noise in motion, to be expected with this sort of car, but nothing unbearable. Around town this Citroen never feels cumbersome and the low down torque aids with exiting junctions and its excellent all around visibility means it is easy to park. In addition, our test model was equipped with a reversing camera. Speaking of parking, this cars van DNA comes in very handy in tight spaces as its sliding rear doors prevent the kids from bashing surrounding cars. Out on faster roads the 2016 Citroen Berlingo obviously isn't going to blow your socks off with its dynamic handling. There is good weighting to the steering, but it does feel a bit numb. When it comes to our rather battered British roads this car actually does an impressive job ironing out the creases in tarmac. It soaks up bumps and tackles potholes with surprising majesty. Moving onto the motorway further highlights this engines strong performance. Overtaking is dispensed with ease and with cruise control its is happy to get on with more laborious journeys. Another plus of this engine is its economy with a claimed 64.2 MPG combined and emissions of 115g/km CO2.
Much like a hammer, postbox,or a brick, the 2016 Citroen Berlingo is not a technical showpiece. What all have in common is a firm utilitarian value of which people need. If you need a lot of space and respectable running costs then the Berlingo should defiantly be on your short list. Our fully loaded example came to £20,620 but you can have one from £12,605.