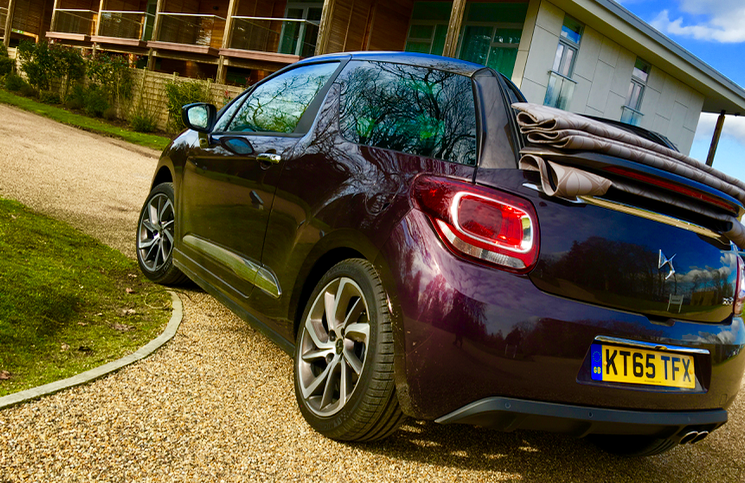 The Mini is very much a desirable product. For the fashion conscious it is an attractive proposition, but a key rival has always been the chic Citroen DS3. The seemingly timeless B-segment machine has proven extremely popular, particularly in the UK where they have been sold more than anywhere on Earth. Now joining the DS 4 and DS 5 in their own luxury standalone brand, the 2016 DS 3 sets its sights further upmarket and adds a good dose of French style in the process. We test the 2016 DS 3 Cabrio.
"If it isn't broken, don't fix it" goes the phrase and with the DS 3 still selling strong there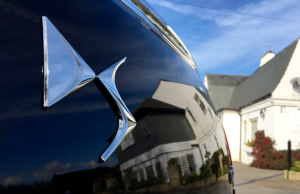 wasn't a need to change the formula too radically. The most noticeable aesthetic alteration is the incorporation of the new DS family face. This has totally altered the facia and incorporates the "DS Wings" design language. It's chromed nose is a clear statement of intent as to the upmarket direction this brand is taking. The DS 3 is one of those cars that is composed of lots of neat little details. Take a closer look at the intricate styling found within its LED lights and the shapes that make up the grill. Elsewhere the usual DS 3 traits such as the floating roof and "shark fin" have been retained. It is still a great looking car and with more customisation options than ever, you can make your 2016 DS 3 Cabrio personal.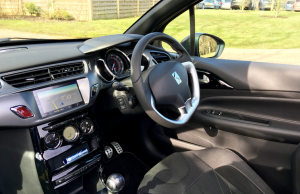 DS' famed watch strap leather seats are available on the top specification cars and add a real sense of sophistication. Our test car featured alcantara inserts on supportive fabric seats. The centre console is considerably less cluttered thanks to the inclusion of PSA's 7 inch touchscreen infotainment display. Fewer buttons and the additional technology are a welcome induction to the cabin. Interior quality has increase with more leather and fewer plastics on show. The dashboard featured graphics of French architecture bringing a sense of culture and history. A rear bench seats three with good levels of head and leg room for the outermost passengers. As with most hatchbacks the middle seat cab be a bit of a squeeze, but would be suitable for children. Being the Cabrio this 2016 DS 3 has an unusual vertical sliding panel arrangement to open the boot. Whilst it does reveal a respectable 245 litre space, the aperture is narrow meaning that it can be difficult to post bulkier items through this letterbox opening.
This 2016 DS 3 Cabrio is powered by a new 130hp 1.0 litre three cylinder turbocharged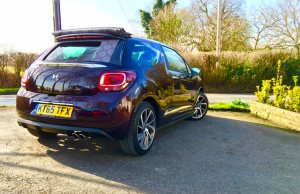 petrol engine which was very much the star of this show. Once upon a time such engines were frowned upon being seen as underpowered and unrefined. This being 2016 engineers have worked their magic and turbo three cylinders are becoming commonplace. The unit in this DS 3 is an excellent example of the breed and its lack of vibration and seemingly absent noise at low speeds impresses. Around town there is relatively little turbo lag and overall this engine option is quite punchy and responsive above 2,000rpm. The torque from the turbo feeds nicely into the power band and as you let this little car rev out, that characteristic three pot thrum can be heard. The engine never feels out of puff even on a motorway with its power output being ample for its size. With the roof in place rear visibility isn't too bad thanks to a good sized rear window, and wind noise is well suppressed. Retract the fabric top back and let that sunshine stream into the car. The roof can be completely retracted, collapsing the rear window, but this does mean visibility is reduced. This 2016 DS 3 Cabrio is still a pleasant car to drive with high levels of grip and well weighted steering making for fine company behind the wheel. As this Cabrio merely has an opening in its roof, as opposed to being a complete convertible, it retains structural rigidity whilst offering those blue sky moments. As a result the cars handling isn't compromised by a weakened chassis or excessive bracing. A nice blend of ride comfort and composure. Whilst there is some body roll and at low speed those large alloy wheels can thud, around a sweeping bend the 2016 DS 3 displays reassuring competence. Its positive gear changes from the 6 speed manual box are another plus point.
In Prestige trim our 2016 DS 3 Cabrio has all of the bells and whistles you might expect from a premium car. Being such a product it commands a premium price of £21,095 but then can you put a price on fashion? Think how much women spend on shoes! This cars transition to the new brand has endowed it with more technology and a sprinkling of luxury. It is more of the same and seeing as the DS 3 was a hit to begin with, that is no bad thing. It is the ideal keystone for DS.