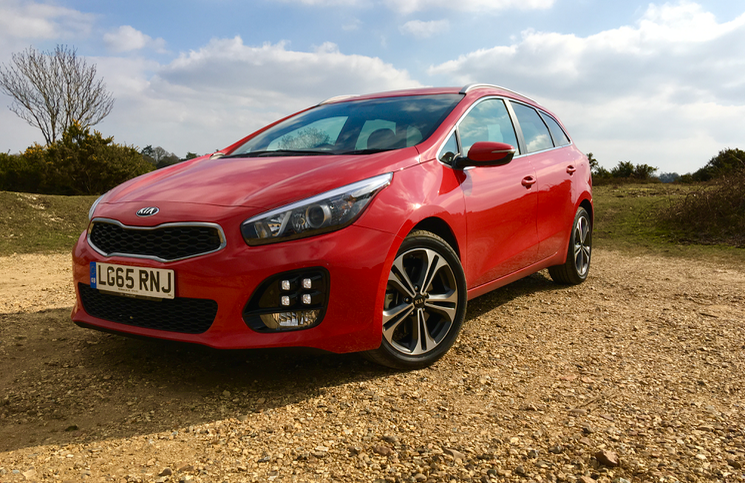 Have you ever looked at your living room and wished you had a bit more space? Or at
your garage thinking it is just a tad smaller than you would like? Wanting more space is nothing unusual, and the same goes for our cars. Having a reliable daily driver for the family is one thing, but one that ticks the above boxes with the added bonus of being able to swallow a fridge is certainly appealing. This is the 2016 Kia Cee'd Sportswagon and it builds upon the success of its hatchback brother, but in estate form.
It certainly looks appealing, don't you think? The profile has adapted well to its new proportions and is arguably even better looking than the hatchback. With a slightly raked profile from nose to tail, and the chromed detailing found on this GT Line model, the grown-up demeanour of this car is embroidered with detail. Kia's signature grill sits above a set of rather funky "ice cube" style LED lights. 17 inch alloy wheels fill the arches and add a sophisticated dose of style.
The interior of any family car is important as this is where you and your loved ones will be spending  time. It is good news for the Kia as the interior is well built and generally a comfortable place to be. GT Line cars receive a set of supportive seats with contrasting details. A 7 inch touchscreen display takes care of everything from media to navigation utilising an ergonomic system. The back seats are happy to facilitate everyone from youngsters, to tall adults thanks to good head and leg room. When it comes to the boot
the 2016 Kia Cee'd Sportswagon excels. 528 litre is a plentiful amount of space but the floor also incorporates multiple cubby holes for further storage. Drop the back seats and 1,642 litre is more than enough for even the most ambitious of trips to Ikea.
Under the bonnet of our test car is a 1.6 litre diesel engine with 134 BHP, however, the real headline is the 7 speed dual clutch automatic gearbox that it is paired with. IT IS FANTASTIC! Just like the Kia Optima we tested the other week, this auto box is made by Kia and honestly shames plenty of its rivals. When left to its own devises it seems to know exactly the right ratio for the situation, but take control via the wheel mounted paddle shifters and it is responsive. Slick changes every time means that this is an option box you should consider ticking. Whilst the engine under load makes itself known, the 300Nm of torque it provides low in its rev range makes for strong initial momentum building. If is no F1 car by any means, but its pace is suitable for everyday motoring. The noise dissipates at speed and with the smooth gearbox at work motorway driving is accomplished with ease. It is the sort of car that is just very happy to do the donkey work if needs be, and nobody inside will be complaining about discomfort. Detour from the motorway and onto a more scenic route and you will find this 2016 Kia Cee'd Sportswagon to be quite a reassuring thing to pilot. Body control is good and so you won't find yourself listing like a wooden ship around bends, and also there is a very comforting amount of grip available. However, rivals such as the Ford Focus do offer much more involvement behind the wheel. The main culprit of this is Kia's three mode steering which changes the weighting. Personally I think all three modes are too light and there isn't enough feedback through the wheel to make this a threat to rivals in terms of handling. That said, how many traditional Cee'd customers are you going to see calving up apexes? Put the car back into a more natural environment such as the city and the light steering does make for an easy machine to operate. Visibility is very good all around, but our Sportswagon also came with a reversing camera so there was no excuse for parking badly. In the stop start traffic the automatic again proved to be the ideal tool for the job. As for fuel economy Kia claim 67.3 MPG combined.
This brand is really making some bold statements with their product portfolio. The 2016 Kia Cee'd Sportswagon is another right hook to those who would rather have this marketplace all to themselves. You can have this estate from £15,850 which is rather good value, or our smart looking GT spec car from £22,330. Factor in a 7 year 100,000 mile warranty and you can see how Kia are calving quite the name in this arena.