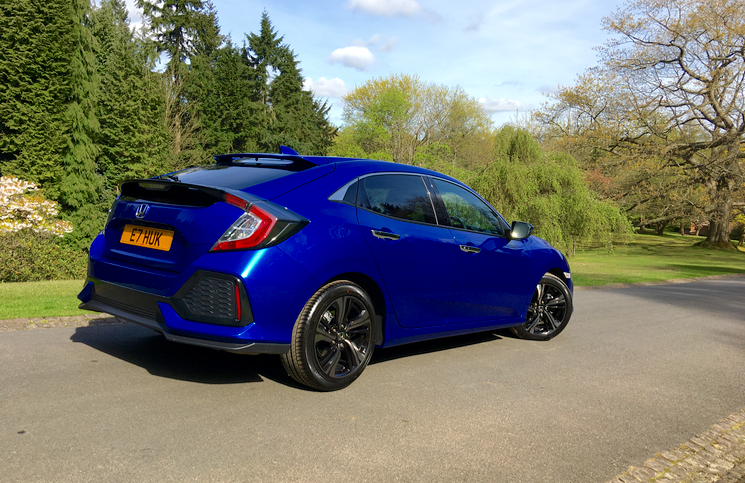 The Honda Civic has been in continuous production for 10 generations now, quite the achievement by anyones standards. However, the C-segment arena has grown ever tougher over the years and that means that this Civic needed to be revolutionary, rather than evolutionary, in order to shake things up. Offered as a global model, the 2017 Honda Civic Hatchback is hungry for success, but just how much progress has this incarnation made?
Finished in Brilliant Sporty Blue, our test car certainly looked the part on this bright spring day. As the sunlight refracted off of the metallic bodywork, shadows fell from the sharp creases to further highlight this more dynamic design work. A longer bonnet,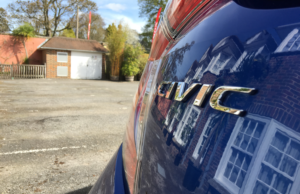 crowned by the wide chromed grill of this top specification Prestige model, makes a premium statement. The brightwork details the side windows and door handles leading your eyes to the sloping roofline. A highly distinctive lighting signature finishes off the hatchback.
The interior is a considerably more grownup affaire too. Whilst the 9th generation car had interesting architecture, this car receives a modern style that is highly polished. A tiered dashboard with contrasting materials breaks up what would otherwise be a flat surface. The latest incarnation of Honda's touchscreen infotainment system is a marked improvement and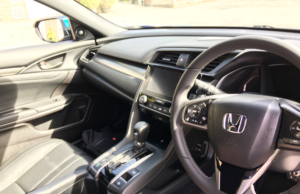 now supports the likes of Apple CarPlay. Prestige models enjoy supportive heated leather seats and a wireless phone charger in addition to dual zone climate control. A triple driver's display is ergonomic but also unique in its layout. The overall feeling is of a well built and ergonomically sound cabin. Rear occupants do sacrifice some head room for the stylistic roofline, but there is plenty of leg room. Boot space is a class leading 478 litre with underfloor storage.
This specific 2017 Honda Civic Hatchback is powered by the new 1.5 litre turbocharged VTEC engine. Producing 180 BHP and, in CVT guise, 220Nm of torque. Whilst those figures don't make it a Ferrari, progress is pleasing once the turbo comes into play. The engine is smooth and thanks to the torque being available lower in the rev range than before, it is more flexible. Power is sent to the front wheels via a CVT. Such transmissions have failed to grow on me due to their robotic nature and irritatingly soulless holding of the revs. This Civic still moos at 4,000rpm if you stamp on the throttle, but in general operation it is actually rather refined. I would still prefer the manual transmission, yet this option shows that Honda has had a fair crack of the CVT whip. Selecting the transmissions sport mode engages 7 false ratios that can be selected via wheel mounted paddles. It is quick to respond and does a surprisingly good impersonation of a traditional gearbox in this state. There is loads of grip to make for a reassuring drive and the precise steering allows accurate placement. Said steering could do with a bit more weight, but overall this variable ratio system suits most situations. The new multi-link suspension copes with road imperfections well and, if you want to take control over body roll through sweeping bends, there is a button to stiffen the adjustable dampers. On the
motorway the new Civic has enough "get up and go" to deal with those enjoying a slower pace of life. In a more urban environment the light control weights make it easy to live with, as does the improved rear visibility. A reversing camera with cross traffic detection is certainly something we thought was worth having. In this trim and with the CVT optioned Honda claim emissions of 139g/km CO2 and a combined fuel consumption figure of 46 MPG.
The 2017 Honda Civic Hatchback 1.5 VTEC CVT is a compelling choice in this segment. Whilst it is not the most enthralling car to drive, it does have a strong sense of composure. Practical, well equipped, and head turning looks make for a strong offering. This "creme de la creme" Prestige model with the CVT costs from £27,550 and is on sale now.