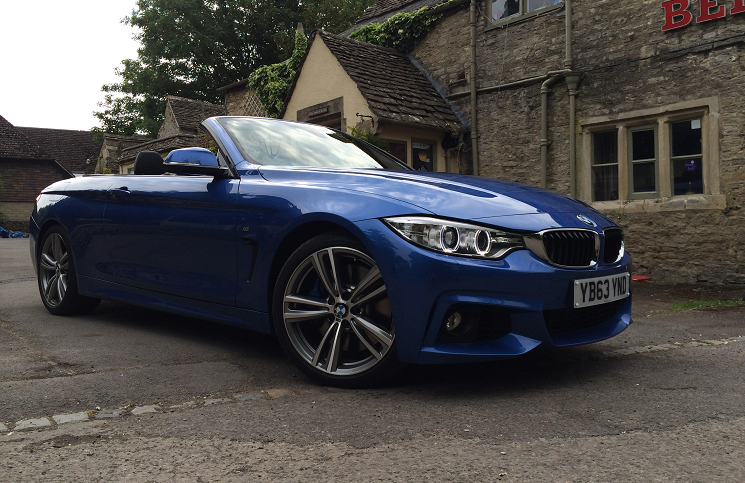 Great ingredients can often lead to delicious results. The correct combination of desirable attributes have produced such glories as the banana daiquiri, beautiful three piece suits and
cake. When it comes to cars we all have our preferences, but those of an enthusiast's persuasion adore keen handling, ample power and handsome looks. Having the roof down on a sunny day is the cherry on top. BMW claim to have produced an intoxicating elixir of all one could ask for in the form of the BMW 435i M Sport Convertible. The question is, have BMW created pancakes and maple syrup or a slightly repulsive mixture of grapes and ketchup.
If the cars design is anything to go buy, then the forecast is good. Its low and wide stance is purposeful and commanding. Angled headlights and snarling kidney grills make this a lean mean machine that is also detailed buy muscular lines to reinforce its
sporting nature. With the metal folding roof stowed it is a stunner! With it in place, however, the profile is slight compromised. Don't get me wrong, in hard-top configuration this car is far from ugly, but the BMW 435i M Sport Convertible looks at its best on a sunny day.
The cabin is your typical BMW blend of German understated luxury. A prominent three spoke M Sport steering wheel takes pride of place at the driver's chest. The large widescreen display houses infotainment with its proportions being particularly useful when reading the satellite navigation. A full colour head-up display is an option well worth going for as it clarity and brilliantly ergonomic function makes for a more "eyes on road" driving experience. In the front there are two large rib reinforcing seats
whilst in the rear, a bench offers just enough space for two adults providing those sat ahead are not King Kong. Obviously with a car of this nature boot space will be compromised when the roof is tucked away, but unlike its 3 Series predecessor, the 4 Series Convertible has the ability to move the roof out of the way in order fit luggage more easily.
This 435i is powered by a turbocharged 3.0 litre petrol engine producing 306HP and a tarmac tearing 400NM of torque. Clearly not just a pretty face, the BMW 435i M Sport Convertible will do 0-62MPH in just 5.6 seconds and go onto an electronically limited top speed of 155MPH. Heading out in this 435i, I took the liberty of lowering the roof which completes its transformation in 20 seconds and can be done at speeds up to 8MPH. The drive at usual speeds is one of tranquility and comfort. This cars 6 speed manual transmission is as smooth as honey, as is the power delivery from the engine. Steering is light and precise making this car a prime candidate for those who intend on making a long-term investment. However, the 4 Series is meant to be a more focused and sporting model to the 3. So where is that loving spoonful of brute force that we expected? Click the car into Sport or Sport+ and you will light the fuse to an enthralling driving experience. Exhaust valves open, steering gains weight and the throttle response sharpens providing you with the tools necessary to put a grin on your face. Heel and toe down a gear and hold tight as all of those ponies are channeled to the rear wheels. The high levels of torque sucks you back into your seat as the horizon becomes a damn sight closer. Point the car in the vicinity of an apex and the direction change is immediate. It feels alert and alive. Above 3,000rpm the power delivery is relentless and at 4,000rpm the engine note is sonorous. The hills are alive with the sound of horse power as you enjoy the dynamic and involving drive this BMW 435i M Sport Convertible brings to the table. There isn't a hint of chassis flex and the 435i rides well in all environments. With the roof up, peace and quiet returns to the cabin for the journey home.
The BMW 435i M Sport Convertible is an extremely likeable car and one we would wholeheartedly recommend to those in the market for a powerful sporting convertible. In a world of automatic transmissions it was also very refreshing to swap cogs with three pedals, once again becoming the organic part of the machine. Our test car would set you back £45,470 with its equipment, which is a lot of money however you look at it. Yet as a complete package, that just like apple pie and custard, it is a mouth watering proposition.