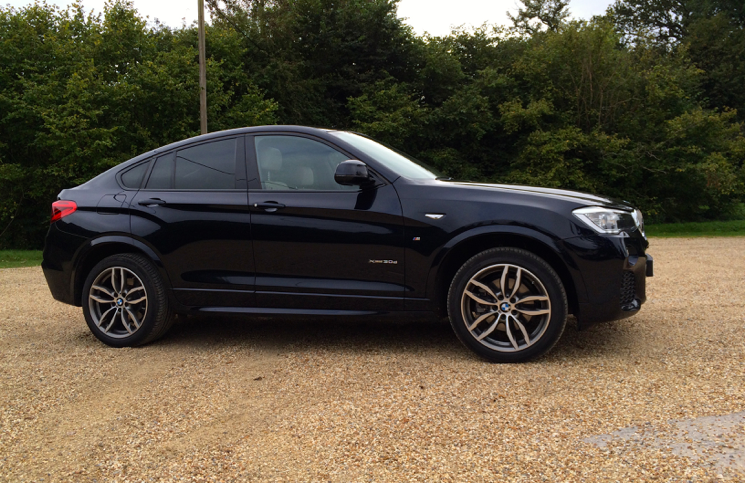 If you are looking around the automotive industry wondering why car manufacturers are endlessly trying to create new niche products then look not further than the BMW X6. Since its launch this coupe styled SUV has created over 250,000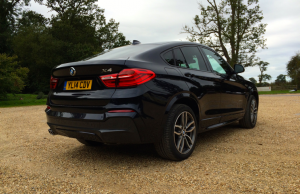 sales for the German brand. Regardless of what you think of how it looks, drives or says about its owner, you can not argue that the X6 is anything other than a success. Hence the gold rush to find "the next big thing." BMW hope to replicate that success on a smaller scale with the new X4. We got behind the wheel of a BMW X4 xDive 30d M Sport to see for ourselves.
When reading road test you have to remember that the section talking about a cars visuals is subjective and solely that journalists opinion. I personally do not like the looks of the X6 and so was surprised that I warmed to the proportions of the X4. Don't get me wrong, it's still no visual picnic, but it not being quite so big and imposing does do something for the design. This M Sport model with sculpted bumpers and large grills appeared subtle in Carbon Black, which is actually a shade of very dark blue. Retaining proportions usually reserved for a large SUV, the BMW X4 has the visual cues of a coupe. A sloping roofline neatly tapers off to create a short rear overhang, something that made its bigger brother such a big seller.
The interior is classic BMW in that it is logically laid out and ergonomically designed. This cars dashboard is predominately black plastic but is detailed with areas of glossy piano black inserts. The console is headed by a large widescreen infotainment display which is excellent for navigation due to its size allowing for a greater peripheral of the map. Supportive Oyster Nevada leather seats contrast against the black of this cabin creating a two-tone dynamic. Whilst the front seats are very good, the rear bench presents several cons along with its pros. Whilst head and leg room is good, the way in which BMW have gained head space with a coupe roofline is by lowering the seat swab. The end result is rear passengers sitting in a squat position which isn't the most comfortable. Another compromise in having the X4 over its more practical X3 sibling is the reduction in boot space, again due to its profile.
Something that can not be criticised about this car is its engine. BMW arguably make the best diesel engines and this BMW X4 xDive 30d M Sport benefits from a 3.0 litre turbocharged unit.
A 0-62MPH of 5.8 seconds thanks to 255BHP reaching the tarmac via all four wheels reminds you that this car is no slouch. In fact, stamp on the go faster pedal in Sport+ mode and 560Nm of torque makes itself know by pulling you back into your seat. This X4 handles much better than it has any right to considering how much it weighs. In its regular driving mode the steering is light and so makes it very easy to drive, however, in Sport+ where the steering weights up this SUV will eagerly hit any apex you point it at. Put the suspension in its tautest setting and body roll is all but eliminated. Somehow BMW has managed to get a big heavy car to handle like a grippy 3 Series. We suspect witchcraft… The 8 speed ZF automatic gearbox is arguably the best in the business with seamless shifts and a responsiveness to driver inputs on the paddles that is immediate. In this car it is the perfect partner for the diesel engine enabling you to quickly get the car into its torque band and surge out of corners. Whilst the BMW X4 xDive 30d M Sport undoubtably has very good handling characteristics, there is a tradeoff. The ride at low speeds is not what you expect of a luxury SUV thanks to the sporting nature of its suspension. It is upset by our potholed roads, not helped by this cars 20 inch alloy wheels, and results in thuds going through the cabin. Whilst on the subject of noise, the X4 does make a for an excellent motorway cruiser, but a buildup of wind noise at motorway speed again upsets the tranquility of the journey.
The BMW X4, much like the X6, attempts to be so many different things that it compromises on SUV cores such as comfort and practicality. This BMW X4 xDive 30d M Sport moves with impressive vigour and is genuinely enjoyable to drive. In the UK there are only two engine options, of which both are diesel. Having this 3.0 litre turbocharged unit under the bonnet makes for a commendable choice. Ultimately this car will be bought for its appearance and if sales of the X6 are anything to go by, it will do very well. For those of us who aren't willing to sacrifice sustenance for style, there is always the X3 which can be had with the same engine. Our test car came to £55,248 which is a vast amount even with its impressive equipment list. Love it or hate it, you will likely see plenty of them about.