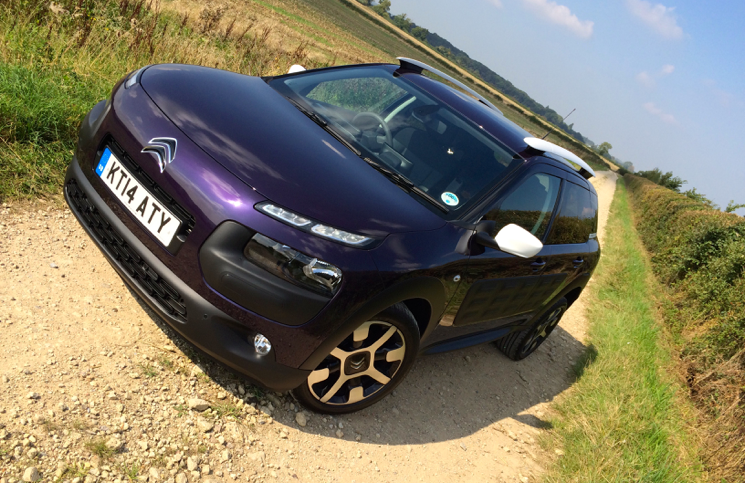 Are we alone in the universe? Who knows? It is a question that has been pondered since civilisation began and one we still do not have a conclusive answer to. There are 192 UFO sightings per day worldwide with an average of 70,000 per year. After driving around in this Citroen C4 Cactus Flair Blue HDi 100 I am sure that the south of England will have a sharp rise in its apparent alien encounters.
The Cactus looks like nothing else on the road, a shape that is truly alien to most people. Whilst our test car is a slightly more sober purple as opposed to the blinding "hello yellow" it still caused quite a stir when driven through otherwise quiet traditional English villages. So what is it?
When it isn't spending its time impersonating a low altitude flying saucer, this is Citroen's latest model which aims to not only draw traditional hatchback customers, but also those in the market for a crossover. Its concept car looks might be
strange at first, but it is this cars unique appearance that will attract potential buyers. Placing the LED daytime running lights above the headlights has become a Citroen signature, but the Cactus with smooth body panels, exaggerates their prominence. A slightly rugged look is achieved via contrasting plastic trim and these new "Airbump" features. The plastic air-filled bumps protect against minor run-ins with shipping trollies and the like. They are also completely customisable allowing for customers to have a bit of fun with their cars look.
The exterior may be from another world, but the interior design was clearly done on Earth. A spacious cabin with minimalist yet premium design is just the other side of the Cactus' door. This top specification Flair model had a half leather interior which wraps itself around five seats. Inspired by the world of luggage, there are lots of nice details such as leather pull handles for the
door and a glovebox that could pass for a stylish bag. Simplicity is the key to this cars airy feel with a 7 inch touchscreen infotainment system being the only interaction you have with the car other than the driving controls. No buttons, switches or dials. Whilst there is no reach adjustment for the steering wheel, there is plenty of adjustment in the seat. A single screen presents speed, millage and fuel level to the driver, but no rev counter. Its rear bench offers loads of head and leg room for even tall passengers, however, the rear windows only pop-out as opposed to wind down. The large UV4 panoramic roof of our specific Citroen C4 Cactus Flair Blue HDi 100 not only let in plenty of natural light, but also due to its technology does not require a blind. It can reflect heat away maintaining a reasonable ambient temperature inside. This saves weight, something designers had a the top of their list, and also reduces overall cost. The 358 litre boot is of a reasonable size but is let down by the rear bench folding flat as one instead of allowing for a split.
This Citroen C4 Cactus Flair Blue HDi 100 is powered by a 1.6 litre turbocharged 4 cylinder diesel engine. 100HP and 254Nm of torque are on offer whilst emitting just 89g/km of CO2. The big incentive to go for this specification is that Citroen claims that it can achieve an impressive 83.1MPG combined. On the road the engine is smooth powering the front wheels with ease. It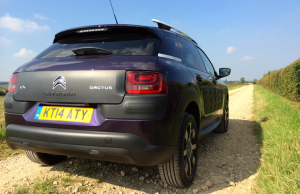 has quite a nice characteristic in that the low down toque natured diesel unit compliments the added toque the turbo gives higher up the rev range. The end result is effortless getaways from junction and enough grunt to see off the continuous warfare that is motorway driving these days. At low speed the Cactus is quiet but when you push on road and wind noise begins to build. Its suspension is comforting on rough surfaces with only large potholes creating bit of a thud. Steering is well weighted and reasonably precise with a surprising amount of grip to be taken advantage of on twisting tarmac. There is a bit of body roll, but in all honesty much less than I expected. A five speed manual gearbox suits this engine option well, yet, gear changes could feel a bit more positive. Whilst out with the family you can take advantage of the rather good sound system via radio, USB or bluetooth. I was pleased with the acoustics within the cabin.
Whilst you do notice the added weight of the diesel engine over the lighter petrol 3 cylinder engines, this diesel compensates with great fuel economy and a more surefooted feel at speed. Our test car in top specification with all of the options came to £20,325 which isn't bad considering its equipment level. It might look unusual, but the Citroen C4 Cactus Flair Blue HDi 100 is a refreshing change from the usual status quo.