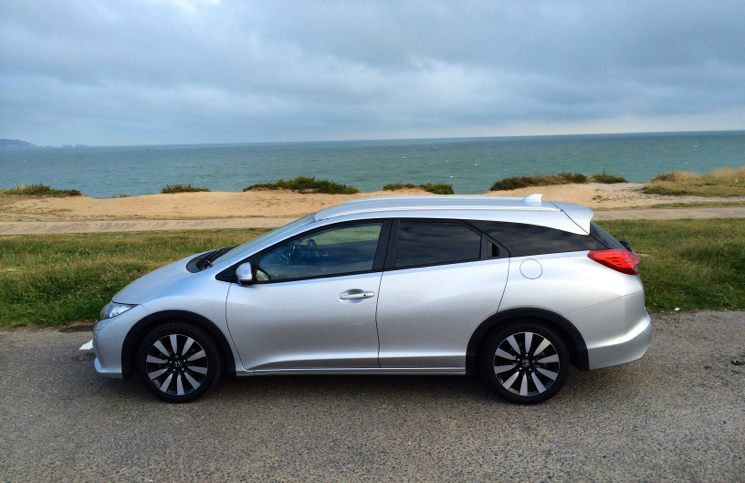 Sometimes we have to make those long unavoidable journeys that result in us being on the road for hours on end. Taking the wrong car can be disastrous making you uncomfortable for the duration and highly irritable when you get there.
Something else that might rile you is how much fuel said car may guzzle meaning the end result is that you arrive poorer, more tired and full of aches all before that all important business meeting. Although this journey to Cardiff from the south coast was not to organise an international peace treaty, it was a good three hours behind the wheel as well as three hours back. I was keen not to do it in a Perodua Kelisa. Luckily I had the keys to a Honda Civic Tourer 1.6 i-DTEC EX-Plus.
With looks that mimic those of its concept car, the Honda Civic Tourer does a good job of differentiating itself from the competition. Who said an estate car simply had to be a box on wheels? Swooping lines and a tapering glasshouse make this model look very modern. A set of smart 17 inch alloy wheels donned our Alabaster Silver test car which got a good level of attention from passersby. The contrasting black grill and trim further detail this unique shape.
The interior is identical to that of the hatchback in terms of console layout. A touchscreen navigation and infotainment system is the centrepiece with dual zone climate control finding a home
just below it. Everything feels durable and of high quality, something that adds to the grownup attitude the cabin portrays. Electrically heated leather seats in the front provide good lateral support and adjustability for occupants of all shapes and sizes. Other toys on this top specification car include; blue ambient lighting in the door bins, keyless entry, alloy pedals, bluetooth, DAB radio and a DVD player. The second row offers plenty of head and leg room whilst also featuring Honda's innovative "Magic Seats." This allows for the base of the seat to be folded much like that of a cinema seat for high levels of versatility. With the seats flat the already large 624 litre boot boasts a class leading 1,116 litres of load space up to the windows, or if you jammed the car full up to the roof, 1,668 litres. Clearly the Honda Civic Tourer 1.6 i-DTEC EX-Plus is not just a pretty face.
Powered by Honda's 1.6 litre diesel engine, this Civic Tourer utilises a power unit we have commend in the past. Push the starter button and away you go. My journey to Cardiff predominately consisted of motorways but began on some more undulating country roads. Here I could make use of this cars adaptive damper system which has three setting; dynamic, normal and comfort. The change between the three allows the car to be a tad more comfortable on lumpy surfaces, but firmer when the road gets twisty. Steering is precise and well weighted but does not offer too
much in the way of feel. Throttle response is good and with 300Nm of torque pulling you along, the Civic is always a strong performer. Its 6 speed manual gearbox is well engineered with ratios that provided good utility as well as economy. From the cabin the experience is quiet and refined as the suspension soaks up some of the nasty ruts our British roads provide. Road noise only begins to build at higher speeds. Hitting the motorway the Cvic Tourer feels at home effortlessly cruising along the tarmac. The aforementioned torque aids in overtaking those slow coaches that would otherwise hold you up, but set the cruise control and the car is happy to motor along at a pace of your choosing. After a good number of hours on the road and a crossing of the Severn bridge, I arrived in Cardiff. As the streets became populated with pedestrians and other motorists I was not at all uncomfortable, in fact, on such a warm day the climate control regulated the perfect temperature. The Honda Civic Tourer 1.6 i-DTEC EX-Plus is a very well rounded car as it is just as easy to drive in the city as on the open road. It has the grunt when required to make a quick escape from a junction and good all around visibility. Parking this estate car is no problem either with parking sensors and reversing camera enabling you to squeeze into even the tightest of spaces.
The Honda Civic Tourer is capable in both petrol and diesel guise, however, this 1.6 litre diesel is our pick as it delivers both adequate performance and notable economy. We managed 65MPG without making a particularly conscious effort which is close to the cars official figure of 72.4MPG. Our test car came to £28,585 in top specification which is a good chunk of change. We would recommend choosing a different trim level as all models are well equipped whilst allowing for prices to start from £21,375 for this diesel. If it is practicality you seek but want a car that removes itself from mundane boxy design, then the Honda Civic Tourer might just be the car for you.