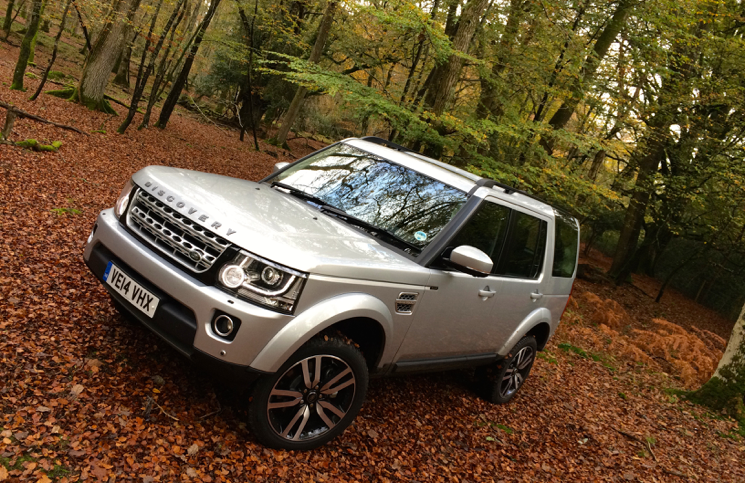 Freedom is a noble sentiment… The ability to do whatever, whenever, with no limitations in reality is very hard to achieve. There are barriers, rules and responsibilities that prevent this aspirational get-up-and-go attitude for many. However,
there are means of obtaining this freedom whilst still ticking the necessary boxes. A way to have your cake and eat it if you will. For the past 25 years the answer has been Discovery. There is a reason for this nameplates survival and its formula for success is still clear for all to see, especially in this 2015 Land Rover Discovery HSE Luxury we tested.
With its bold and illustriously boxy shape, the current Land Rover Discovery has the appearance of a machine that means business. Whilst over the years it has collected more chrome trim, its fundamental form follows function design has endured. Whilst not as utilitarian as the Defender, its short overhangs still allows for impressive approach and departure angles. It is a big
vehicle and certainly makes a statement when driven around an urban environment, but in Indus Silver with these very smart 20 inch alloy wheels there is a classy element to it. The keen observers amongst you will notice that for 2015 the badging on this Discovery doesn't read Land Rover on the nose. That is because Discovery is becoming its own family of vehicles of which will emerge over the next few years. This cars proud stance, stepped roof and unique daytime running lights make it unmistakable.
The interior of this 2015 Land Rover Discovery HSE Luxury is plush to say the least. If equipment is your thing then you will love this fully loaded 4×4. From your high driving position you feel as if you have dominion of all around you, seeing over things you otherwise would not. Comfortable leather heated seats cosset you as you place your hands on the heated steering wheel. The gear selector rises up from the centre stack, just like a Jaguar, greeting you in an almost James Bond-like fashion. A touchscreen display gives you access to all of the cars media, of which there is a lot, including DAB radio, digital television, DVD, CD, Bluetooth and satellite navigation. Clever utilities such as cameras enabling
you to see around junctions and sonar for sensing how deep water may be ahead are all at your disposal through this easy to use interface. Below you will find controls for air-conditioning of which are all quite chunky enabling their use even whilst wearing thick gloves. Further down again the Discovery's terrain response options and suspension settings can be found. More on those later… The second row allows seating for five adults with plenty of head and leg room. The two outer seats are heated and treated to T.V.s mounted in the forward headrests. Wireless headphones compliment these, but the Meridian surround sound system is also excellent. The final two seats fold out from the boot floor allowing for a total capacity of seven. Leg room is limited here but far better than you might expect. With the seats tucked away the boot is vast and lovingly equipped with a split-folding tailgate, something many Land Rover owners simply love.
This Land Rover Discovery is powered by a 3.0 litre turbocharged diesel V6 engine producing 255HP and a hefty 442lb ft of torque. When mobile you always feel that the engine provides enough grunt for the situation, it is a V6 after all. Put your foot down and it will get from 0-60MPH in 8.8 seconds which is not half bad for something of this size and weight. A ZF 8 speed automatic transmission swaps cogs effortlessly to the point where you hardly even feel the gear change occurring. Around town there is no getting away from how big the car is, but an array of sensors and cameras do make it relatively easy to park. On a motorway life is peaceful as you enjoy all of the onboard comforts and let the Disco take the strain. There is some wind noise at higher speeds and obviously with a car of this nature the expected body roll is present around bends. SO there you have it, a lovely comfortable SUV to live with. However, that is only half of the Land Rover Discovery story. These cars have always been infinitely capable off-road. We took this 2015 Land Rover Discovery HSE Luxury to Salisbury Plain where the British Army test their tanks.
After being questioned by a platoon of soldiers and granted access, we took to some seriously tough terrain. Steep muddy inclines, deep swamps which would happily engulf most cars, the
Discovery never missed a beat. When the going started to get tricky we simply selected the appropriate terrain response option and the on-board computers then send power to the appropriate wheels to get things moving. Hill descents were easy with the car doing all of the work maintaining a steady speed downward. Sonar in the wing mirrors informs the driver how deep the water around the car currently is and will also sound an alert if it becomes too deep ahead to proceed. This machines command of the environment around it was nothing short of impressive. There we were chasing tanks whilst drinking an ice cold cola from the cars onboard fridge! I mean really, what other car can offer such comfort whilst you navigate a simulated war zone? Amazing.
It really is very hard to fault this astonishing piece of engineering. Ok yes, we did only get 27MPG out of it and the steering could do with being a bit more responsive when on road, but as a complete package you can't help but admire its sheer brilliance. Our 2015 Land Rover Discovery HSE Luxury came to £63,395 with all of its toys which clearly is a lot of money. The first few days of living with it I though it was nice to drive, but the price still seemed huge. That was until I exploited its full potential off-road and now I am totally convinced it is worth that sum. The amount of engineering, technology and outright usability means that you are not only king of the road in a Discovery, but king of everything off of it also.