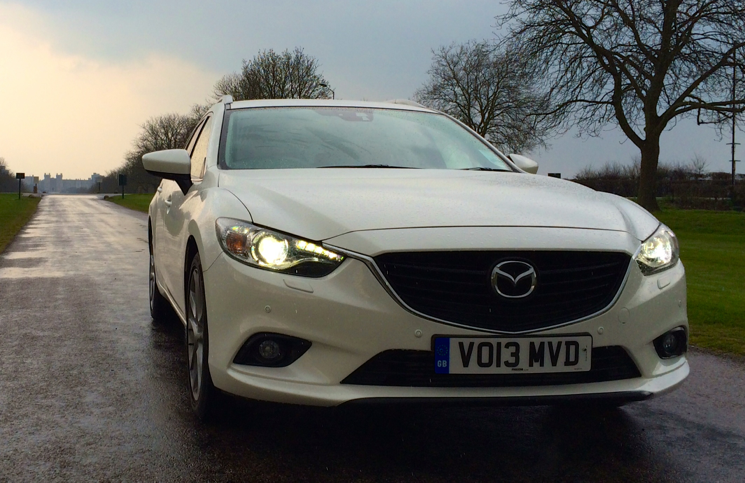 For those who enjoy driving, when the day comes to buy something more practical it is often a sad one. Trading keen handling for boot space is the usual formula for anyone with a growing family and for the person behind the
wheel, there much missed MX-5 has become a thing of the past. However, Mazda point out that things do not have to be this way and that their Mazda 6 2.2 150ps Tourer Sport Nav Diesel offers dynamic handling as well as all of the more day-to-day necessities.
We have the keys to a 2.2 litre diesel Mazda 6 Tourer of which it much be said, looks thoroughly modern. Just like the new Mazda 3 and CX-5, the 6 is built around the Japanese companies Kodo ethos of design. Its long profile flatters itself with vast sweeping lines and a highly sculpted profile. To be honest it makes a lot of other cars in this class look, well, a bit dull. In its Snowflake White Pearl paint the Mazda 6 Tourer looks every inch the premium product.
Whilst the interior doesn't offer the same flamboyance as the exterior and when compared with its new baby brother, the Mazda 3, it doesn't look quite as fresh. That said, its clear logical placement of controls and uncluttered console is very functional. There is a lot of space in the 6 for occupants with rear seating being especially roomy. Plenty of leg and head room in tandem with a comfortable rear bench should keep parents safe from the almost inevitable cries of "are we nearly there yet?!" The boot offers 1,632 litres of capacity which is good but not quite class leading. Entry level cars are well equipped but this being the top specification Sport Nav model it gets the full heated leather treatment, dual zone climate control, reversing camera and 5.8 inch touchscreen satellite navigation. All-in-all the cabin is a comfortable place to be.
With the family boxes ticked keeping the wife, children and dog happy, we should turn our attention to how it drives… The Mazda 6 2.2 150ps Tourer Sport Nav Diesel produces 148BHP and 380Nm of torque. That torque is at its peak from as low as 1,800rpm meaning that this car is perfect for those situations where you need to be quick off of the mark.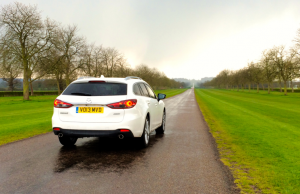 The car pulls strongly with its Skyactiv engine feeling like it has plenty of guts. Besides pulling power, that aforementioned engine in this 6 Tourer is rated at 67.3MPG combined emitting just 110g/km of CO2. This makes the car frugal on fuel and cheap to tax. Engine noise isn't the worst in its class but it does find its way into the cabin under acceleration. With smooth and linear power delivery that is our only complaint about the Skyactiv-D motor. Mazda have infused a bit of sports car DNA in the Mazda 6 with its sharp steering and quick rack. Its agility is a defining feature of the cars characteristics making it feel much smaller. The overall driving position is keyed towards enthusiastic drivers as its well bolstered seats sit low in the car. You can place the 6 with confidence on the apex of a corner and its good levels of grip will see it stay there. Another enjoyable aspect is the well-sorted 6 speed manual gearbox which snicks into place in a manner you would expect from a sportier machine. The well sorted chassis and suspension ensures body roll is kept to a minimum, although some might find the resulting ride a tad firmer than they would expect. On motorways the Mazda 6 settles down to a cruise providing a refined experience for the daily commute. On such journeys the cars impressive fuel economy comes into play and with these low running costs company car owners should add the Mazda 6 to their short list. Around town it is easy to drive, although poor rear visibility means that we would suggest the reversing camera to make parking the estate much more convenient.
The Mazda 6 Tourer is a very well accomplished car that stands out from the competition with handsome looks and handling traits very rarely seen in this class. For the man or woman who has to sacrifice their sporty little number for something that suits the family, the 6 certainly retains some of the fun that you desperately do not want to let go of. Our test car at £24,825 with all of its toys isn't the cheapest estate on the market, but entry level 6's are well equipped with Bluetooth, 17 inch alloy wheels, cruise control and a touch screen display from as little as £19,595. Considering the level of technology as standard, the Mazda 6 becomes good value for money. This 2.2 litre diesel engine is the pick of the bunch being powerful enough whilst returning excellent fuel economy.