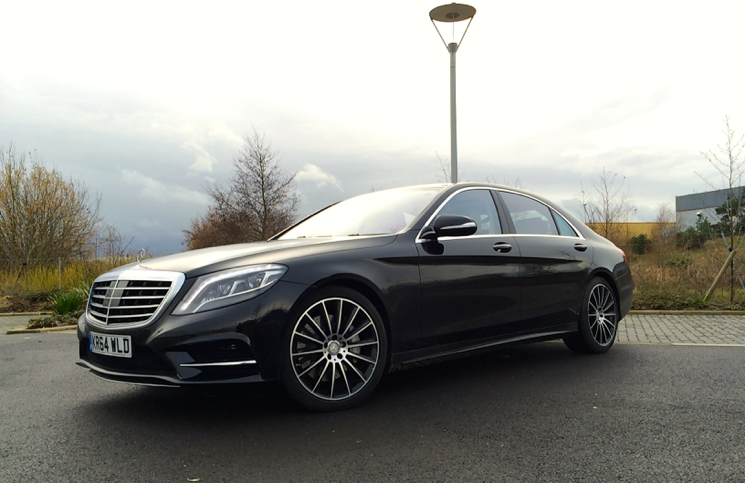 The new Mercedes-Benz S-Class is an exceptional automobile and every right minded motoring journalist worth his salt will tell you the same. Mercedes' execution and dedication to every detail has resulted in one of the worlds most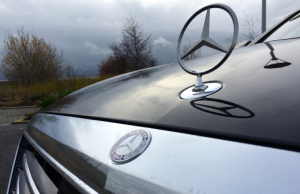 technologically advanced and best engineered cars. If you are looking for a world beater, this is it… There are several variants of the S-Class offering different flavours dependent on a customers needs. From the sensible S300 BlueTEC to the bonkers AMG, Mercedes have covered almost all of the bases. Its final frontier takes the S-Class to a market where Mercedes-Benz has the opportunity to showcase future powertrains. Emitting just 65g/km of CO2, this is the Mercedes-Benz S-Class S500 PLUG-IN HYBRID AMG Line L.
A plug-in hybrid offers the best of both petrol and electric power providing efficiency as well as conventional convenience. So what exactly is this S500? Put simply, it is exactly what you would expect of an S-Class from an interior perspective, but accompanying the twin-turbo 3.0 litre V6 engine is an electric motor. With a battery located in the boot, this car can be plugged in to a fast charging point, hence the term plug-in, for a full battery in 30-45 minutes dependent on the current. The benefit of this setup is that whilst the Mercedes-Benz S-Class S500 PLUG-IN HYBRID AMG Line L is capable of 0-62MPH in just 5.2 seconds, it is London congestion charge exempt and will do a claimed 100.9MPG combined.
Visually the S-Class is an extremely elegant looking machine with soft flowing lines. A large stately chromed grill is joined by some AMG bumpers sporting more muscular details. Further chrome trim compliments the multi-spoked wheels making for a truly executive affair. The only giveaways that this car is anything other than ordinary, if such a thing can be said about the S-
Class, is a small door in the rear bumper for charging and a neat boot lid badge. In black this package very much looks the part.
The interior is a triumph of artistic design and ergonomic ingenuity. Enter this cars cabin and you are bathed in beautiful cream leather, aluminium and highly polished finishes. Two large screens dominate the console, one for instrumentation and the other for infotainment. The size of these screens gives the user good peripheral vision when using things such as the satellite navigation, but also more real-estate for camera views to be displayed. A high console divides the front passengers whilst the rest of the interior seemingly wraps itself around them. Every tiny detail has been engineered to perfection from the high quality of stitching to the weighting of buttons. It could just be the most flawless cabin of any car and undoubtable a very comfortable place to spend many hours behind the wheel. However, the rear is where most owners of this Mercedes-Benz S-Class S500 PLUG-IN HYBRID AMG Line L will spend their time. With reclining seats that are heated and cooled as well as capable of providing a hot stone massage, well catered for is an understatement. Two TVs provide access to everything from seating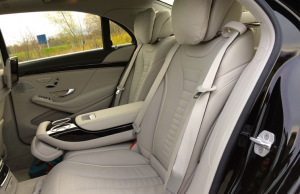 controls, media and access to the internet. Its boot is the only real compromise for this plug-in model as it is reduced over the standard car. A battery pack takes up some space, but that said the S-Class boot still isn't what you would call small.
Push the starter button and the dials come to life before you. Lifting off of the brake the car goes into motion but in absolute silence. In E-Mode the car is running on pure electricity and so generates next to no noise. As the world silently whooshes by the window you realise what Mercedes-Benz has done with this car. They have taken the already sublimely refined S-Class and used this technology to make it even more blissful. Acceleration is reasonable from the 114BHP electric motor, considering the sheer mass of this car, and it can travel like this up to 85MPH. The well insulated cabin can be this hushed for a range of 20 miles. At which point charge mode activates using the V6 and regenerative braking to charge the battery. E-Save mode works in a similar fashion but retains battery power for use at a later point. However, the Mercedes-Benz S-Class S500 PLUG-IN HYBRID AMG Line L is at its best in Hybrid Mode. Here you get the best of both running in pure electric when milling about the city, but put your foot to the floor and both the electric motor and twin-turbo V6 work together making 436BHP and a huge 650Nm of torque. When required this palace on wheels sucks you back into your seat and fires off down the road. It is a staggeringly quick car especially when you factor in its size. The V6, which was once a silent partner, seamlessly joins the party and then begins to emit a fantastically sonorous noise. Power and toque deliver is silky smooth giving you that almost "magic carpet" effect. Before you know it the car is traveling a quite a rate of knots, but thankfully its brakes are more than capable of bringing things back to reality. On the motorway the S-Class is just about the most tranquil mode of transport you could choose and on twisty roads its good body control, precise steering and firmer mode for its suspension makes for a good handling machine. These aforementioned items are all part of the science and technology of the S-Class which stretches far beyond air suspension. Night vision cameras aid the driver when visibility is poor, the car will steer to remain in a motorway lane, it can adjust the ride at the split second you go over a bump to cancel it out, rear seatbelts are fitted with airbags to protect your ribs in a crash and birds eye camera views make parking this large vehicle a piece of cake. The almost over engineering of this car is what defines it and makes it feel very special.
Obviously all of this doesn't come cheap with the Mercedes-Benz S-Class S500 PLUG-IN HYBRID AMG Line L starting at £87,965. Our test car exceeded that with all of its options coming to well over £110,000. Its is the sort of car where you arrive at your destination more relaxed than when you left. Its is an engineering marvel, and in my eyes, worth every penny.