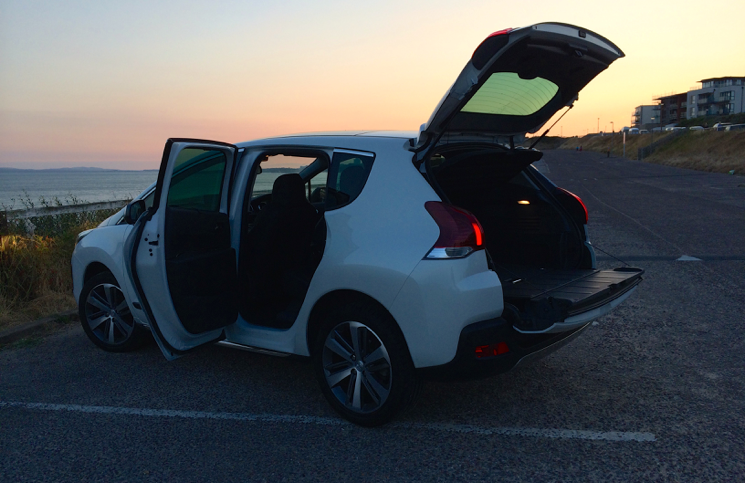 What do canapés, garden pond ornaments and novelty tea pots all have in common? They are all a case of style over sustenance, more about appearance than function. This isn't too dissimilar to many crossovers which sacrifice being a good all-rounder for more glamorous looks that will appeal to fashion conscious Mums on the school run. The restyled 2014 Peugeot 3008 Allure HDi 115 aims to not only entice potential owners with an updated visage but also provide a solid family workhorse.
As mentioned the Peugeot 3008 has undergone the surgeon's knife for the 2014 model year and now sports new design elements. Whilst the previous incarnation was a bit of a love it or hate it Marmite car when it came to its looks, the new
model is eye catching with a premium aesthetic. Slim front headlights and large chromed grill give the car an air of style. Its new rear taillights are very distinctive, especially at night when they glow in a three bar pattern. Chrome goes on to detail other elements of the car including fog lights and window surrounds. Our test cars set of 18 inch alloy wheels looked particularly snazzy in tandem with a white finish.
The interior of this highly specified Allure model felt light and airy thanks to the large glass panoramic roof. Although just like the updated Peugeot 5008, the centre console is dated, this cars high stack slopes down from the dashboard dividing the driver and passenger. A grab rail also features hinting that the high driving position it not merely to see over the traffic, but instead presents the opportunity to go off of the beaten track. Bluetooth connectivity, dual zone climate control and full leather seats all integrate with the cabin amongst the rather nifty aircraft toggle switches. In the second row the large windows with built-in sun blinds creates an environment that feels far from claustrophobic, even if leg room is a bit more confining than we would like.
The boot is this cars masterstroke as it opens via a split tailgate. Not only does this make loading and unloading the 3008 a piece of cake, but also doubles up as a bench to sit on or somewhere to place items whilst helping one of your children with the zip on their coat. This Peugeot 3008 will happy swallow pushchairs and a good amount of shopping before the boot shows any signs of being full. A rechargeable torch is also cleverly tucked inside for those times when you might need one.
Its quiet 115BHP diesel engine really shines on the motorway. Once up to speed the 3008 cruises along beautifully making for a car that the family won't mind spending a few hours in. Wind and road noise are kept at bay and the weight of the steering helps create a sense of sure-footedness. Set the cruise control and relax as you let the 3008 do what it does best. We saw 52MPG on the display proving this 1.6 litre engine to be reasonably efficient along with emitting 127g/km of CO2. Not only good when the road is straight, the Peugeot 3008 Allure HDi 115 handles well for the type of car that it is. Weight transferee whilst cornering does not result in the roll you might expect from a high riding car, obviously a firmer ride is the trade that has been made. The 270Nm of torque at your disposal enables this 3008 to have the get up and go when required. In fact, in the driver's seat the Peugeot 3008 feels sprightlier than its 0-62MPH time of 13.6 seconds lets on. A progressive brake pedal is also welcome if you decide to drive with a touch of vigour. In an urban environment a reversing camera and parking sensors make parking in the
high street a nonissue. However, we did experience a problem with the parking sensors on our test car resulting in them going off whilst driving for no reason at all. After inspecting them and checking there was no dirt or grime setting off the alert, I took the 3008 down to my local Peugeot dealership. It turned out that the radar and sensors had become misaligned and a new part was required to fix it. Whilst the service from Westover Peugeot was excellent, with them able to quickly diagnose the problem and fix the car within a day of the part arriving, a fault of this nature on a brand new car was less than impressive. I was assured that this was not a common problem and that the car was covered by its manufacturer's warranty.
This was a bit of a shame as, electronic misdemeanours aside; the Peugeot 3008 is a very likeable car with plenty going for it. We are huge fans of the split tailgate and of the way this 2014 model looks. Our test car at £22,445 isn't bad value either considering its specification. The Peugeot 3008 Allure HDi 115 is far from all show and no go.