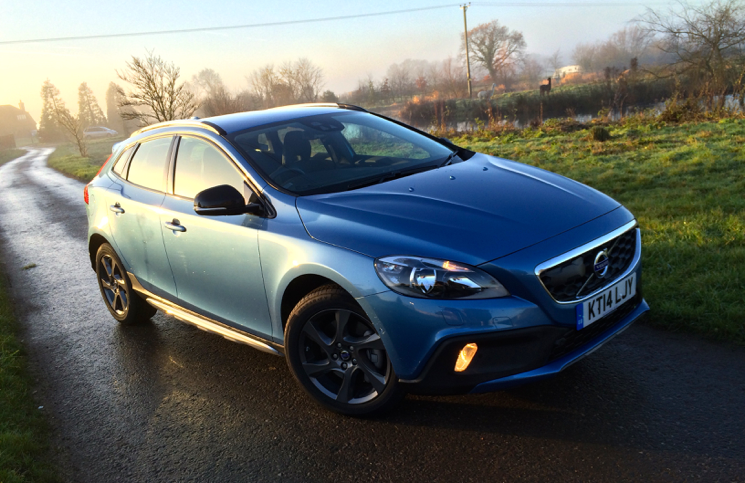 Traditional automotive segments have seemingly splintered over the years creating huge a sea of choice for new owners. Instead of simply choosing either a 4×4 or a hatchback you can have the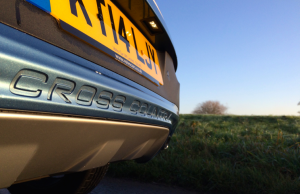 happy medium of a crossover. Don't want the increase in size but love the more masculine appearance? Well then another niche known as the compact crossover is here just for you. We have tested the Volvo V40 in several guises in the past including the D4 and T2 engine variants. So what are we doing with another V40? This Volvo V40 Cross Country is quite an important one as not only does it capitalises on the growth of this compact crossover segment, but it also ushers in an all-new diesel engine.
Sitting pretty in its eye catching "Power Blue" and smokey grey alloy wheels, the Volvo V40 Cross Country brings a more rugged appearance to the hatchback on which it is based. Aluminium scuff guards, roof rails, sculpted bumpers and a more prominent grill boosts this cars appeal. Whilst retaining a grown-up demeanour, its 40mm increase in hight does create a more commanding stance. Over our time with this V40 several people remarked upon its visage with one proclaiming it to be "a tidy little number." With the approval of Christchurch behind it, the Volvo V40 Cross Country ticks the box as far as aesthetics are concerned.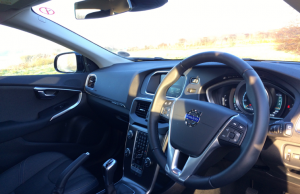 Entering the cabin you are greeted with the now familiar Volvo layout of a floating centre console. Whilst this does allow for intelligent storage behind the unit, the vast range of buttons on its facia does date the interior. A textured dashboard and neat Cross Country plaques remind you that this V40 is a cut above its showroom siblings. In SE Nav trim this car is well equipped with navigation and infotainment taking centre stage. An optional winter pack adds heated front seats of which were more than welcome during the arctic blast the UK suffered recently. Volvo do some of the most comfortable seats in the business and these fabric examples where supportive in all of the right places. A digital TFT instrument binnacle, illuminated gear knob and quality materials, this interior is indeed a pleasant place to spend time. The second row of seats offers plenty of space for two adults in cosseting outer seats. The centre seat, however, is very narrow and so having three in the back can feel a bit tight. Its boot is of a reasonable size, although not as large as you might expect. Folding the seats flat reveals a highly practical loading area.
Fitted with a keyless system, a push of a button brings that all-new four cylinder turbo diesel engine into play. At idle the engine note is a bit gruff, but this soon simmers down to a more tranquil
note once in motion. The D4 produces 187BHP and a very handy 295lb ft of torque which, in this model at least, is sent via a 6 speed manual gearbox to the front wheels. All wheel drive is offered only on the powerful petrol models meaning that this car doesn't really possess much in the way of off-road ability. It is a smooth drive in an urban environments with the ride being better than that of the standard car and its blind spot detection system proving to be very helpful in combating the Cross Country's small rear window. Parking is also a doddle with it being able to park itself in any parallel space large enough with very high levels of accuracy. The steering could do with more feel, however, it is very precise meaning that placing the V40 exactly where you want it on the road is effortless. On a motorway cruise there is a bit of wind noise, but other than that it is a cosseting experience. Its engine pulls very cleanly and there is more than enough punch being produced to enable strong overtaking ability. Settle down for your journey and let the Cross Country take the strain… Its radar guided cruise control and lane departure warning will keep you both safe and a little more relaxed.
There is no denying that the new D4 engine from Volvo is a talented unit. Plenty of torque means that it never feels sluggish and paired with some very good engineering behind it this 2.0 litre engine emits just 104g/km CO2. Claimed fuel economy of 70.6MPG isn't to be complained about, especially when the car also has a 0-62MPH time of 7.5 seconds. This car starts from £26,770 which isn't cheap, that said, a less powerful D2 variant begins at £23,320. What will get you is the options list. Our test car with its trinkets such as; metallic paint, park assist, keyless drive, electrically adjustable seats and so on, came to a hefty £34,015. Whilst DAB raido, rain sensing wipers and climate control may come a standard on the SE model, there is no getting away from that being a princely sum. But then again, if you want to see something truly extravagantly priced, you might want to check out the Mercedes-Benz GLA which had a sticker price as tested that made me want to cry.