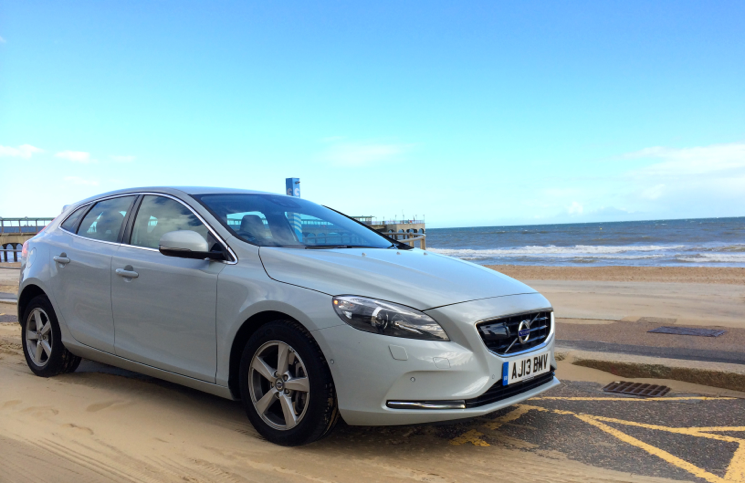 Vehicle specific rolls often have a go-to model. For example; if you need to carry a lot of stuff you get a Ford Transit, if you want to arrive feeling as if you had never left your luxury palace you buy a Rolls-Royce, and if you wanted the safest mode of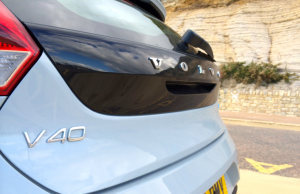 transport on four wheels you get the keys to a Volvo. Decades of advanced research and innovative technology sees each new Volvo car at the forefront of safety and often raising the bar. However, today Volvo's aren't just about how many airbags they have. Mr Volvo may have loved beige, spending the weekend in the library and collecting rocks in the past, but today he is much more interesting. Especially when driving the most powerful diesel variant of the V40, the Volvo V40 D4 SE Nav.
Ok, yes… I am presenting you with a car that is the colour of a bathroom tile and calling it interesting, but stay with me because judging a book by its cover never ends well. Ignoring the uninspiring colour of our test car, the Volvo V40 is a nice neat compact design with strong shoulder lines and a prominent grill. Despite being heavily influenced in form by pedestrian safety implementation, its slightly swollen bonnet that is equipped with a pedestrian airbag actually makes the car look more voluptuous. Its rear quarters are highly stylised and its signature lighting is instantly recognisable in the dark. Whilst looking very grownup, its dual exhaust hint that there is something of note under the bonnet.
Power for this Volvo V40 D4 SE Nav model comes from a 2.0 litre five cylinder turbo diesel engine. Not only is there a potent 175BHP on offer, but a loving spoonful of torque with 440Nm accessible from as low as 1,750rpm.
The cabin is an exercise in wonderful design of which is perfectly executed. The floating centre console with its many buttons may look a bit dated now, but everything is logically located and has a reassuringly durable feel. Its cream leather seats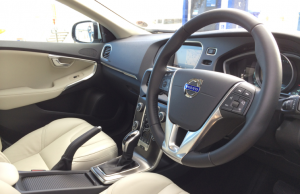 offer a very supportive place to spend long periods of time and in the front occupants are treated to them being heated also. The thick rimmed steering wheel is adjustable to insure the driving position is right for the driver. I really liked the TFT instruments with their clear graphics and customisable segments. In the rear the seats are just as sculpted and passengers are given plenty of head room, although having tall people up front does restrict legroom in the back. The boot is this cars Achilles heel as it is not very deep neither large in volume. Folding the rear seats flat increases loading space, but it is still not large enough for a bike. For that we suggest the Volvo V60.
At idle the engine is a bit noisy, but it immediately hushes once the car is in motion. The overall experience in the cabin on the move is one of refinement with no intrusive vibrations and not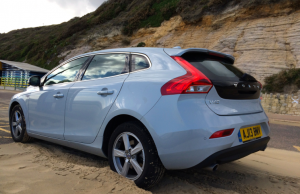 much road noise. Gear changes in our test car came courtesy of a smooth 6 speed automatic gearbox that politely swapped cogs without any fuss. The steering of the Volvo V40 D4 SE Nav is well weighted and you get a sense of precision even if it does feel a tad numb at times. There is not much in the way of body roll and the high levels of grip on offer makes the car capable. Something else that is very capable is that aforementioned engine. Open the throttle and the near instant hit of torque rushes the car into action. It pulls very strongly and shows no sign of giving up even when on the naughty side of the speedometer. The brakes are equally as impressive bringing the car to a  firm stop when necessary. Various safety systems such as blind spot detection and a warning for when you are too close to a car ahead keeps you out of trouble. On a motorway the V40 is an effortless drive and around town its happy to do the more regular chores of the household. This specific V40 could even parallel park itself, a good thing as rear visibility is not the best. We got around 46MPG from the Volvo V40 D4 which is ok considering its engine capacity, but nothing outstanding. Choose the manual model, however, and you could be looking at an official figure of 65.7MPG.
The Volvo V40 D4 SE Nav is a very competent machine and offers unparalleled safety technology. Its engineers have clearly worked very hard and are hoping to one day achieve a zero fatality rate in their cars. A bold target, but on the basis of just how brilliant these systems are, it is one I am confident they will meet in the future.