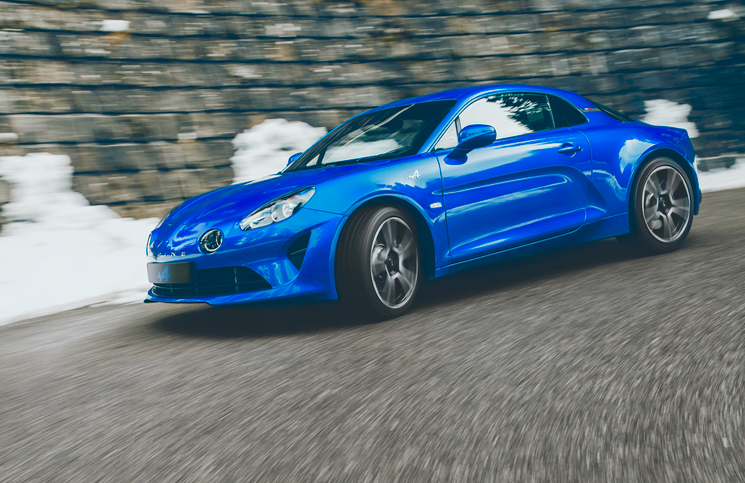 The rise and fall of the Alpine brand was a case of the brightest light shining for half as long. However, their legacy lived on and now, after decades of absence, the brand is reborn. Last years concept cars showed lots of promise and so the salivating began. At the 2017 Geneva Motor Show we at last have the car that aims to continue the history. The 2018 Alpine A110 has some big shoes to fill as it shares its name with an iconic ancestor.
This modern interpretation of a classic has produced a truly handsome machine. Whilst the overall shape is familiar, the detailing brings the car bang up to date. Signature fog lights are flanked by swept headlights that lead into a rather curvaceous design. A domed glasshouse with steep rake to its rear end is very reminiscent of the original A110.
Whilst the 2018 Alpine A110 is a larger car than the first model to share the name, it is comparatively compact by todays standards. A strong focus has been placed on weight saving, and with an aluminium body, it tips the scales at just 1,080 KG.
Power comes from a turbocharged 1.8 litre four cylinder engine
mounted in a mid-rear configuration. Power output is a healthy 294 BHP and 236lb ft of torque. That gives it a better power to weight ratio than a Porsche Cayman! There is only one transmission option in the form of a 7 speed automatic. 0-62 MPH takes just 4.5 seconds making this a contender to take seriously.
The 2018 Alpine A110 promises plenty of keen handling as well as outright speed thanks to help from RenaultSport and double wishbone suspension all around.
Right hand drive cars should start arriving in the UK at the beginning of next year costing from £50,757.