Over the last few years, a symbolic link has been woven between two of Britain's most renowned engineering institutions. In man's quest to soar ever higher beyond the clouds, the Royal Air Force has played a key historical role in pushing the boundaries of aviation with the likes of the Supermarine Spitfire and the Harrier jump jet. And whilst these magnificent aircraft were revolutionising aeronautics across the world, back down on terra firma, flying machines of a different ilk were enhancing Britain's reputation for fast, elegant and super stylish sports cars. None more so than those under the Aston Martin banner.
Since Aston's bespoke Q division produced a series of special edition V12 Vantage S Spitfire 80's last year, marking the war hero's 80th anniversary celebrations, the bond between Gaydon and the RAF has flourished. Building on that success, Q by Aston Martin has built a run of ten unique variants of the Vanquish S commissioned by Cambridge. These ten special edition models of Aston's flagship Grand Tourer will doff their hats to another of the jewels in the Royal Air Force crown – the Red Arrows aerobatics team.
As with the previous Spitfire-themed RAF homage, the Vanquish S Red Arrows edition is mechanically identical to its standard-issue equivalent. That means the bespoke model retains its 592bhp and 465lb-ft, enough to thrust the V12-powered Vanquish S from 0-62mph in 3.5secs and up to a top speed of 201mph.
What marks out this strictly limited run of flyboys is their distinctive fighter jet-themed styling. Finished in Eclat red paint, identical to that sported by the synonymous Arrows aerobatic team, the exterior of the Vanquish S features a smoke trail-inspired side stripe in blue or white as well as a roof pattern mirroring that of a fighter jet canopy.
The cockpit, meanwhile, is fitted out with upholstery mimicking the green of a Red Arrows pilot's flight suit. On top of that, you'll find flight formation graphics embroidered into the door cards and seat backs. Whilst the driver gets a One-77-derived steering wheel equipped with RAF switchgear, there's only room for a single co-pilot in this bird.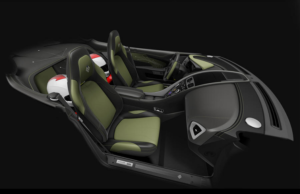 Both of the Vanquish S's rear seats have been ejected and replaced with a stowage compartment for – wait for it – a pair of Red Arrow motif crash helmets. As if that wasn't enough, Aston Martin's Q division is throwing in a goody bag of freebees that would make any Red Arrows fanatic go weak at the knees. The haul includes a pair of race suits, bespoke bomber jackets, a car cover and scale models of both the car itself and the iconic Hawk T1 fighter jet.
What's more, for a uniquely personal touch, each car bears a plaque on its V12 engine signed by the corresponding Red Arrows pilot.
Eagle-eyed observers among you will doubtless have spotted that ten cars into a nine-man Red Arrows formation doesn't go. That's not a mathematical oversight on Aston Martin's part, however. The tenth car will not go on general sale and will instead be donated to the RAF Benevolent Fund, the Air Force's leading welfare charity. You can get a raffle ticket for your chance to win this beauty.