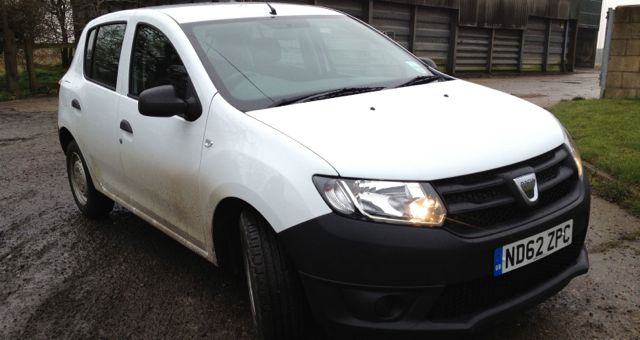 In a world of ever towering costs and unavoidable expenditure £6,000 doesn't actually go as far as what you might think. In fact, according to GQ magazine that is just about the "price of a decent watch…" From a motoring perspective that money, unless you are buying second hand, gets you absolutely nothing, not a sausage. That was until the Dacia Sandero came along. Welcome ladies and gentlemen to the cheapest new car on sale in the UK today.
Now normally when we talk about the cheapest car on sale we are looking at horrifically soulless and hysterically basic machines such as the Perodua
Kelisa. Thankfully that undeniably poor and potentially suicide inducing machine has been euthanised. Dacia are a new brand to the UK and their aim is to produce a car from one segment for the cost of another in a lower one. For example; our Sandero Access test car is in the same category as the Ford Fiesta, but you can have one for £5,995 making it as cheap as a supermini. How? Well Dacia are a sub-brand of Renault and as the French company develops parts and conducts costly R&D for its cars, Dacia benefits from sharing these new components but does not incur the cost of producing them. The result is a car that can undercut competitors by a considerable margin. What makes the Sandero different to the intolerable  Kelisa is that Perodua had to make the car cheap and nasty to keep costs down, Dacia on the other hand have access to good quality parts at low prices from the get-go.
Granted, the Sandero isn't going to be winning any beauty pageants in the near future with its rather stocky generic small car shape, but it isn't exactly ugly either. The Access model, lovingly known as "UN spec," only comes in white with black plastic bumpers. It actually doesn't even come with a stereo but Dacia's philosophy is that you can pay only for what you want. For a small amount Dacia will fit your Sandero with a stereo if that is what you wish, but if you don't all the wiring is in place for you to go to Halfords and pop a £40 unit in yourself. The low budget airline way of thinking extends to the warranty also meaning that if you want it you can pay a little bit extra for a 7 year warranty that stays with the car even after it is sold.
So what do you get at the absolute cheapest price? The Sandero Access is powered by a 1.2 litre 16 valve 74BHP engine that is perfectly adequate for the size of car. Seating five in a cabin that offers plenty of leg and head room, you can't fault it for the amount of space on offer. Some of the plastics don't look very appealing to the eye but every surface does have a very durable feel to it which is quite an achievement in a car that costs this little. The seats are actually rather comfortable and my only real ergonomic gripe with the Access is that the plastic steering wheel isn't the most comfortable thing to grip for extended periods of time, but again only an extra £500 would move you up a trim level. The boot of this Dacia is vast for the size of car. 320 litres of shopping space as well as split-folding rear seats makes this a very practical car indeed.
The little 1.2 litre engine is surprisingly smooth around town and won't leave you cursing at junctions about not having the grunt to take advantage of a gap. When you get up to speed the engine doesn't produce the sweetest sound combustion has gifted us but it is passable. The lack of sound proofing at over 45MPH is noticeable with wind and road noise filling the cabin, to combat this we recommend that optional stereo. Through the corners the steering is nice and direct giving the Sandero quite a nimble feel, though body roll when cornering at speed is a bit more than what we would have liked. The suspension has a lot to do with the roll but the trade is that the car is good at tackling Britons battered roads. Potholes and cracks don't appear to phase the little car all that much. Pushing the car harder is quite entertaining as it reveals its no frills, pure function character. As it pitches into a turn revving highly in its gruff voice you can help but smile at its try hard attitude. The Dacia Sandero is, even in it most basic form, enjoyable to drive.
In conclusion, this Sandero Access is a refreshingly honest car in a highly competitive market. It is an eye opener showing that a "good car" does not need all of the toys under the sun to be classed as good. This is not a machine that could take on class leaders such as the Fiesta, but for the money you will not find a better brand new car.