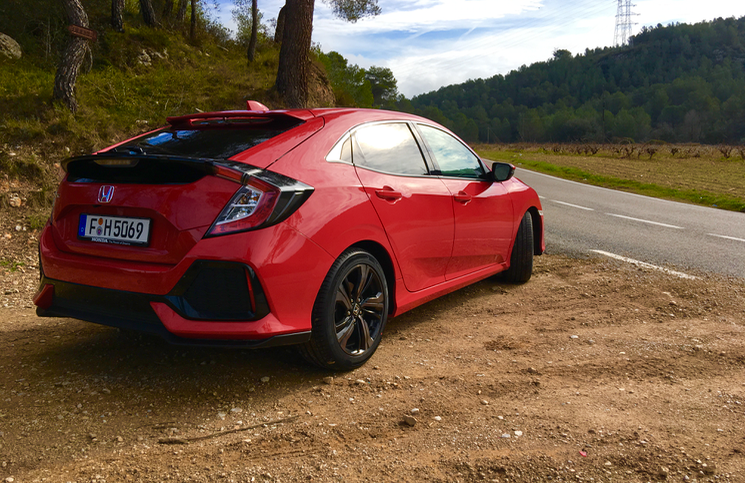 It is always a big risk for a manufacturer to totally replace a "bread and butter" model with an all-new car, but time moves on and so must the Honda Civic. This all-new 2017 Honda Civic Hatchback is one of the Japanese firms largest undertakings as it has been engineered, not only for Europe, but also the rest of the world. A new 1.0 litre turbocharged VTEC engine makes its debut. This car is very much uncharted territory, the question is… Can it live up to 40+ years of heritage?
Visually the car immediately captures attention with a dynamic design and a bold stance. A sharp silhouette is garnished with bold character lines and a heavily sculpted bonnet. Our test car, finished in Rallye Red, certainly looked the part with contrasting gloss black alloy wheels. Further reflective black can be found forming a wide grill upon the Hatchback's nose. This spans
between a set of intricately design headlight clusters. The steeply raked rear hatch integrates a neat boot spoiler. It is visibly a larger car than its predecessor, but proportionally works very well.
Moving inside, the 2017 Honda Civic Hatchback possesses a cabin full of maturity, both in terms of design and material choice. There are a multitude of textures and surfaces that creates a tiered dashboard. The latest incarnation of "Honda Connect" is housed inside a touchscreen infotainment display. Whilst it still isn't the fastest unit on the market, it is notably more ergonomic than before and now supports the likes of Apple CarPlay and Android Auto. The driver is treated to a trio of displays, mounted more conventionally than in the 9th generation, that comprises of two techno looking dials, and a customisable digital display. Front occupants receive bolstered fabric seats that offer particularly good lower back support. Move rearward, the bench seats five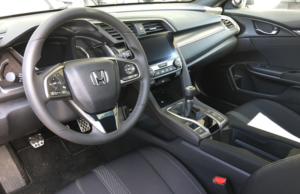 with good levels of leg room. The sloping roofline does cut into head room, but average sized adult should fit no problem. Whilst the cabin is spacious, it lacks the versatility found with the old cars "magic seats." The Civic's boot is once again a headline with a class leading 478 litres.
The first thing you notice out on the road is how responsive the new 1.0 litre turbo VTEC is. It spools up quickly reducing lag and pulls strongly with 200Nm of torque. It revs quite freely and produces an enthusiastic thrum as the rev needle races to the redline. Approaching the limit it does begin to run out of puff and so revving the nuts off it isn't the swiftest way to build up pace. Using a pleasingly slick 6 speed manual transmission, the 2017 Honda Civic Hatchback is a pleasure to row through the gears. Enter a series of twisting bends and the cars wider track provides ample grip levels. There is a bit of body roll, but quick steering makes short work of a turn after the initial lateral motion. The steering could do with some more feel to make for increased engagement, but its well judged weighting is suitable at speed and around town. Within the urban sprawl the new Civic plays a good game too being easy to drive. Rear visibility is still divided as tradition dictates, but it is far less obstructed. This example
came with a rear reversing camera of which makes life easy when it comes to parking. 127 BHP is not a paltry amount of power and so it is unsurprising that the new unit can hold its own at motorway speeds. Refinement is good with just a little road and wind noise entering the cabin. The engine is practically silent when the revs are kept low. Honda claim 60 MPG combined and emissions of 106g/km CO2.
Should you buy the all-new 2017 Honda Civic Hatchback? Well, the final judgment will be on our rutted UK roads where the ride can be more closely scrutinised, but all of the signs are looking good. The 1.0 litre VTEC is a little gem and our pick of the petrol lineup. If you fancy having the 10th generation Civic on your driveway, the range starts from £18,335.