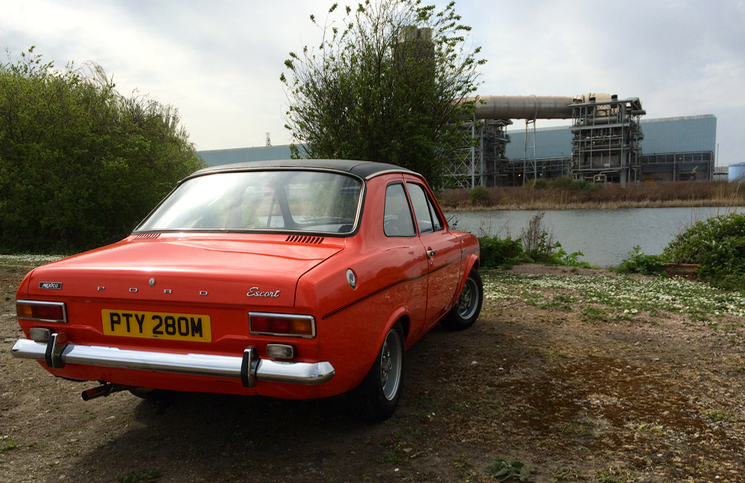 The London to Mexico rally was one of the most challenging motorsport events both car and driver could be put through. 16,000 miles of punishing trail would push the the talents of the man and
the metal of the machine. In 1970 a MK1 Ford Escort piloted by Hannu Mikkola and Gunnar Palm won the event outright in spectacular fashion. Celebrating this proud victory Ford sanctioned a special Escort to be built by its Advance Vehicle Operations division. Taking its name from the rally itself, the Ford Escort Mexico was born.
Here we have one of the last Escort Mexicos built, a 1974 example fitted with the "custom pack." If you had the keys to one of these puppies during the 70's, you were the man. Representing a champion of the people, the Ford Escort Mexico had its sporting draws back when the ethos of "win on Sunday, sell on Monday" was in full swing. This car is an absolute charmer even today in its Sebring Red paint with body length pinstripe. Round characterful headlights and stocky proportions provoke nothing but a smile. If a car has ever aged well, it is this one.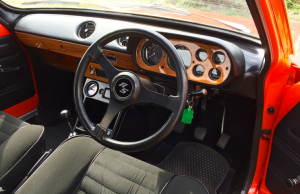 Thanks to the aforementioned custom pack, the interior receives a sporty RS steering wheel, Recaro seats, curiously loud ticking clock and a walnut facing to the dashboard. Unlike a lot of modern cars you do not feel packed into it. There is an airiness about the cabin with plenty of space for five. Being based on an Escort means that like all Fast Fords, this Mexico is practical. Neat black and white instrumentation sits before the driver whilst a nicely positioned gear leaver falls to hand.
Turn the key and start the Kent crossflow engine with a dab of the throttle and the car vibrates into life. It hums and buzzes as things come up to temperature promoting a sense that this classic is more of a living thing than an inanimate object. Off comes the handbrake and in goes first gear with a satisfying click. The cars pulse quickens then dips with the revs as you pull away, in way reminiscent of a child's excitement escaping just for a fleeting moment. Whilst this car may only produce 87BHP, its lack of weight means that forward momentum isn't sluggish to the senses. Progress through its slick
four speed manual gearbox and its 0-62MPH time of 10.7 seconds, whilst not fast by todays standards, produces the same sense of joy as it did back in 1974. Allow the carbureted engine to rev onwards and its enthusiastic exhaust note continues to add to the experience. At just 891KG the Ford Escort Mexico is agile with characteristics not too far shy of a Go-Kart. There is a wonderful amount of feel through its unassisted steering that continuously communicates with the driver. Whilst this is a classic car, its brakes are quite effective and also form a sense of connection between man and machine. You can really play with the Mexico as its handling is predictable and body control well tempered by upgraded strings and struts over a standard Escort. On a more practical note, visibility is excellent with the car featuring large windows all around.
What was amazing about this Ford Escort Mexico was not only the vast grin that was painted on my face, but also the smiles and waves it got from compete strangers. People pointed, stared and even clapped as this blast from the past made their day. It is such a feel good car and as the sun shone brightly in Essex, so did the Mexico.
Turning the engine off, the car shuddered on for a second or so almost in defiance of stopping. I could have driven the Escort all week, all month, all year and I don't think I would have become bored with it. In fact, I would really love to own one but the fact of the matter is that they are rather valuable these days. A genuine 1 of 9,382 built in as good condition as this one will set you back over £30,000. But do you know what? I think it might just be worth it for such a pure driving experience in the 21st century.