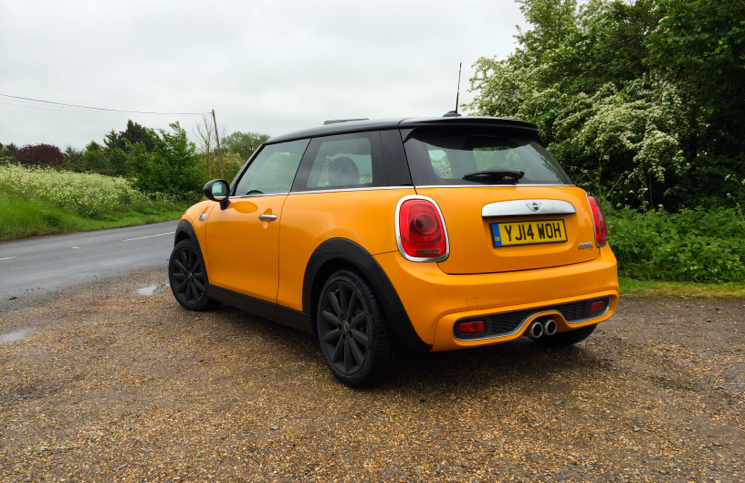 When you make a success of something it is very hard to live up to the high expectations people now have. I call it "the difficult second album conundrum" and that is exactly what Mini faced with their all-new hatchback. In 2001 the Mini was
reborn and once again became a cult classic. 2007 saw the second generation of the modern car and this again succeeded in wooing buyers. Can Mini really make it three in a row whilst introducing the biggest changes its best selling model has ever seen? We grabbed the keys to the new 2014 Mini Cooper S to find out.
Ok, let's get this one out of the way. Yes, it is bigger in every dimension than the car that went before it and absolutely dwarfs the 1959 original. But before you all cry "well, that doesn't make it a Mini then does it?" and grab your pitchforks, you have to remember that 1959 was 55 years ago and a lot has changed. As well as an almost infinite number of crash regulations that requires the car to be substantial enough to protect occupants, the Mini is no longer just one machine. It is a brand, and as a brand it has to adapt to modern times and compete with its rivals to survive. In the case of the all-new Mini Cooper S, its battlefield has become more competitive than ever.
The hot hatchback arena is a fierce place to be with such gladiators as Ford's Fiesta ST and the new Renaultsport Clio brawling for territory. The previous Cooper S thrived here, however, the competition has evolved and will not be going down without a fight. This new car brings a 189BHP turbocharged four cylinder engine to the melee which powers the front wheels via a proper 6 speed manual gearbox, unlike the Renault's paddle-shifter only affair. 0-62MPH is completed in 6.8 seconds, 0.1 faster than the Fiesta ST.
Initially there was a lot of controversy over the appearance of the 2014 Mini when some spy photos revealed the car early. Thankfully they happened to be taken from an unflattering angle and at a distance. Considering that a big part of the Mini's appeal is its look, the importance of people liking the new image can not be overstated. Whilst the car does have headlights that give it the facial expression of someone dropping something heavy on their toe, our test car was a handsome little blighter in the metal. In ostentatious Volcanic Orange contrasted by a black roof and some smart 17 inch darkened alloy wheels, this Cooper S makes a statement. Detailed with chrome trim and a retro fuel filler cap, the overall appearance of this car is both new and familiar at the same time. It is a good balance of character and design evolution. S badging sits proudly on the bodywork and the centred dual exhaust pipes remind you that this is no standard Mini.
The interior has taken a huge step forward in terms of functionality and design. Its once central speedometer has been replaced by a large display that is housed by a ring of light that changes colour dependent on what setting the car is in.. Toggle switches have been retained for various functions including an ominous red one to start the engine. There is more space in this 2014 Mini Cooper S, something that many Mini owners will welcome. Head and leg room in the rear aren't class leading, but in comparison to the outgoing model, passengers will be more comfortable. The supportive leather seats and a steering wheel at your chest is typical Mini and foreshadows an involving drive. A neat colour heads up display sit on the dashboard directly feeding the driver information on speed and navigation instructions.
Flitting around urban environments revealed that this Mini has done a lot of growing up. It is more comfortable and refined than its predecessor at low speed meaning that hitting a pothole
doesn't result in you loosing your fillings. The ride is still firm, even with optional variable damper control, but then this is a performance focused model and anyone who is complaining needs to reconsider their priorities. Refinement levels are good making this Mini a promising prospect for longterm ownership. At the base of the gearstick is a dial that dramatically alters the cars character. Turn it to the left and you enter a more environmentally friendly mode that makes trees happy and pats Johnny polar bear on the head. Turn it to the right and prepare to watch the world burn as you unlock the true potential of the 2014 Mini Cooper S. Instantly everything firms up with the steering becoming deliciously weighty and body roll almost completely exiled. Put your lead boots on and this pocket rocket takes off. In a gauze of induction noise and exhaust popping, this little car turns into a bit of a hooligan. Racing back and fourth through the gears is like conducting an orchestra  except every musical component has an antisocial behaviour order. Turn-in is sharp as it pivots around bends like a Scalextric toy. Obviously this being a powerful front wheel drive car you will encounter understeer, but with high grip levels you have to be borderline suicidal to find it. In its sportiest setting the Mini's gearbox rev-matches by blipping the throttle which serves to make you look like a hero behind the wheel. The brakes are good but at times feel like they can't quite keep up with the intense pace of the car when pushing hard. Throttle response is lively and absent of notable turbo-lag.
You can't help but smile when driving this car in anger. It may well be a step-up in quality, efficiency and practicality, but it is the pocket monster that lurks beneath its innocently wide-eyed expression that makes the 2014 Mini Cooper S a force to be reckoned with. You can have one for a reasonable £18,650, however, our test car with all of its kit came to a more eye watering £25,350. The Mini is back and better than ever.