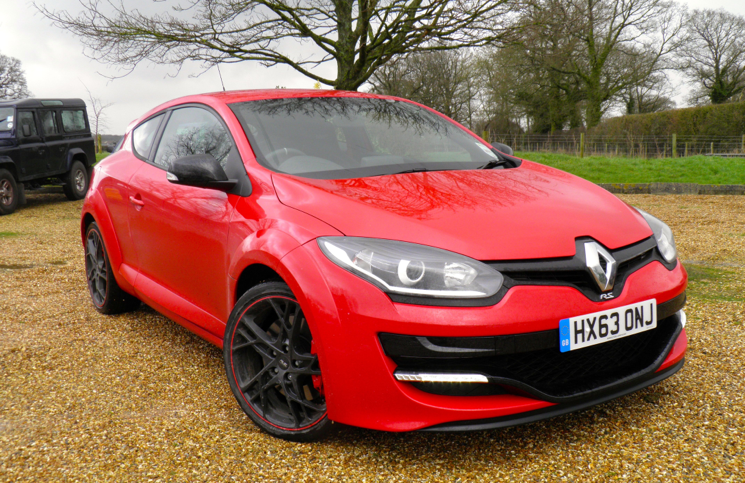 In todays world us enthusiasts are a dying breed. Our love for combustion, the sensation of speed, the craving that makes us get up early on a Sunday morning just to go for a blast down your favourite twisty road are all things that are becoming a bit of a taboo. The government place cameras to snap away at our prized possession, but not to admire them, instead to try and take them away from us. Councils place speed bumps the size small of cows in a bid to scuff and bend our symbols of enjoyment. We are taxed, guilt tripped and generally discouraged from having a good time in our cars. A digital age is coming where maybe even the act of driving VS an autonomous machine could be seen as irresponsible and dangerous. Make no mistake, we petrol heads are at war. Thankfully Renault have a sword we can wield into battle. An analogue hero for our digital world.
The 2014 Renault Megane Renaultsport 265 in all of its brilliantly ostentatious glory is just begging for an Anti Social Behaviour Order. Its new family face for this year does not detract from the swollen wheel arches,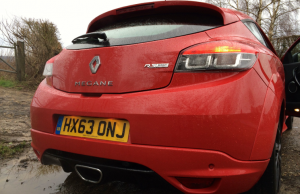 red trimmed alloy wheels and central exhaust pipe so large it could be mistaken for an artillery cannon. The Megane 265 makes absolutely no apologies for being an extravert, but then again, it does have a lot to shout about…
This car represents the French company giving the people exactly what they want. Powered by a 2.0 litre turbocharged engine packing a colossal 265HP and 360Nm of torque, this 158MPH hot hatchback has a lot of potential. The question is how does that translate from the meaningless black and white of the specification sheet and onto the tarmac?
After getting inside the 265 you are immediately hugged by a very supportive Recaro seat that firmly holds you in place. Whilst the dashboard and console look dated in
comparison to other Renault models, the original design dates back to 2008, everything the driver interacts with whilst in motion has a pure and purposeful nature. From the way the steering wheel sits in your hands to the support on offer from those aforementioned bolstered seats, the 2014 Renault Megane Renaultsport 265 has a no nonsense focus about it. Activating sport mode and hitting the noisy pedal reveals why.
Before you have even really had time to contemplate just how much pressure you had put on the accelerator, the Megane 265 has catapulted you down the road. THIS THING IS QUICK. Not just fast for a hatchback, fast full stop. The high levels of torque on offer surge the car onwards with you being pressed firmly back into your seat. This engine displays next to no signs of turbo lag, responding to throttle inputs immediately. Blipping the engine and changing down via a satisfying manual gearbox results in your ears being filled with an exhaust note that only serves to encourage further exuberant driving. Through the corners the Megane is a joy with great turn-in capabilities and no drama thanks
to a limited slip differential. Body-roll is minimal but the tradeoff is quite a firm ride. Grip levels are very good as is the amount of driver feedback that the car transmits directly to your fingertips. The machine very much feels like it is working with you to kiss those apexes with its precise steering and put the power down upon corner exit. An issue with many powerful front wheel drive cars is torque steer, but amazingly the engineers at Renaultsport seem to have nearly removed it completely. To be honest, with 265HP on tap the last thing you want is the car bolting off into a hedge. Also stopping you from having a potential mishap are the very capable Brembo brakes that can bring the car to a halt just as quickly as it set off.
Renault have really outdone themselves here with the 2014 Renault Megane Renaultsport 265. As a driving experience in a hatchback package it can not be beaten. It is not only a car fast enough to get your heart racing, but one that creates such a purity of feeling between man and machine that when you hook up those corners, and you will, it is oh so very rewarding. Obviously it has its flaws, its coupe styling does compromise rear headroom for example and the ride over bumpy roads does get a bit choppy at times, but then you go into buying such a car like this knowing that the performance gain outweighs these slight inconveniences.
This car isn't just a triumph of engineering, although it is the fastest front wheel drive production car to ever lap the infamous Nürburgring, it is also a great big "we shall not be moved" statement for those who enjoy driving.