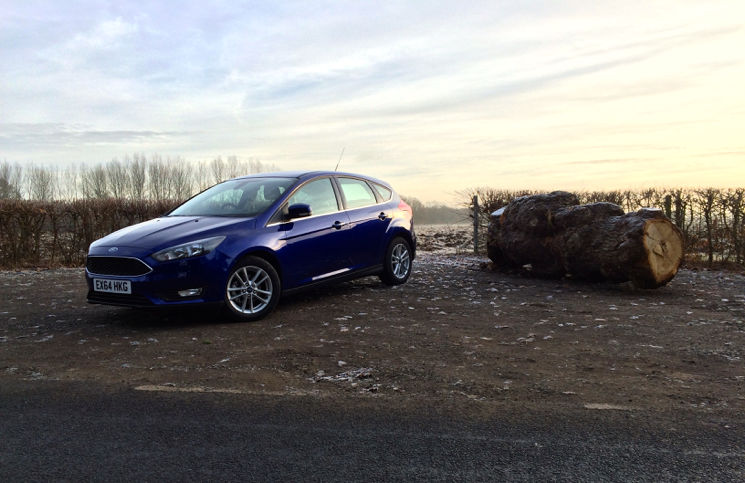 The Ford Focus is something of a hero to the family household. When you are rushing to get the kids to school, it has been there. That time extended family came to stay and the vast quantity of food shopping in the boot resembled a small
supermarket, the Focus was ready. That moment when the road got twisty and you decided to indulge in some apex hunting, this car relished the challenge. There is a very good reason why Focus is one of the most globally successful nameplates with over 12,000,000 sales under its belt. As a package, when all is said and done, this cars execution of the things that really matter has been spot-on since 1998. Today Ford are under a lot of pressure from its rivals who each want the crown for themselves. Fighting back, this car represents the most significant mid-life update we have ever seen from the blue oval. Can the 2015 Ford Focus 1.5 TDCI Zetec do enough to remain king of the hill?
To kick things off Ford has revised this hatchbacks appearance giving it a much more premium look. The first thing you will notice is that Ford's new ovular grill takes centerstage between a set of raked headlights. Muscular bonnet lines help sculpt a more dynamic, and arguably more aggressive, design for the front end. New rear lights and boot lid neatly compliment the subtle spoiler found on our test car. The Focus as a whole is tastefully finished off with a small amount of chrome detailing and this fantastic "Deep Impact Blue" metallic paint.
Some of the cars most appreciated changes are found once you enter the cabin. Gone is the outdated mishmash of mobile phone inspired buttons and in their place sits an 8 inch touchscreen infotainment system. Its interface is very ergonomic with multimedia and navigation placed right at your fingertips. Ford's new Sync 2 voice activated command service can do everything from finding you a nice restaurant, to calling Auntie Jenny. Much like Apple's Siri, the car understands a broad range of accents and doesn't restrict users to a preset list of commands. The front seats are of particular note with their bolstered shape holding you in place and providing support. Drivers both big and small will appreciate the highly adjustable driving position of the new Focus. As for the rear bench, this again can split or seat five with good levels of head and leg room. A key trait for any Ford Focus has been its huge boot and I am pleased to report that this latest generation doesn't disappoint. 363 litres of space is yours when loaded up to the package tray and the tyre repair kit is chosen. For those fully laden trips you can fold the rear seats flat and pack the interior to the roof giving you 1,148 litres to play with.
Under the bonnet of this 2015 Ford Focus 1.5 TDCI Zetec is a brand new diesel engine that replaces the outgoing 1.6 litre unit. This TDCI claims 74.3 MPG whilst emitting just 98g/km of CO2.
From the moment you turn the key its refinement is remarkable with a barely audible idle. This theme is continued once the car is in motion with engine noise only penetrating the cabin under heavy acceleration, but even when it does it is minimal. Ford really, excuse the pun, FOCUSed on the little details such as improved sound insulation. Thicker door seals, carpets and even alterations to the external mirror hinge all add up to increased tranquility. Performance from the new engine is pleasing with 270Nm of torque being made available low in the rev range and continuing to pull cleanly throughout. Not only does this make springing from a junction about town more confident, but on the motorway it proves to be a highly capably commuter. Its six speed manual transmission sports good ratios and its action when changing is clean. Something else Ford have worked on with this incarnation is its handling. Whilst the Focus has always provided best in class entertainment behind the wheel, rivals such as the VW Golf are indeed breathing down its neck. Adjustments to the steering and suspension setup have sharpened the 2015 car to a level where it once again pulls clear of the German. Point the nose towards an apex and masterful body control, plenty of grip and torque vectoring add up to an agile response. It may be a car for getting the kids to school, but Dad can once again have some fun on his way to work. The 2015 Ford Focus 1.5 TDCI Zetec is a joy to drive offering a level of involvement that is unmatched within its segment.
This car really is a "Jack of all trades" and an extensive refresh once again puts the Focus on the frontline within the hatchback arena. Our 2015 Ford Focus 1.5 TDCI Zetec came to £20,605 with its extras and has proven to be a worthy contender for a space on your driveway.