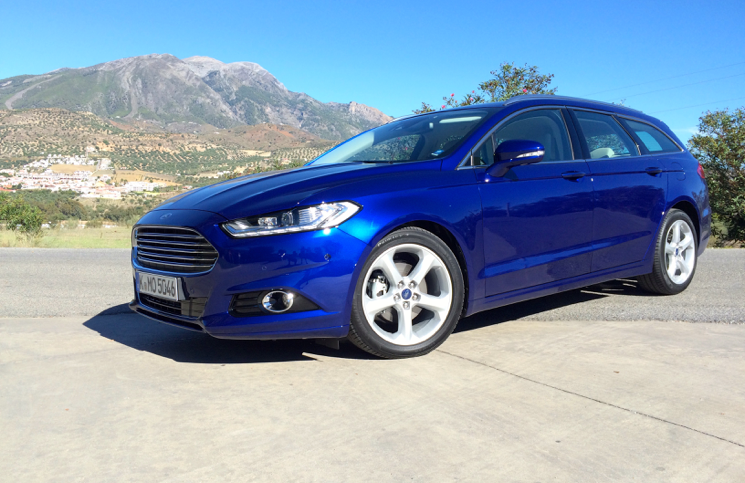 In Great Britain we have many traditions. The red post box, crumpets and of course "a good cup of rosy." Another British staple is the Ford Mondeo, a nameplate that has sold over 1.4 million units since its inception in 1993. In fact, "Mondeo
man" has become a phrase of commonplace in our green and pleasant land. Success in Europe has only seen the car grow stronger with every generation, however, this fourth incarnation is one of the biggest investments Ford has ever made in a product bringing with it new technology and refinement claimed to worry the Germans. We ditched our umbrellas that shielded us from the UK's autumn rain and headed to sunny Spain in order to be one of the first to see what the 2015 Ford Mondeo Estate 1.5T EcoBoost Titanium X was all about.
Well, it certainly looks the part doesn't it? In estate guise teamed with this gorgeous Deep Impact Blue, the new Mondeo glistened in the sun showing off its sharp new look. The design starts with Ford's new family grill which is chromed creating an immediately premium tone. Intricate LED headlights that are so complex they could pass for the eye of a Transformer are unique in this segment. This new car possesses many strong character lines which continue onward from the bonnet all the way down its length. Neat rear light clusters brings this magnificently modern estate to a close.
The huge step-up in architectural intricacy is even more noticeable inside the cabin. Silver trim provides detailing for key shapes which continues from the dashboard and around onto the doors, seemingly stitching the surfaces together. A large Sync 2 touch screen serves as the cars new infotainment interface and will replace the "mobile phone" arrangement across the Ford range. This Titanium X specification car was loaded with options including some fantastically comfortable cream leather multi-contoured seats. These highly adjustable and well bolstered front seats have a massage function as well as being heated. The driving position itself is, as usual with Ford, spot-on. This cars instrument cluster is an intricate affair being able to display many vehicle settings and functions within its digital segments whilst surrounding them with core analogue dials. Some might find this a bit fussy, others will relish in being able to have such control via the new Mondeo's steering mounted buttons. The rear bench needn't be a cause for endless "are we there yet" cries. Both head and leg room is generous and the large windows let in plenty of light. An option available for the rear seats are seatbelts containing an airbag. At £175 they deploy in the event of a crash spreading the load across the increased width and reducing the likelihood of fractured ribs. The 2015 Ford Mondeo Estate 1.5T EcoBoost Titanium X has good levels of luggage space with 775 litres up for grabs without lowering the rear seat, however if you do, that figure rises to 1,630 litres. The all-new Mondeo interior is not only better equipped, ever practical and more grown-up than its predecessor, but is also befitting of such an important model for the blue oval.
Hit the starter button and the 1.5 litre turbocharged petrol engine practically whispers into life. It is only when you take this unit nearer to its redline that it really makes itself known in terms of noise intrusion, but even then it is minimal. That
is just one example of how refined this fourth generation car is. On the road the driving experience is one of tranquility and surefooted characteristics. The steering is, for the first time in a Mondeo, electromechanical and so does loose some of the feedback that previous models were famed for. That said, it is very accurate and sensibly weighted. A six speed manual gearbox accompanied this specific car and shifted adequately. To cover ground quickly you will need to work said gearbox to make the most of the engines 158BHP which has its peak near the top of the rev range. There is a lot of grip available to the driver which creates a great deal of confidence in the car. Comfort levels are impressive at both town and motorway speeds as the new suspension dispenses with road impurities without fuss. At higher speed there is a small amount of wind noise around the windscreen, but that aside the 2015 Ford Mondeo Estate 1.5T EcoBoost Titanium X is a pleasure to spend time with.
So there you have it… The dawn of a new era and Ford has brought to the battlefield one of the best offering in its segment. Whilst the electric steering is not as engaging as the old hydraulic setup, the trade for a new-found maturity and a claimed 47.9MPG combined, 60.1MPG extra urban, is more than fair. Our test car came to £27,365 which considering it has all of the toys under the sun, including a heated steering wheel, it does appear good value in comparison to traditional luxury brands. This 2015 Ford Mondeo Estate 1.5T EcoBoost Titanium X has transformed "Mondeo man" from the ordinary into the extraordinary.