You only have to look around to see what a success the current Fiat 500 has been for the Italian company. The fashionable little hatchbacks are highly desirable with their modern take on a retro look. But what happens if you need more space than a city car, but want to retain that characterful visual of the 500. Fiat have you covered with the 500X, a larger and more family friendly member of the 500 family. Crossovers are big business and so the 2016 Fiat 500X aims not only to win over  those who like its little sibling, but also rival the competition.
Visually the 2016 Fiat 500X looks pretty good to my eyes. Clearly aimed at the fashion
conscious, this transferral of 500 DNA has been a total success with this car clearly sharing the same genetic identity. Big round headlights and a profile that is a kin to the little hatch gives it character and a rather unique overall appearance. Our test car had the "Off Road Look" meaning it possessed some more plastic cladding, a scuff guard at the front, and darkened roof bars. The actual trim level is "Cross Plus" which is the top specification and comes with a set of attractive 18 inch alloy wheels and some extra chrome. Finished in this bronze paint the 500X looks suitably upmarket.
The Italian styling continues on the inside as it presents an interesting environment to spend time in. A highly sculpted dashboard in a colour similar to the exterior contours downwards and sports a chromed 500 logo. A 6.5 inch touchscreen display plays host to infotainment including navigation, Bluetooth media, and DAB radio. The system itself is relatively easy to use but could maybe do with a faster processor at times. Comfortable half leather seats proudly wearing more 500 logos serve their purpose well on long journeys. Rear passengers have a good amount of space both of their legs and head. A low transmission tunnel means that the middle occupant wont be fighting for somewhere to put their feet. Via an option, in car audio can be taken care of by Beats. The boot is 245 litres which is fine for small shopping trips, although it isn't going to win a size comparison with rivals.
This specific 2016 Fiat 500X is powered by a 1.6 litre diesel engine with 118 BHP and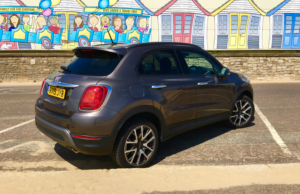 320Nm of torque. It's actually the same unit found in the new Fiat Tipo of which we tested in Italy recently. As in that car, it can sound a little gruff under hard acceleration, but once underway things tend to settle down. A 6 speed manual transmission is paired to this engine option. That desirable raised seating position is present and correct with light control weightings making the 500X easy to operate day-to-day. Around town the reaction to this car is positive with a few passersby on the south coast even asking about it. Rear visibility is restricted due to a small rear window and so we would recommend the reversing camera. With this equipped parking the 2016 Fiat 500X becomes a breeze. Heading out of the urban hubbub and onto some faster roads this SUV proves itself to be rather pleasant. There isn't too much road or wind noise that enters the cabin and body roll is kept under control. Selecting the sport mode adds some meaningful weight to the steering allowing for more precision. Whilst this is not the most engaging car to drive at a pace, high levels of grip gives the driver confidence if they wish to do so. Speaking of modes… The "Off Road Look" models come with a system called Traction+. A dial features a handful of modes, including the aforementioned sport, which can adapt how the 500X sends power to the front wheels. A 4×4 variant is also available for those who want the added security of all wheel drive. On a motorway this diesel engine is very at home and happy to get on with the task at hand when it comes to long hauls. Need to overtake a slacker? No problem as the torque from this diesel engine will oblige. I spent a good amount of time trawling the M25 and M27 in my time with the 500X and I have to say that I was pleased with its performance. Fiat claim that this car will achieve 68.9 MPG combined and emit just 109g/km CO2.
The 2016 Fiat 500X presents a competent package with added practicality. The preservation of the 500's cheeky and playful visuals are undoubtably a big selling point. You can have a new 500X from £14,295 which is competitive, but our top specification test car with its toys came to £25,240. Some rivals handle better, some offer more practicality, but few are likely to have the appeal of this Fiat 500X.