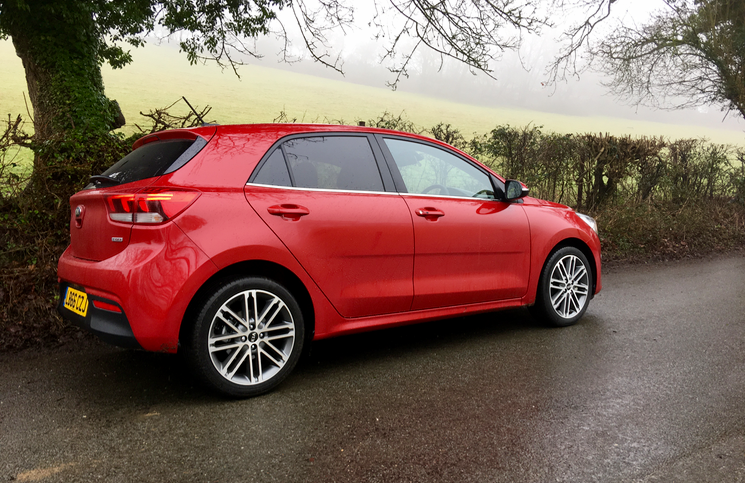 I quite often remark upon how far Kia have come over the years. From budget brand to key player in almost every segment, the transformation has been nothing short of remarkable. The Kia Rio is a prime example of this as it has experienced this metamorphosis from the beginning. Its first generation was cheap, but unappetising and wasn't built of the strongest stuff. The next generation began to make an effort in the visuals department. Third generation Rios were taken seriously by competitors as they not only looked the part, but were good value and built well. Now the fourth generation 2017 Kia Rio hits the road in a bid to make life harder for the Ford Fiesta and Skoda Fabia.
Wielding a new very grown-up exterior, this latest B-segment offering has really come of
age. A lower and wider profile with rounded edges is detailed with a tasteful level of chrome. The latest iteration of their famed "Tiger Nose" grill stretches between large headlights. Subtle creases along the cars length lead to a short rear overhang. Unique rear lighting clusters possess bold signatures that run horizontally. This specific 2017 Kia Rio is a First Edition model and so rides upon a set of smart 17 inch alloy wheels.
Enter the cabin to find that this First Edition is a sea of two-tone colour. An interesting matte red effect has been applied to the dashboard to contrast other finishes. Said red worked well with the leather heated seats, also two-tone. They are comfortable, but maybe could do with a little more bolstering. The centre console hosts a 7 inch touchscreen infotainment display of which is easy to use and responsive. Moving to the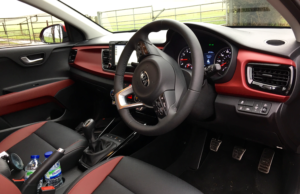 rear bench, this seats five with good head and leg room, even for the middle passenger. There are some scratchy plastics dotted around, but generally speaking, the interior feels well screwed together. Being the top specification car the interior is loaded with toys including things as extravagant as a heated steering wheel. Boot space is a generous 325 litres or 980 litre with the rear seats folded flat.
If you opt for a 2017 Kia Rio First Edition, under the bonnet you will find the most powerful incarnation of the brands 1.0 litre turbocharged 3 cylinder for this car. Producing 118 BHP and 171 Nm of torque in this guise, power is sent to the front wheels via a 6 speed manual transmission. At low speeds the whole experience is rather refined and mirrors the aforementioned mature visuals. The engine is smooth and quiet whilst the control weights are light for ease of urban navigation. Rear visibility is ok, the shallowness of the window is not ideal, but this car is treated to a reversing camera that makes life
much easier. On faster roads the increased weighting of the steering adds precision. This Rio isn't the most engaging car in its class to drive, but it certainly feels competent. There are good levels of grip and only a bit of body roll. On the motorway the 6th gear found in this model, and not on the lesser powered 1 litre, comes into play. The additional ratio means that it does not feel strained at these higher speeds, although penetrative noise does build. It feels stable and reassuring out on the open road. Kia claim 60.1 MPG combined and emissions of 107g/km CO2.
The 2017 Kia Rio reaffirms that the Korean manufacturer is a real contender in todays market. With a fiercely growing customer base, 7 year warranty offered on all cars, and strong products across their range, Kia are a force to be reckoned with. This Rio in particular highlights their progress from budget brand to being a real thorn in competitors sides. Whilst this First Edition car is costly at £17,445 the range does start at a reasonable £11,995. We would strongly recommend a 2 or 3 grade car as they come with good levels of equipment at a reasonable price point.