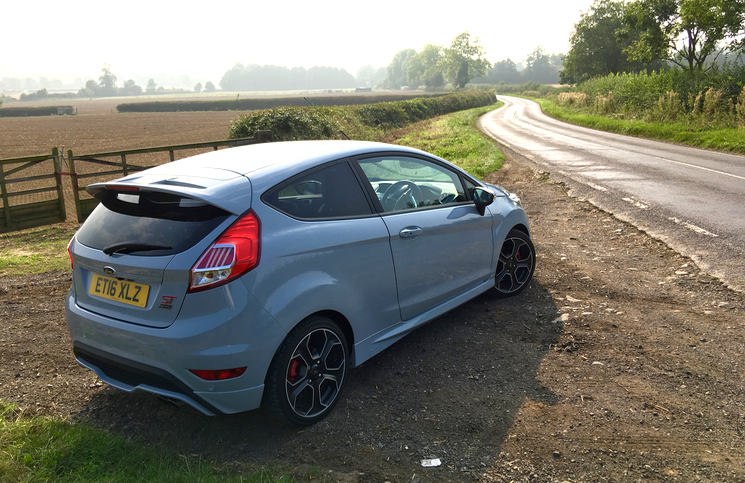 The Ford Fiesta has been around for 40 glorious years and its popularity has seen it become the best selling car in the UK. When it comes to adding a bit of spice to the mix, the Fiesta ST is arguably the best car in its class. With this big milestone reached along with huge success, this model was certainly worthy of a special birthday present. This is the Ford Fiesta ST200.
The Fiesta ST is a pretty good looking hot hatch as it is, but the enhancements made for this ST200  give it a subtly sinister demeanour. Bespoke Storm Grey paint amplifies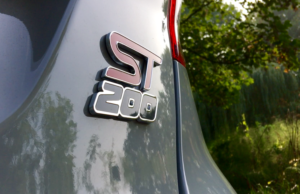 character lines running the length of this car. Contrasting 17 inch five spoke alloy wheels are also unique and fill the arches with authority. The usual ASBO inspired bodywork features including a more aggressive front bumper, body colour diffuser, and boot spoiler. Obligatory ST200 badging is tattooed to this cars hindquarters.
The interior is near identical to what you will find on an ST3 specification Fiesta meaning that a premium Sony audio system makes itself at home in the centre console. Whilst the interior is now starting to age with this model soon to be replaced, the pair of man eating Recaro seats give the cabin a sporting feel and do a great job of holding occupants in place. They are trimmed with neat silver stitching which is again only found on the Ford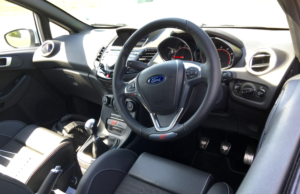 Fiesta ST200. Being based upon a Fiesta the car retains its practicality seating five and offering a 290 litre boot.
Clearly Ford have done more than just give this car a snazzy set of alloys and some badges to grant it elevated status. Under the bonnet is a 1.6 litre four cylinder engine, but now it packs 197 BHP and 214lb ft of torque. Pedal to the metal will activate overboost enabling 212 BHP and 236lb ft of torque for up to 20 seconds. Add a slick 6 speed manual with a shorter final drive into the equation and you have a winning drivetrain combination. As soon as that turbo comes on song this pocket rocket is ignited. 0-62 MPH takes 6.7 seconds and it will go onto a top speed of 143 MPH making it no slouch. It has a real sense of urgency when driven enthusiastically. It fizzes like an excited puppy as you charge through the gears. The ST has always been renowned for its adjustable handling and characterful change of direction. This ST200 is endowed with reworked suspension and a lower centre of gravity of which enables even sharper responses. Working this into an already delicious recipe results in the most rewarding machine to drive in its class. Precise steering that offers plenty of feedback allows the car to communicate with he driver and torque vectoring further promotes perfect apex accuracy. Trail the brakes into a corner, feel the back end go light, and pitch the car in. Driving the ST200 hard is very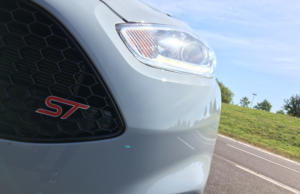 rewarding and when narrated by a classic fast Ford exhaust note, will undoubtably leave a smile on your face. The compact proportions may lead people to underestimate it, but rest assured that this Fiesta punches well above its weight. Once you are finished "playing" it will happily transform back into a machine that picks up your children from school. Sure, the ride is firm but it is far from back breaking an certainly a worthwhile trade for commanding body control.
There will be those that say that the Ford Fiesta ST200 at £22,745 is a bit pricey and that the Mountune performance upgrade offers better value, and if you are looking for the best value I'd have to agree. However this car, much like the original Escort Mexico, will be the incarnation people will crave in years to come. It is quite simply the best hot hatchback of this generation and a fitting farewell to a highly successful model.